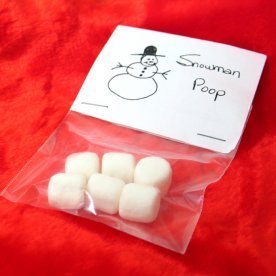 You don't have to wait until April Fool's day to give someone a gag gift. Christmas can be a fun time to trick your friends or family. This page contains Christmas gag gift ideas.
Solutions
Share a solution for this guide today!
Questions
Here are questions related to Christmas Gag Gift Ideas.
I need some clean Christmas "gag" gift ideas.

Rags from TN
---
Most Recent Answer

By Daniel12/16/2010
For a secret santa gag gift at work I printed a glossy 8x10 of Mr. T and signed it "To ****, hugs and kisses, Mr. T xoxo". Put that in a cheap frame and you've got a very low cost gift. Also works great with Burt Reynolds, Patrick Duffy or Alf. :)
Would like a silly gag gift idea for Christmas. Someone told me about a poem with a Baby Ruth candy bar. I also did one a year ago for my son's fiance. She told him she wanted a 3 carat diamond and laughed, so I wrapped three little baby carrots up in a small box and gave them to her for Christmas. It was a hit.
By Lindaspy from South Beloit, IL
---
Most Recent Answer

By Lelia Jo Cordell12/16/2010
At our NFB gift exchange this year, our chapter president ended up with a good-sized package of toilet paper. Funny, but definitely useful, especially if you're snowed in and can't get to the store!
Deeli, love the "snowman/reindeer poop" thing, too funny!
I'm in need of some ideas to make my boss a gag gift. I'm frugal, but he is cheap, cheap, cheap. So I thought it would be fun to pick at him for Christmas :) He has a great sense of humor so any ideas will be great. Thanks!
By Crystal
---
Most Recent Answer

By Maile12/02/2011
A dollar store piggy bank!

Does anyone have the Santa poop poem?
By Phyllis from Massena, NY
---
Most Recent Answer

By Christine Elliott10/31/2011
I hear you've been naughty,
So listen, here's the scoop...
I'm running short on coal this year,
So you get "Snowman Poop"
Love, Santa
My church is having a Christmas party and this year we are to bring gag gifts. You bring a gift, mark it male or female and then the gifts are handed out in a random fashion. I need some suggestions of either things to buy or things to make. Be creative, but keep it clean (it is a church party after all).
By Suntydt from Tazwell, TN
---
Most Recent Answer

By Regina Forbes11/25/2010
This is what I do when I need a gag gift. I get a pack of batteries, any size and put a small handmade Christmas card from construction paper that says. Toy not included. It has always been a hit!
My newlywed son is dreaming of receiving an "owners manual" for his wife. I think that would be a great "gag" gift. I'm having trouble putting it together. Any ideas from you creative people?
By pizza mama from Oakley, CA
---
Most Recent Answer

By Saber Alexander04/08/2010
Well I don't know if I have any ideas for the manual itself, but you could put it on the computer on a CD-Rom perhaps. I think adobe acrobat has an option to make a PFD file? Or maybe make it into a powerpoint presentation.
I have a "short" friend and every year for Christmas and birthdays we give each other a "short" gag gift. However, I'm at a loss as what to give him this year. Can anyone give me ideas on a good gag gift I can give him that relates to being a short man? I gave him a catalog for his birthday for clothes for the short man.

Any ideas would be greatly appreciated!
---
Most Recent Answer

By Marcy11/12/2007
Thanks to everyone that responded. Lots of great ideas. As someone said in one of the posts, eventually this will wear thin. I will have to come up with just plain ol' gag gifts. Once again, I appreciate everyone taking the time to respond to my question.

Thanks,
takintime