Christmas crackers are a common holiday tradition in numerous countries. When pulled apart, they make a popping noise and a small gift is revealed. Making them at home is easy and a great kid-friendly activity. This is a guide about homemade Christmas crackers.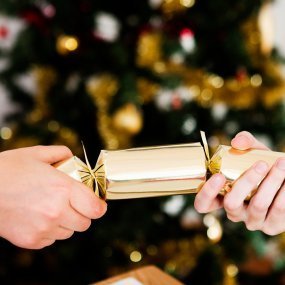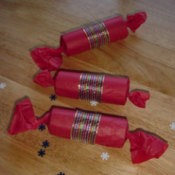 In 1847, Crackers were invented by Tom Smith who happened upon them by accident. Crackers are an integral part of British celebration and tradition that dates back to Victorian times: To learn more about the history of the Cracker visit
This tradition was brought to my family through my brother in law, and now is looked forward to each year. Here is an easy way to make your own Crackers.
Materials:
toilet paper tubes
tissue paper
ribbon
charges or snaps*
candy
small prizes
confetti
little pieces of paper with jokes, fortunes, or poems on them
*These have a string on either end and when you pull them they pop. You may be able to purchase these at a party supply store locally. If not, you can find them online at stores like this one: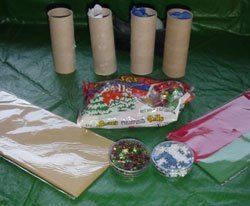 Crowns:
To create the crown fold a full sheet of tissue paper in half (hot dog style) and fold it in half two more times the same direction. Then draw part of the crown on the bottom and cut. When you unfold it you should have points all the way around. Attach the two ends with a piece of tape and fold it so it will fit into the tube.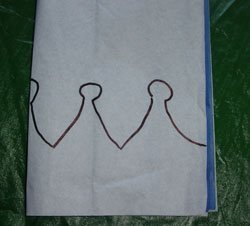 Putting the Tube Together:
Tape a charge inside the tube so that the strings come out each end place your candy, crowns, fortunes, prizes, and confetti inside the tube. Then wrap in up in tissue paper with extra sticking out each side. Tie each end with some ribbon, make sure the charge string is sticking out, you will pull these to make the pop and the prizes will come out.
To Use:
Have everyone gather in a circle with their cracker. Then cross arms, with each person holding one end of their cracker and grabbing the end of the cracker of the person next them. At the count of 3, everyone pulls on the crackers. The crackers will all pop and the prizes will fall out of the tubes. Then everyone can put on their crown and read their fortunes! It's a nice tradition.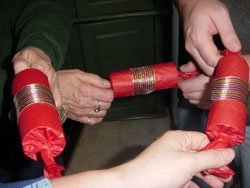 By Rose Marie G. 3 1
I use paper rolls from toilet paper, paper towels, gift wrap, and anything else that has a roller in it. I have used them for all sorts of gifts:
Pets - fill them with treats for you pets
Moms - fill with little items that a mom or any woman would like, small trinket, little manicure sets, jewelery
Dads - small tape measure, pencil, small tools
Candy - fill it up with your choices
Once I have these filled, I wrap them with the appropriate wrapping paper. Gather the paper at the ends and tie with ribbon pink for females, blue for males, and label them. At some craft shops you can buy the "snapper" that goes in the center, if you are using these be sure they are long enough to stick out both ends so they can be pulled.
I also do these and sell at craft fairs, I find making separate one for boys and girls, mom, dad, and pets are great sellers. I wrap them once they are filled and put a small sticker on them for what category they are for. Mom and Dad ones, I tie with pink or blue ribbon, same with the boys and girls. Be sure to mark what they are for, boys or dads, girl or moms, pets should be labeled for cats, dogs, or birds.
Have fun making these and the ones that get them will have fun opening them.
By Rose Marie G. from Merritt, BC, Canada
By Benetta 221 118
Turn ordinary Christmas crackers into glamorous décor items for your Christmas Eve table. Christmas decorations need not cost an arm and a leg. Just by adding a few simple elements to something as ordinary as a cracker, it is possible to have a table that wows your guests without breaking the bank in the process.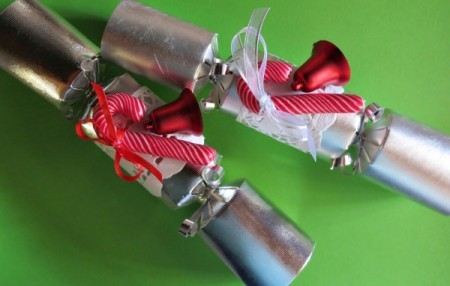 Approximate Time: 5 minutes per cracker
Yield: one cracker
Supplies:
silver Christmas cracker
miniature candy cane
white paper tray doily
small red bell
red or silver ribbon
standard scissors
Sellotape
hot glue gun and glue sticks
Steps:
Cut a piece of lace border from the paper tray doily. Wrap it around the cracker and use a piece of Sellotape to keep it in place. Tip: If making six crackers, two paper tray doilies will have enough lace borders to wrap them all.
Tie a piece of ribbon around the candy cane, make a bow and neatly cut the ends.
Add a small drop of hot glue to the knot of the bow, so that the bow won't come loose.
Hot glue the candy cane and bell to the Christmas cracker.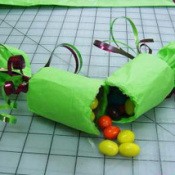 Great fun for party treats or for packaging small gifts!
Approximate Time: 15 minutes
Supplies:
tissue paper or gift wrap
tape
curling ribbon
card board tube (from gift wrap roll/toilet paper or paper towels
candy or other small treats
Instructions: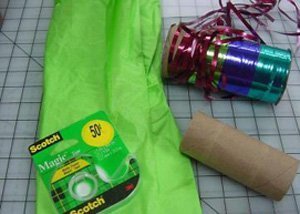 Cut a paper roll in half. How large a cardboard tube you need will depend on the size of the treats you plan to include or the size of the gift you plan to wrap using this technique. The example was made using a toilet paper roll.
Cut a piece of tissue paper or gift wrap paper large enough to wrap completely around the tube with enough extra paper at each end to tie with curling ribbon. (When placing the cardboard tube on the paper, leave a half-inch space between the rolls. This will make the breaking open of the popper easier for the recipient.) Secure the paper with a piece of tape.
Secure one end of the tube by twisting the paper and tying with a length of curling ribbon. Insert the treats (candy, small toys, stickers, etc. or small gift) and close the remaining end as directed above using the curling ribbon.
If plain tissue paper is used, the outside can be decorated with stickers or a hand-drawn design. If making these for a party, simply place the poppers in a festive bowl. This can be used as a table centerpiece or "served"to guests at the proper time!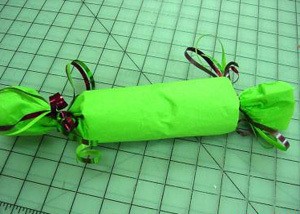 Pam from McMinnville, TN
By Skippy 2
It's always nice to reuse things. A good thing in our house is to make our own Christmas crackers or crackers for a special event. We saved some empty toilet rolls.
Insert small gift or chocolate and write a joke on a piece of junk mail.
Wrap tissue paper around them and tie each end shut with previously used paper gift ribbon or leftover wool or string.
Cut a strip of decorative paper from old gift wrapping and close with tape. For a kids party, the comic strip from newspaper is cute.
Add an embellishment or sticker in the middle. Many embellishments can be taken off birthday cards received, or cute out a shape, or crochet a flower. Endless ideas.
My daughter and I made these crackers for a tea party for my friends from Girl Guides.