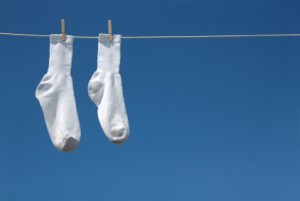 Socks endure a lot of punishment and can be tough to get clean. This is a guide for getting socks really clean.
Ad
---
Solutions: Getting Socks Really Clean
Read and rate the best solutions below by giving them a "thumbs up".
Have trouble getting your white socks white and don't want to bleach them? Update that box of baking soda in the refrigerator and use the old one to soak your socks in.
Add one half cup and your detergent to a small level water load with your socks and let them soak for an hour then wash as usual. You have taken care of two jobs at once.
By latrtatr from Loup City, NE
I've used a bar of soap to wash my children's and grandchildren's socks for years and then throw in washer. It gets them as white as can be (even grass stains come out).
By C. Reep
Are they white and mostly cotton? If white, wash them separately with a bit of bleach in the wash water.
If they are colored, also wash a small load separate from other garments and use powdered color-safe bleach as directed.

If they're white and you've a place to dry them outside on a line or laid out on the grass, the sun will help whiten them.
Another good tip about socks (anklets or knee socks) is to buy at LEAST two pairs of the same size and color at one time. That way, with luck, the socks may wear out one at a time and you have a chance of still having a matched pair for a longer length of time.
Nett of NH
The reason most socks are white is because dye weakens fibers so white socks are stronger, I've been told. There is nothing better than the scrub board for getting them clean.
By Shirley from Dawson Creek, BC
Try ammonia instead of bleach, or even a 1/2 cup of baking soda and the Downy ball filled with white vinegar. One of those should work for sure.
Donna
I learned a trick when parenting newborn twins. I use either cold or warm water in the washing machine. After including my usual laundry detergent, I add 1/4 - 1 full cup of Borax. If the stains are really stubborn, I also add an equal amount of washing soda. I then soak for an hour or so. This has worked on everything from formula to mud.
By Nancy from Excelsior Springs, MO
Give a "thumbs up" to the solution that worked the best! Do you have a better solution? Click here to share it!
Archives
Thrifty Fun has been around so long that many of our pages have been reset several times. Archives are older versions of the page and the comments that were provided then.
How can I keep white socks white? My children get them so dirty and even soaking in bleach doesn't work! Please help.
Thanks,
Kerry
---
Dishwasher Cube
If you have folks in the house that walk around in their white socks and you can never get them clean, dissolve a dishwasher cube or two depending how many socks you have in a bucket of water and let them sit overnight. The next day, wash as a small load. You won't any lose socks and your white socks will be bright white from the clorox in the dishwasher soap. (08/12/2005)
By Annette
Baking Soda or Borax and Vinegar
Try using 1/2 cup of baking soda or borax, available in the laundry section, and the downy ball filled with white vinegar! This helps so much with keeping whites white even with our horrible hard water that turns everything a lovely shade of grey. This only works for keeping them white. I haven't been lucky enough, or cared enough really, to whiten older socks.
We also have play or work socks, that my husband wears to work and the kids play in. That way the newer white socks stay nicer longer and I don't worry about throwing out a pair of mud caked old socks!
Each time we get a new pack of socks we mark each of them with a stamp and fabric inks, a new stamp for each of the boy's socks, and an older "set" of socks gets "retired" to the play socks bin, plus I don't match up the play socks so the kids just go and get 2 socks. Plus with the stamps it makes it easy for the boys, who are 4 and 6, to match their own "new" socks. Boy does that sound anal retentive but it works for us!
Good Luck! (08/12/2005)
Rit Color Remover
Buy RIT COLOR REMOVER and it will take all color out of the socks including the dirt stains, leaving them white. Just follow the directions. If you use it on other white clothing, be sure to remove the tags as it will bleed them onto the clothing, possibly. (08/12/2005)
By Diana Fox.
Ammonia
I have had good luck using ammonia in the soak and wash water rather than bleach. Doesn't have a lingering odor either. (08/13/2005)
By peachhead
Dishwasher Detergent
Soak them overnight in dishwasher detergent or Oxi-Clean. Either of these usually does the job. (08/13/2005)
By truerblue
Vinegar
My mom swears that by adding about a cup of white vinegar to your wash will get your clothes white again. Vinegar is cheap so it's worth a shot! (08/16/2005)
By BrookesMommy
Oxy Clean
To clean any white clothing, soak them in very hot water and Oxy-Clean. (01/14/2006)
By Rose
Question:
How do I get socks white again?
Brandy from Detroit, MI
Answer:
I've tried using Rit's Whitewash - that has worked pretty well for me.
I've also used Mrs. Stewart's Liquid Bluing for brightening the whites that have gone yellow or gray. But be careful - you must always dilute bluing in cold water. You add it to the final rinse.
By Ann