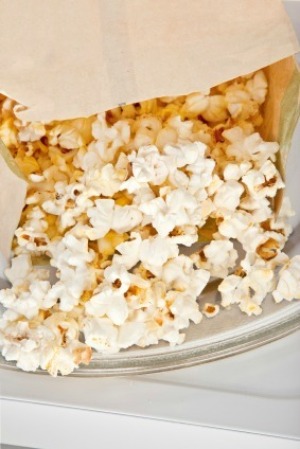 Overcooking popcorn in the microwave can result in a burnt odor and staining. This is a guide about removing burnt popcorn smell and stains from a microwave.
Ad
---
Solutions: Removing Burnt Popcorn Smell and Stains from a Microwave
Read and rate the best solutions below by giving them a "thumbs up".
I am writing to thank the person who said acetone free nail polish remover would remove the yellow stain in my microwave oven left after seriously burning a bag of microwave popcorn. She was absolutely right on! At first, I tried 10 ounces water and three teabags boiled and letting it steam the inside of the microwave but this did not get rid of the smell nor the yellow stain. I also tried soft scrub, 409 glass and surface cleaner, and vinegar water. Each of those cleaned the microwave of the first layer of carbon from the burned popcorn but did not take care of the smell nor the yellow stain. The yellow stain was removed only by the acetone free nail polish remover, which I tried in a small spot first because I thought for sure the paint enamel would peel right off. I don't believe everything I read. I cleaned the yellow stain off with acetone free nail polish using lots of cotton balls. So go at the problem like this:
Clean first with any cleaner you like to get the first layer off down to the yellow stain, this means the door, window, top, bottom, sides and outside vent across the top of the microwave.
Use the acetone free nail polish on cotton balls and go over everything: ie, inside window and inside door, top, bottom, sides.
Wash microwave with soapy water.
Rinse with vinegar water. Once the yellow stain is removed you have removed the main source of the smell! Until the yellow is gone, you will have the smell. Don't use your microwave until you have completed this whole process.
Final step to take is to peel two oranges, put them in a microwaveable dish with water enough to barely cover them and boil for 4 minutes. I stood and watched them boil because I didn't want a boil over or burned orange peels! Leave the door closed for 12 hours.
Our popcorn disaster would not have gotten this bad if our smoke alarm, which goes off over a crumb in the toaster, had gone off! We had failed to test and replace the battery. Don't let it happen to you! And, don't walk into another room while microwaving popcorn, stand guard while doing popcorn!
By Sunshine from Columbus, ND
Give a "thumbs up" to the solution that worked the best! Do you have a better solution? Click here to share it!
Questions
Here are questions related to Removing Burnt Popcorn Smell and Stains from a Microwave.
How do I get rid of the odor from burning popcorn in a microwave oven?
By Gloria L.
AnswerWas this interesting? Yes No
Ad
---
---
Most Recent Answer
By Holly 367 1,264 11/02/20110 people found this helpful
Had this situation years ago. I tried everything I could think of, and eventually the smell went away. Wash the entire interior. Boil cups of vinegar in it. Let bowls of vinegar sit in it overnight. You may find that the interior doesn't smell, but using the micro starts up the odor. In that case, wash interior and keep bowls of vinegar in it overnight.
Vinegar= apple cider or white.
---
I burned popcorn in a microwave. How do I get rid of the smell first and if possible the yellowing on the plastic liner?
By Nancy from Harrisburg, NC
AnswerWas this interesting? Yes No
Ad
---
---
Most Recent Answer
By beechiegirl1953 5 13 01/23/20110 people found this helpful
I used Soft Scrub and a little elbow grease and it cleaned off all of the yellow stain left by 'Extra Butter Popcorn' that had accumulated for a while. As for the odor, try a small bowl of half water and half lemon juice concentrate and microwave it till it is near boiling. Then shut off the microwave and let it sit in there for about a half hour or so. As for the house, I'm afraid you are going to have to open the windows, turn on all fans, and wait! After most is cleared out, spray with any scent of Febreze, which is a great odor remover.
I read that you can use acetone free nail polish remover to get rid of the yellow stain. Since my nail polish remover has acetone in it, can I you hydrogen peroxide instead?
By Judy F
Archives
Thrifty Fun has been around so long that many of our pages have been reset several times. Archives are older versions of the page and the comments that were provided then.
How do I get horrid, burnt popcorn smell out of the microwave and house? And how do I get yellow stains out of the microwave from burnt popcorn?
By MP from Birmingham, AL
---
RE: Getting Rid of Microwave Popcorn Stains and Odor
Wipe it down with vinegar! Set a cup of vinegar in the microwave, set timer for 1 minute and remain overnight, in the am, set again for 1 minute; then the stains should wipe out, the vinegar smell will only be short-lived if you leave the door open for a while. (07/29/2010)
By Cajun62234
A teenager in a normal hurry exploded the high oil popcorn in the microwave. Help!
By kwren from Dallas
How do you get burned popcorn smell out of a microwave?
By Tracy from Pasadena, MD