Cleaning a Stainless Grill Grate
Solutions: Cleaning a Stainless Grill Grate
Read and rate the best solutions below by giving them a "thumbs up".
I have found the best way to clean a grill grate is to place foil on the grates. First, cover the top of the grate with foil. Then turn the grill on. Wait for 10 - 15 minutes and remove the foil. The grill should be much easier to wipe/scrub down. The foil allows the heat to concentrate more on the grill grates instead of flowing through like normal.
By Jamie12 from MI
To clean my grill grates, I lay them on newspaper on the patio and spray them with oven cleaner. Then I leave them overnight. The next morning I wash them in the sink, using a scotchbrite or similar cleaning pads. They look good as new!
By Linda from Houston, TX
Use a piece of wadded up aluminum foil and rub away. Cooked on food comes right off.
By Sandy from Memphis, TN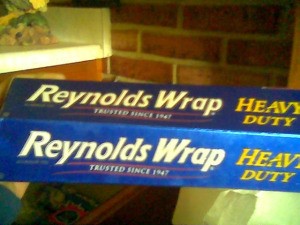 Dirty BBQ grates? Burnt on food in a pan? Rims on you tires? To clean the messiest grills, pans, and cars tire rims easily, use that aluminum foil you were just about to wad up and toss into the garbage. It works great instead of those scouring pads you are always buying. Get all your money's worth, instead of just part, out of your foil. Put it to work one more time before tossing into the trash.
By Spacecase from CA
Share Your Feedback:
Once you try any of the above solutions, be sure to come back and give a "thumbs up" to the solution that worked the best for you. Do you have a better solution? Click "Share a Solution" above!
Questions
Here are questions related to Cleaning a Stainless Grill Grate.
Cleaning Stainless Steel Grill Grates
We have recently purchased a Charbroil Quantum infrared grill with stainless steel grill grates and underpans. We really, really love how the meats turn out.
We've used it only 4 times, for two people, but from the mess of it, you'd swear we grilled a side of beef! I want the grates to be as clean as when they were new. We've done the "leave it on high for 15 minutes" afterburn, soaked them in Dawn, used oven cleaner, and soaked them in washing soda and borax. Then, I just got out a medium steel wool and used Barkeepers' Friend (oxalic acid). The Barkeepers' did the trick, but if I have to use that much elbow grease, I've threatened that we're all going vegan!
Could someone out there please tell me how to get these parts clean?
Thank you!
By Jane
---
Most Recent Answer

By Gloria Z
04/02/2012
Try spraying the grill rack with Pam or another cooking oil before heating up the grill. Or dip a clean rag into cooking oil and wipe it on. Heat the grill for 10 mins. on high and you're good to go. When you're done cooking turn on the grill and heat it up on high for 10 more minutes. Then use your choice of cleaning tools to scrape off the left overs.

Remember - fire is a great purifier - while the grill might look icky it really is bacteria free because of the fire.

I had a friend who insisted on scrubbing the grill to the point of being "like new" she used this technique and was delighted because she said she could spray the grill with a garden hose and it was so easy to clean up.
Cleaning Stainless Steel Racks
How do I thoroughly clean and remove cooking stains from the stainless steel racks used to keep meat from the bottom of my baking trays during roasting?
---
Most Recent Answer

By Lilac
04/01/2012
The short way is spray with easy off oven spray, let set, then rinse off.
Cleaning Stainless Steel Grill Grates
What is an easy way to clean my stainless steel cooking grates for my infrared grill?
By Debbie from Bryant, AL
---
Most Recent Answer

By Litter Gitter
05/29/2010
I have read that you can spray your grate with Easy Off oven cleaner and put it in a trash bag and let it sit. It will loosen the buildup and you can remove it kind of like cleaning the oven. I haven't tried it yet, but seriously thinking about it.