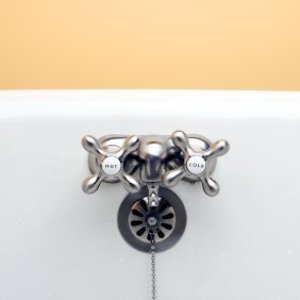 Painting the walls near your porcelain bathtub can result in paint getting on it. It is important to avoid scratching the porcelain when trying to remove the paint. This is a guide about removing paint from a porcelain bathtub.
Solutions
Share a solution for this guide today!
Questions
Here are questions related to Removing Paint from a Porcelain Bathtub.
I am looking for ideas on how to remove paint from a porcelain bathtub. Previous owners covered the tub with white paint to make it look "new" before selling the house. I want the old porcelain back!

lulugirl765 from Wisconsin
---
Most Recent Answer

By amanda05/21/2005
Paint stripper should work, test in an inconspicuos area first, or you might consider shelling out for an archival product like "peel away seven" I have used it to remove many many layers of paint from mouldings and hardware. it's a safe way to remove lead paint too