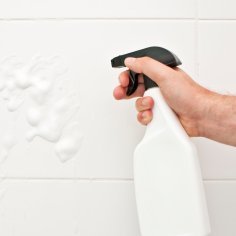 Shower sprays can help prevent soap scum and other grime from building up in your shower. There are homemade shower spray options that can work as well as the store bought ones without the harm chemicals. This page contains homemade shower spray recipes.
Solutions
Share a solution for this guide today!
Questions
Here are questions related to Homemade Shower Spray Recipes.
I am looking for a daily shower cleaner recipe.
By Judy
---
Most Recent Answer

By Kasey Chandler02/05/2011
I had bad problems with mold build-up on my shower curtain and tried every type of "remedy" to cure it. Not only did I find that harsh chemicals were ineffective in treating mold, they were caustic to work with and left a strong pool smell for days.

After researching blogs for months, I found a solution that is not only effective but also green! A friend turned me on to a suction-cup device that holds the curtain off of the tub siding, allowing fresh air to circulate to dry the area and prevent mold in the first place. I ordered online and they even gave me a new shower curtain liner, and three and half months later it's still mold free. Stopping mold before it starts is not only incredibly easy for me, but it's also the green solution I've been looking for. No more chemicals and no more constantly replacing the shower curtain! Their website is www.air-it-out.weebly.com Hope this helps!

I'm searching for a safe and effective shower cleaner that will remove pink and black mold from my shower. The only commercial one I have found to be effective is Tilex, but the fumes from the chemicals are very strong. I've used a basic vinegar solution, but no luck.
By M Cook
---
Most Recent Answer

By susan07/24/2013
Hydrogen peroxide spray, leave and brush off the mould. Nothing else... no smells, no damage. I did this and it worked like a charm.

Is there a homemade shower cleaner and disinfectant I can spray on and not wipe or rinse off?
I have three showers, one fiberglass, one ceramic, and one Vikrell.
Thank you.
By nanagma from MN
Does anyone have or know of a natural recipe for a daily shower cleaner that you can spray on? I have been using one from Walmart, but it's not natural and I don't want the chemicals.
By Judy
---
Most Recent Answer

By hopefulau01/28/2013
The Main Ingredients:

Baking soda is a miracle food that can also deodorize and scour. It has anti-fungal and antiseptic properties, and can remove stains.

White vinegar is great for removing odors. When the smell of the vinegar leaves, it takes other smells with it. It also cuts grease and removes mildew.

Hydrogen peroxide, in the 3% solution found at the grocery stores, is a mild bleaching agent.

Lemon oil, eucalyptus oil, lavender oil and tea tree oil (often called "essential" oils) are sold in natural health stores and some grocery stores. They have antiseptic and deodorizing properties.


The Recipes

Basic shower cleaner: In a spray bottle, mix two parts water, one part vinegar and about 3 drops essential oil per 2 ounces liquid. Shake and spray on shower, then wipe off.

Scouring cleaner: Just sprinkle baking soda on a sponge, wipe on and rinse off.

Mildew cleaner: In a spray bottle, mix one part hydrogen peroxide with one part water. Spray on mildew and wait one hour. Rinse off. Hydrogen peroxide can be irritating, so use caution.

Drain cleaner: Use the action of vinegar plus baking soda to clear drains. Pour baking soda in drain, then follow with vinegar. Wait 20 minutes, then pour hot water down drain. Do not do this if you have already tried a commercial product, as the vinegar can mix with the commercial product and cause dangerous fumes.


Other Easy Ways to Keep A Shower Clean

Here are a couple of other easy methods to keep a shower clean. Using a squeegee after each shower will keep mildew at bay and reduce cleaning time. Using a chamois cloth after each shower can also keep mildew at bay. Both of these methods require the cooperation of everyone who uses the shower.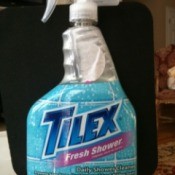 How can I make the product, Shower Saver or Fresh Shower? I use this cleaner after the last person showers everyday and it really works. I would love to make my own cleaner like the name brand cleaner. Surely there is someone that knows what's in this product. Please let me know if you know the ingredients. It's approximately $5.00 per bottle.
Thank you.
By Connie E.
---
Most Recent Answer

By OliveOyl12/26/2011
This type of product is available in dollar stores. Don't know how well they work but you only risk $1 to try it out.
I need the recipe posted awhile ago using vinegar and Dawn to spray in shower to clean.
By Diane
Archives
Thrifty Fun has been around so long that many of our pages have been reset several times. Archives are older versions of the page and the feedback that was provided then.
I would like a recipe for the spray shower cleaner that is used immediately after taking a shower. PC from AZ
Answers:
Recipe
04/06/2004
Here's a recipes I found but haven't tried it...

8 ounces of concentrated all purpose cleaner
16 oz rubbing alcohol
water

Put all the ingredients into a gallon jug, fill the rest of the room with water. Then re-fill a spray bottle with the solution.

I don't know what the best concentrated all purpose cleaner would be, though. Maybe Simple Green?

By Diane
White Vinegar
04/06/2004
I also wonder if just white vinegar might do the trick.
By Diane
Squeegee
05/08/2004
Keep a Squeegee thing you use for cleaning windows in the shower. As soon as you get out, simply run it down the panels and it will stay clean and clear forever.
By cathy
Easy Shower Cleaner
11/24/2004
Dilute floral scented store brand bleach 1 part to 9 parts water and put in a spray bottle to use as a quick mist after showering every couple of days, I also mist the curtain liner. (Be sure to mark the bottle carefully so everyone knows what it is! Keep out of reach of kids.)
By Kathy
How do you keep shower doors clean without using commercial product.
editegyed from Philadelphia, PA
---
RE: Homemade Shower Cleaner
I use distilled white vinegar. Mix a little bit in a spray bottle with some water. If the doors are really dirty, first make a paste of baking soda, white vinegar and a drop or two dish soap. Scrub. Rinse. Don't worry about the smell. Vinegar deodorizes and the smell disappears when it is dried. You can add a drop of essential oil to make it scented if you like. (08/14/2007)
By Lucy74
RE: Homemade Shower Cleaner
Here's what works for me. First, use any product to really clean the doors. Then, get rid of bar soap (which contains waxes that cause the buildup) and use liquid soap (any kind). I use the big refills from Target or Walmart. Result? No scum buildup. Now, for the final thing. When you finish drying off with your towel, take 15 seconds (yes, it's that little time) to quickly wipe the water off the doors (no need to totally dry - just use your already damp towel). The difference is amazing - and all for just 15 seconds per shower. (08/15/2007)
By ccarnow
RE: Homemade Shower Cleaner
Use a mix of vinegar with a few drops of lavender or tea tree oil in a spray bottle. It should get your doors really clean and tea tree oil is a disinfectant. (08/17/2007)
By Mythi
RE: Homemade Shower Cleaner
The water, vinegar, and dishsoap works great. Thank you. To keep it clean instead of a towel I use a squeegee. (08/21/2007)
By edit egyed
I'm trying to find a formula for homemade daily shower cleaner. I've tried vinegar/water and Jetdry/water, but they don't quite "cut" it. Anyone have any suggestions?
Thanks,
quarterhorsey2 from Kalispell, MT
---
RE: Daily Shower Cleaner Recipe
Daily Shower Cleaner
1/3 cup white vinegar
32 ounce Rubbermaid spray bottle (found in Wal-Mart)
Put vinegar in spray bottle and fill rest of bottle with water. Spray shower with daily cleaner after last shower of the day to keep a clean shower spot free. Water sheets off walls. Spray shower curtain, too. Do not rinse.
Use the following to clean your shower before using the Daily Cleaner.
1/3 cup white vinegar
1/3 cup cleaner like Lysol or your favorite
Fill a 32 ounce Rubbermaid spray bottle with this solution, and fill rest of spray bottle with water. Use this solution and spray heavily on shower walls and use a scrubbie or sponge to remove hard water and soap scum from shower walls. Rinse thoroughly.
Linda from PA (06/23/2006)
By quickcooker
RE: Daily Shower Cleaner Recipe
One time every week, I like 1 part bleach to 3 parts water. Works for me. Spray the walls, (spray bottle) till very wet then leave the room, close the door and keep out for at one hour. Then spray the walls with clear water. (06/24/2006)
By jerryno1
RE: Daily Shower Cleaner Recipe
Things like Tea Tree oil or baking soda or even Eucalyptus oil. The oils in a little hot water or straight on the cloth don't need wiping over a second time. But the baking soda on a damp cloth would need rinsing off. (07/09/2006)
RE: Daily Shower Cleaner Recipe
I've used this on our new shower for years: works great.
For a 24-oz spray bottle:
1/2 c rubbing alcohol
1/2 c hydrogen peroxide
6 drops Dawn dish detergent
1 capful (about 2 tsp) Jet Dry
fill to 24-oz with water (distilled or purified if you have it)
Don't make up a big batch to refill because the H2O2 doesn't last very long and turns into good-old H2O. The H2O2 dissolves proteins (like sloughed skin and body fluids), the alcohol and Dawn dissolve oils, the Jet Dry suspends the minerals. (08/25/2006)
By Bryan
RE: Daily Shower Cleaner Recipe
Water with 10 to 20 percent bleach works fine. And you can buy the kind that does not smell. (10/16/2006)
By Will
RE: Daily Shower Cleaner Recipe
Bryan's recipe works great. If you want to make it up ahead of time, leave out the hydrogen peroxide and make a gallon of base solution from:
3 C rubbing alcohol
1 Tbsp dish detergent
4 Tbsp rinse agent (e.g. Jet Dry)
3 qt water
To fill a 32 oz. spray bottle add 2/3 C hydrogen peroxide and fill with base solution. For a 24 oz. bottle use 1/2 C peroxide and top off. (02/12/2007)
By Jay
RE: Daily Shower Cleaner Recipe
Be careful with pure white vinegar in the shower. I began using it in my Scrubbing Bubbles Shower cleaner and it worked great. The only problem is that the acid in the vinegar broke down the caulk around our tub surround and allowed mildew to grow. So, the tub ended up looking worse than it did if I hadn't cleaned it at all. We had to replace the caulk and start all over. But it was probably just because it was so very concentrated, diluting it would probably help. (04/18/2007)
By lmacknox
RE: Daily Shower Cleaner Recipe
Daily Shower Spray (makes 1/2 gal.)
Use an empty 1 gallon container to mix the solution. Use:
1/2 cup "Arm and Hammer Washing Soda" (find in store by laundry soaps), put in empty gallon container
1 quart hot (from tap) water, add to Washing Soda; shake to dissolve
1 quart cold (from tap) water, add to mixture (in gallon container)
1/2 cup white (clear) vinegar, add to mix (in gallon container)
By Barbara P.
RE: Daily Shower Cleaner Recipe
Vinegar is acidic. Green Potions has a daily shower spray. You spray it on before you get out of the shower and rinse it off with shower water just before getting out of the shower. Then just leave it to dry by itself and it dries crystal clear. I should note that you need to start with a clean shower then use it daily. It will stop any build up in the shower. You can get it in a grapefruit, spearmint, and a couple of others I think. greenpotions.com.au (05/27/2008)

By Ellie
I had a recipe for homemade shower cleaner that I found on the Scrubbing Bubbles Page (which I found odd) and I lost it.
I am looking for a recipe for cleaning showers.