How do I remove red candle wax from a white tablecloth?

Linda in Alabama
January 6, 2008
0

found this helpful
My candles sprayed on my dry clean only table runner when they were blown out. Most of it scraped off, but the stains remain. I tried the warm iron method. Didn't work. Any other ideas? Thanks, I hope.
February 17, 2008
1

found this helpful
I just tried the hot boiling water over the bucket method. I did not bother with standing on a chair. I had a red candle wax stain on linen about the size of a half dollar. I then sprayed "Shout" on it and repeated the process a few minutes later. Washed normally, worked great! Thanks so much for the tip.
April 28, 2008
0

found this helpful
It didn't work for me. cloth still has a frustrating purple stain from candle wax. The wax came off easily, the stain remains even after pouring boiling water through it. Guess I'll search another site, sigh.
Editor's Note: It's hard to know what kind of coloring was used to make the candle purple. You could try some Dawn which might remove it.
January 3, 2016
0

found this helpful
I tried a two-pronged approach: the boiling hot water method (4 times), PLUS, adding a paste of Oxyclean and pouring more hot water through that. Then, I immediately washed the tablecloth with more Oxyclean rubbed onto the red candle wax stains. There's still a very faint red stain, but much less noticeable than I expected, as the candle was really red and really stubborn.
July 2, 2016
0

found this helpful
Boiling water worked great I have Egyptian white table cloth with red candle wax !!!! I thought it was ruined !!! 3 kettles of boiling water, then some stain remover directly on who was left of the stain a little bleach in wash hey presto all gone thank you
How do you get candle wax out of material?

Linda from Oak Hill, OH
February 13, 2007
0

found this helpful
Try placing some paper towels or news paper on the opposite side of material and iron it start warm and just work with it a little.. I have saved ,what I thought was, a wasted tablecloth this way. I also repaired a horrible mess in my carpet.
February 14, 2007
0

found this helpful
I have found that the best way is to place a sheet or two of blotting paper over the wax (not sure if that's what it's called in the US but the paper sold at stationers for blotting ink) and iron it with a medium hot iron and the wax will be absorbed by the blotting paper. You could probably use two or three layers of kitchen roll instead if you can't get blotting paper. JG, London, UK
How do you remove wax from a cotton tablecloth?
By Norma from Philadelphia, PA
June 1, 2010
0

found this helpful
Place paper towel on the stain and iron it. Replace paper towel when it is soaked with the melted wax and continue ironing until all candle wax is gone, then wash as usual.
Candle wax has spilled and hardened all over a cotton tablecloth. I have heard there are ways to remove it, but I am not having much success. Anyone out there able to help me save my tablecloth?
By kaplunk from Faber, VA

Answers:
Removing Candle Wax from a Tablecloth
I have had much success with using a folded paper towel placed over the area. You can use an iron over the paper. This will heat up the wax to the place where the towel will absorb most of it. Hope this helps! (01/13/2010)

Removing Candle Wax from a Tablecloth
Just make sure that the paper (any white paper will do - printer paper is fine) is on the bottom and the tablecloth (with candle side down) is on top of it before ironing. We held candles in my college sorority for ceremonies and I've ironed wax out of many dresses this way too! Good luck! (01/17/2010)

By mymagicword
Removing Candle Wax from a Tablecloth
I also recommend the ironing method. I used newspaper. Be sure to put the paper both over and under the wax stain. You may have an oily spot left or a bit of color, which should come out with your usual stain remover - Shout or something like that. (01/17/2010)

By louel53
Removing Candle Wax from a Tablecloth
I have tried ice on the wax and this will allow you to peel off the wax. If it is a white tablecloth, wash in detergent and bleach. (01/17/2010)

By Pennypacer
Removing Candle Wax from a Tablecloth
I just had this happen at Christmas. The freezing thing didn't work. It may depend upon the weave of the table cloth fabric and how much wax is spilled. The ironing thing did work though. I used a brown paper bag and no steam. (01/20/2010)

By Beth
How do I remove candle wax from a tablecloth?

M. Tucker from Cullen
Answers:
Removing Candle Wax from a Tablecloth
I would suggest not using the freezing method. Although it is proven to work, it can also make the wax even harder to remove. Use the hot ironing method; it's much easier, and also much more effective. (12/26/2005)

By Mary Kate
Removing Candle Wax from a Tablecloth
Try freezing it until the wax hardens, then peel it off. Or put several thicknesses of paper towel over the wax and iron with a hot iron. As wax soaks in remove the bottom sheets and add new to the top. Do this until the wax is removed. If it leaves a stain, which sometimes happens with colored wax, you may need to use a spot remover that is safe for the fabric of the tablecloth. (03/02/2007)

By thriftmeg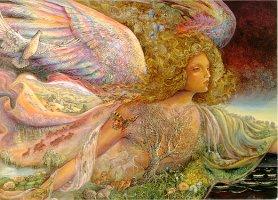 Removing Candle Wax from a Tablecloth
If the oil from candle stains your tablecloth, try using a cleaner such as Greased Lightning (available at Dollar General). Test an inconspicuous spot first. It saved my Christmas tablecloth.
Good luck. (03/02/2007)

By Julia
Removing Candle Wax from a Tablecloth
Lay a paper grocery shopping bag on top of the candle wax portion of the tablecloth.
Place a hot iron on top of that and you will see the candle wax melting into the grocery bag.
Remove your iron and reposition and lay it back down. Continue until all of your wax has been sucked up into the grocery bag.

This tip works well on carpets as well. Even dripped wax on walls can be removed this way.
good luck.
Editor's Note: Make sure that the temperature of the iron is not too hot for what is below the wax. Wax melts at a very low temperature. (03/04/2007)

By Mary
Removing Candle Wax from a Tablecloth
Put fabric in freezer till it hardens. Remove it and rub together the waxed part till it flakes off. Place the stained area in sink directly under really hot tap water for a minute. Turn off the water and scrub one side with small scrub brush. Flip it and run really hot tap water again. Turn it off and scrub again. Repeat until its off. Wear gloves. (04/15/2007)

By Izz78