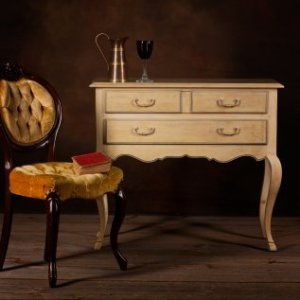 Cleaning antique furniture presents its own special considerations. The finishes on antique wood furniture are quite different than those on modern pieces. Care needs to be taken not to damage these lovely heirlooms or unique shopping finds. This is a guide about cleaning antique wood furniture.
Solutions
Share a solution for this guide today!
Questions
Here are questions related to Cleaning Antique Wood Furniture.
How do I clean old wood dressers?
By megannoah from Tacoma, WA
How can I clean fine, antique maple furniture without hurting the finish?
By Susan from Clinton, TN
---
Most Recent Answer

By shirley10/08/2010
You really need to read this article -
http://www.refinishwizard.com/cleaning_antique_furniture.html

I have an old piece of Tiger oak (probably from the 1920s) that was made into a coffee table. The oak is due for a refurbishing. I don't want to get into anything more than a good cleaning and polishing. I had heard to try using a detergent and water to remove the dirt and grease, let dry, and then apply polish works well. I want to use dark Old English polish, as it is made to hide scratches, which there are a few, but nothing major.
Are using soap and water for cleaning safe on the wood, or would Murphy's Oil soap be a better choice? I never thought Murphy's soap actually cleaned very well. Any and all tips are much appreciated. Thank you all.
By Luann from Corning, NY
---
Most Recent Answer

By julie04/18/2010
I don't like Murphy's much either. I prefer the orange oil, but I also seen somewhere to give wood furniture a face lift you can use very thick instant coffee! Just make a sort of paste out of it put it on with a clean soft cloth then wipe it in like you would a stain. Then afterward treat with mineral oil. The piece that they did this to looked amazing afterward!
Archives
Thrifty Fun has been around so long that many of our pages have been reset several times. Archives are older versions of the page and the feedback that was provided then.
I acquired an old wood credenza. It has possibilities, but is very dirty. It could be build-up from furniture sprays or just neglect. What is the best way to clean this piece?
Judy from IA
---
RE: Cleaning Old Wood Furniture
Murphy's Oil Soap. (03/02/2009)
By Glenn'sMom
RE: Cleaning Old Wood Furniture
I like the way Murphy's smells, but my husband (who is a carpenter and floor refinisher) says its terrible for the wood. If its really grimy, use naptha or denatured alcohol, available at your local home improvement store near in one of the paint isles. Regardless of what product you use, try a small amount in an inconspicuous area of the credenza to be sure it does what you want it to. (03/09/2009)
By Aili