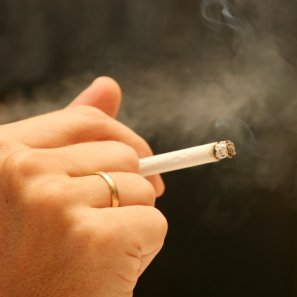 Nicotine from cigarettes, cigars, and pipes can leave yellow stains on your furniture. Removing this sticky residue can be done taking care not to damage the finish on your furniture. This is a guide about cleaning nicotine from wood furniture.
Ad
---
Questions
Here are questions related to Cleaning Nicotine from Wood Furniture.
I need to get it off some wood furniture I bought from family. It's a mess, but was my aunt's. She's gone, but the nicotine is trying to stay. Please help.
By Sonja from Smalltown, KY
AnswerWas this interesting? Yes No
Ad
---
---
Most Recent Answer
By Frugal Sunnie 11 1,654 10/31/20110 people found this helpful
A solution of half water-half vinegar will work too. Use a dampened cloth to lightly wipe the upholstered parts of the furniture. It may take a few times to completely rid the furniture of the stench, but the vinegar and water will do the trick.
---
I have nicotine embedded in my bedroom furniture. I'd like to know how to remove it. It's wood furniture.
AnswerWas this interesting? Yes No
Ad
---
---
Most Recent Answer
By Kim Churchman 3 1,277 11/26/20080 people found this helpful
Just fyi, it's the tar you see. Nicotine is colorless, looks like water. I know, I'm no help at all! Good luck and good for you for wanting to do this!
How do I remove nicotine and cigarette smell from a large wood hutch? I have tried a wood cleaner and some came off. It is so thick you can feel it. But I am afraid of ruining the hutch; it's my mother's. It is so bad I won't bring it in my home. Please help. There has to be a way to remove this.
By Tammy H from Zanesville, OH
Solutions: Cleaning Nicotine from Wood Furniture
Do you have knowledge about this guide topic? Feel free to share a solution!
Archives
Thrifty Fun has been around so long that many of our pages have been reset several times. Archives are older versions of the page and the comments that were provided then.
I would like to know how to clean nicotine off of wood furniture. Oven cleaner works, but also takes off paint if it's left on slightly too long.
---
RE: Nicotine off Wood Furniture
I would suggest trying Lemon Oil. It worked for my mom to help to remove paint off of a Mantel Clock. It is in stores in the cleaning supplies. Just pure Lemon Oil, and it won't hurt the wood. Just put it on a clean cloth, rub on the wood, then polish with another cloth. You may have to do it a few times, it smells good, and is good for the wood, it helps to preserve it. -Sharon Lee (02/18/2004)
By ThriftyFun
Nicotine on appliances
I am needing to clean some appliances that are severely stained with nicotine. I have tried just about everything like Mean Green, Oven cleaner, Degreaser, Windex, among other various cleaners. I have even tried sanding them down, nothing thus far is working. Need any suggestions please. (03/04/2005)
By Jen
RE: Nicotine off Wood Furniture
Don't laugh, but a regular bar of Ivory soap will remove nicotine off of anything. Dampen a sponge or cloth and rub the bar with it. I scrubbed my brains out with practically every cleaner available and the Ivory removes it like a breeze with very little effort. Amazing! I do my furniture with Ivory also. Shines like new after it's polished. (03/26/2005)
By Captain
Getting nicotine off appliances
Scrubbing Bubbles does a wonderful job. It does the work for you. (04/26/2008)
By Kathy