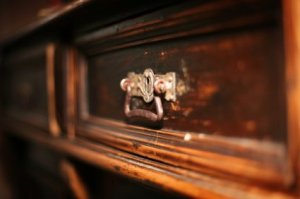 A sticky film can build up on your wood furniture from a variety of sources: smoke, cooking grease, furniture polish, little sticky fingers, etc. The break down of older finishes can also result in a sticky surface. There are some tried and true methods for cleaning this film off of your furniture. This is a guide about cleaning wood furniture with a sticky film.
Solutions
Share a solution for this guide today!
Questions
Here are questions related to Cleaning Wood Furniture With a Sticky Film.
I would like to know how to remove sticky residue from a wood coffee table?
By Bae from LA
---
Most Recent Answer

By Cyinda12/12/2009
My mother in law's furniture was sticky like this. We never figured out if it was because of her smoking or because of years of furniture polish.

I made her furniture look brand new by using straight ammonia to clean it & using a scrubbie sponge & a toothbrush to get into the groves. Sometimes I'd use the back of the sponge & sometimes the front. After I finished cleaning the gunk off, I let it dry then replaced the finish by using Old English scratch-covering furniture polish. It comes in a dark & a light finish.

When we'd re-done her house & furniture, she couldn't believe the furniture was her's because it looked so nice & like brand-new!

* After the furniture is totally dry after cleaning, apply the polish with a soft cloth, then wait about an hour for it to soak in, then remove the excess polish with a soft absorbent cloth. Lastly, buff it until it shines & looks like new!

* Don't use "sudsy" ammonia, use only regular.
* Make sure the windows are open if you use straight ammonia!
I have a coffee table that had bits of food stuck to it and has had greasy foods laid on it. I finally got sick of the greasy, smeary look. The furniture cleaner just seemed to spread the mess. Then I took a warm damp rag to it and quickly dried it with a soft cloth. It turned kinda white, but if you rubbed it with your hand, gooey stuff would come off like pencil eraser bits. The spot would then look dull, but still felt gummy or greasy. Now it's a real mess. Help!
By Cathy
---
Most Recent Answer

By Amber B.04/17/2013
White vinegar and water will remove the grease and sticky residue. 2 parts vinegar to one part water. The white is where the wax is coming up. When you have finally removed all of the goo and old wax/oil, if there are still remaining spots of white, use Mayonnaise (yes...the stuff you put on a sammy). Simply dab mayo on the white rings and cover with a light towel for a few hours them wipe off. Finish by using a cleaner such as murphys oil soap and then your choice of polish :)