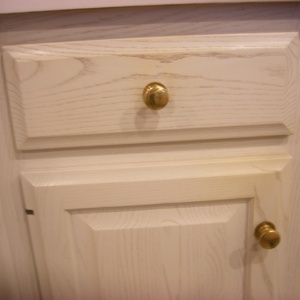 Kitchen cabinets can get very dirty and greasy from daily use. This is a guide about cleaning kitchen cabinets.
Solutions
Share a solution for this guide today!
Questions
Here are questions related to Cleaning Kitchen Cabinets.
How do you remove the gummy grease around cabinet knobs?

By Kelly from Woodstock, IL
---
Most Recent Answer

By ann08/16/2010
Dollar stores sell a degrreaser caleed "Awesome" works great for me. You might want to rinse it off with a clean, wet rag. If you have wood cabinets. go with the Murphys Oil Soap.

Another product that works well is Goo Gone.
I have foil wrapped kitchen cabinets, I am using dishwashing liquid to clean the surface as suggested by supplier, but i can still see the finger marks whatever I do. It is a new kitchen installed last year. I would appreciate if you can suggest some gentle products that does not reduce the cabinet's shine.

Farhana from Brighton
---
Most Recent Answer

By CheepieGal (Guest Post)10/31/2006
Try spraying a bit of WD40 onto a paper towel and going over one of your (dry) cabinet doors. It should remove all fingerprints and provide instant luster to the door. Do not breathe the fumes.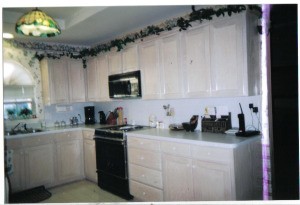 What's the best way to clean kitchen cabinets? They are a light tan color and I want to clean all the gunk that has gathered in the corners. I don't want to harm the finish of the cabinets.
By Janie C.
My kitchen cabinets are sticky and greasy. Nothing i've used will remove the sticky feeling. Any suggestions?

GMA from O'boro, KY
---
Most Recent Answer

By Laurie09/29/2006
A Degreaser called 'Greased Lightening' from Home Care Labs worked on my Mother-In-Law's cabinets. She also used a microfiber cloth. I've used this product on just about everything. You can buy it at any Grocery Store or Dept. Store
How do you clean wooden kitchen cabinets? They are old and very dirty.
By Barbara from Bellport, NY
---
Most Recent Answer

By Janet01/17/2010
For the old cabinets here, I have had excellent results using a handheld steam cleaner that I bought for about $43.00. It works very quickly & cleans so well. No scrubbing or struggling with the dirt, just aim, hold, wipe.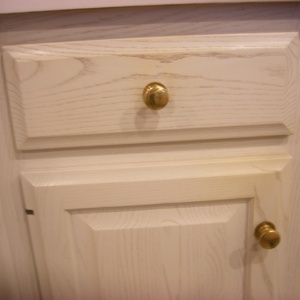 I have white wood kitchen cabinets that are yellowing around the handles and cabinet edges. How do remove yellowing?
By Bonita from Flushing, MI
---
Most Recent Answer

By Anonymous12/07/2010
It's most likely normal finger grime from opening and closing the cabinets and drawers so just clean with a soft plastic scrubber and simple soap and water or a baking soda and water paste.
I have wood cabinets with a sage green veneer. I am redoing my kitchen and wanted to really scrub the cabinets of all residue. I used a Magic Eraser and hot water and scrubbed, then wiped with warm towel. My cabinets are clean, however, they are streaked and have a white like film. Any suggestions? And then what do I use to re-luster them (polish)?
By dawn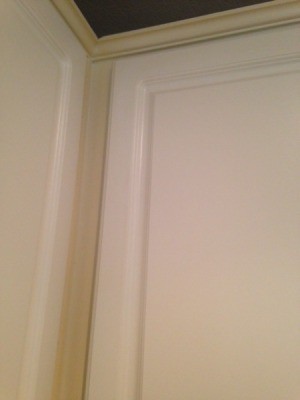 Our wood base cabinets are original and approximately 13 years old. The doors and drawers are all bright white because they have a thin veneer that looks like wood, but is not wood. So, the cabinets look really bad. How do I get the yellowing stain out of the paint? I don't want to pay $800 to have the cabinets repainted.
By Ana B
---
Most Recent Answer

By Louise B.09/12/2013
Once paint has discoloured, there is no way to "get the yellow" out of it. You have to repaint. The previous poster has good advice for a seal coat to keep this from happening in the future. Another option would be to leave the white parts alone and repaint the yellowed areas with a contrasting colour, something that matches your colour scheme.
Archives
Thrifty Fun has been around so long that many of our pages have been reset several times. Archives are older versions of the page and the feedback that was provided then.
My daughter just moved into her first apartment. The problem is the kitchen cabinets are old and have contact paper on them. How do we clean inside cabinets, they smell like old wood.

BJ from Ohio

---
RE: Cleaning Old Kitchen Cabinets
I would clean the outside of the cabinets with baking soda and water. Inside to get the smell out I would put some coffee grounds, not used ones, in a paper plate or something similar and close the doors. This will freshen up the inside of the cabinets. Throw away the coffee after it is used. If the contact paper is in good condition on the cabinets a good cleaning would be fine. If the paper isn't in good shape then I would replace it or maybe see if they would let her paint them. Good luck! (09/07/2006)
By Michele
RE: Cleaning Old Kitchen Cabinets
The idea of using coffee gave me an idea. I put Folgers coffee singles in the cabinets and drawers. I called the landlord, they said it is probably varnish, and that they could only smell coffee. I disagree about it being varnish, varnish does not leave a stale smell. Will just replace the coffee single when they no longer work. Thanks for the ideas. (09/14/2006)
By bj
How do you get a musty smell from kitchen cabinets?
Theresa from Ashe Co, NC
Tips for cleaning kitchen cabinets. Post your ideas.
---
Cleaning Wooden Kitchen Cabinets
Use a solution of 50% water and 50% white vinegar in a spray bottle to clean your wooden kitchen cabinets. You'll never get buildup or streaks.
By Brenda Cole (02/23/2005)
By ThriftyFun
Kitchen Cabinets - Special Cleaning
Some wood cabinet cleaners contain waxes which leave a shine or medium luster on the surface, and protect the wood. If the wood finish seems dull after cleaning, you may want to apply a solvent-based wood wax, which may or may not require buffing to create a luster.
Painted, plastic, and metal surfaces, may be cleaned occasionally with a creamy liquid wax which leaves a protective coating which retards soiling. If the finish is hard and in good condition, this extra step may not be needed.
Never use scouring powder or other abrasives on cabinets as they will damage the finish. On painted metal, or plastic surfaces, using an appropriate spray-on all-purpose household cleaner on stubborn sticky spots should remove them; rinse thoroughly afterward.
On natural finished wood, with a heavy buildup of grease and grime, that will not come off with special wood cleaners, you may need to use a straight solvent such as paint thinner. This is highly flammable and toxic to breathe. "Be sure there are not open flames or pilot lights or sparks in the kitchen or in rooms around the kitchen. Have the windows open for good ventilation. Removing doors and drawers and working outdoor, with not flames or sparks nearby, may be a good alternative."
Test on the inside of a door to be sure it will not harm the finish. Dampen a cloth with the thinner or solvent and rub vigorously on the cabinets. Refold the cloth as it picks up dirt, and change to clean cloths when needed, storing used cloths in a closed metal or glass container for disposal. If after this heavy cleaning, the finish looks dull, apply furniture wax or polish, following the label directions, and buff. If, after cleaning, the finish looks too bad, they may need refinishing.
This article was written by Anne Field, Extension Specialist, Emeritus with references from the Soap and Detergent Association. MSU Extension (02/23/2005)
By ThriftyFun
Refurbishing Kitchen Cabinets
Get kitchen cabinets looking new. Clean with 1:6 ratio of Dawn dishwashing detergent to water, sponge dry and apply light coat of boiled linseed oil (at any hardware store). Your cabinet (or any wood product) will shine like new.
By Kathleen (02/23/2005)
By ThriftyFun
RE: Cleaning Kitchen Cabinets
After cleaning with the suggestions mentioned, I'd also use an opened box of baking soda inside the back of each cabinet for about a month to see if that helps, remembering to keep the doors shut all of the time when not in use. Often times previous owners have sprayed insecticide which leaves a bad odor, or perhaps the house sat vacant for too long? Once cleaned well, they should improve, especially with the inexpensive boxes of soda that can be used for floor cleaning afterward. Hope this helps. God bless you for trying to improve your home. (10/29/2006)
By Lynda
My beautiful stained kitchen cabinets are 25 years old and quite streaked and dirty. I've tried Murphy's wood soap and other cleaners. I would like to clean them really well and then shine them up. I also don't know what to use to shine them once they are clean.
Peggy from Centralia, WA
---
RE: Cleaning Old Kitchen Cabinets
Wipe your cabinets down thoroughly with mineral spirits, make sure the kitchen is ventilated well, this stuff smells. Once they are clean and have dried, put on a coat of polyurethane. You can either use the brush-on water-based ones or the "wipe-on" kind. The wipe-on formula is oil-based, but it goes on very easily with a soft cloth and doesn't drip. (08/08/2008)
By Jean from Raymond, MS
RE: Cleaning Old Kitchen Cabinets
A friend in a similar situation suggested we use Pledge Revitalizing Oil with natural orange oil. Look for the bright orange trigger. It worked nicely. Need to re-do it about 3 times per year we have found. We use approximately two 16 oz. bottles. The first time, might have been 3 bottles. (08/08/2008)
By cookwie
RE: Cleaning Old Kitchen Cabinets
I use a product called Liquid Gold. It has brought cabinet doors back to a lovely finish. One word about it though aside from it being very highly petroleum-smelling and thus a bit heady; rub it on until the wood can absorb no more. Then polish off the excess. Treat at least once a year and more often if your climate is dry. (08/08/2008)
By Lady BE
RE: Cleaning Old Kitchen Cabinets
There is a product out there called "Cabinet Magic" and it really works. (08/09/2008)
By AuntyC
I am looking for the best solution for cleaning kitchen cabinets.
By Karen
---
RE: Cleaning Kitchen Cabinets
Call Lowe's or Home Depot and ask them. (01/05/2010)
By MCW
RE: Cleaning Kitchen Cabinets
I just did mine. I used TSP-PF phosphate free all purpose cleaner. I got the powder form because it was cheaper and also made a larger quantity. I cleaned my cabinets better than I expected. Our kitchen cabinets are 17 years old. I barely had to scrub. I purchased this at Lowe's for $4.48. (01/06/2010)
By SSelden
How can I clean the sticky area around knobs on kitchen cabinets without harming the wood?
By Laura from Princeton
---
RE: Cleaning Kitchen Cabinets
Try Murphy's soap for wood, then dry well and condition with Liquid Gold. (06/26/2010)
By Danialle
RE: Cleaning Kitchen Cabinets
I just use Mr Clean, liquid Comet, etc. what ever works for cleaning. Use a small cloth, maybe an old toothbrush to get behind the handle. This is gunk from people's hands. I have a 100 year old house, and when we redid the cupboards in the kitchen (27 kitchen cupboard doors) I did Danish oil with a couple coats of polyurethane on them. It still gets gunky, but much easier to clean. Just grab the dish cloth and scrub. (06/27/2010)
By T&T Grandma
RE: Cleaning Kitchen Cabinets
Um, how about Magic Eraser? That seems to do very well. Or dishwashing liquid that specializes in cutting grease? (06/27/2010)
By KLS8800