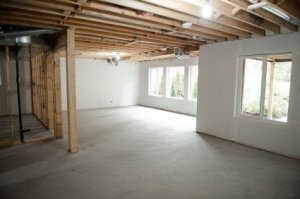 Basements often lack proper air circulation that can breed mold and mildew. This is a guide about removing odors from a basement.
Ad
---
Questions
Here are questions related to Removing Odors from a Basement.
I have the smell of rotten onion in my basement, we can't find the source. Do you have any suggestions?
By Sherrie
AnswerWas this interesting? Yes No
Ad
---
---
Most Recent Answer
By Clean, Clean, Clean 1 01/22/20120 people found this helpful
Check to see if you have any dry sink or bath tub drains. If you have a bathroom or wetbar sink that isn't used regularly, a dry trap can let sewer odors back into the home. Do you have a dry sump pump? Same problem. Do you have any plants in water vases? If water is not changed regularly, roots begin to rot and stink. Are you storing any root vegetables that might be going bad?
---
How do I remove pet odor from a concrete basement floor?
By Ann from Indianapolis, IN
AnswerWas this interesting? Yes No
Ad
---
---
Most Recent Answer
By anne 13 149 06/10/20100 people found this helpful
Use the "Pee Recipe" - it's not just for pee.
2 c. peroxide
2 t. baking soda
2 small drops liquid dish detergent

Mix gently and then pour on area. Do not wipe up - let it dry on it's own, undisturbed, for however long it takes. The smells will be gone. You can use this on dog, cat, human urine, feces, vomit. On carpet (test for colorfastness first in an inconspicuous area), mattresses, concrete, etc. Using a watering can (with sprinkler top) helps to distribute more evenly.
My basement flooded. After the water drained it left a terrible odor. What can be used to remove the odor?
By Vivian T B.
Solutions: Removing Odors from a Basement
Do you have knowledge about this guide topic? Feel free to share a solution!
Archives
Thrifty Fun has been around so long that many of our pages have been reset several times. Archives are older versions of the page and the comments that were provided then.
My son is selling his house and the basement has a horrible dog odor from where the dogs were kept. Can anyone suggest a solution I can apply to neutralize the smell? The area has a concrete floor.

Rose from Malvern, PA

Feedback:
RE: Dog Odors in a Basement
You can buy a product called OdoBan. Wal-mart sells it in a spray bottle, or you can get it at Sam's in gallon jugs of concentrate. Either way, spray it liberally on the floor and let it set for a few minutes before you mop it up or hose it off. It might take a couple of times, and I'd just leave some on the floor to dry when you finish. It has a pleasant, clean scent. Good luck! (04/08/2008)
RE: Dog Odors in a Basement
You can try sprinkling the area with a liberal amount of baking soda and letting it sit overnight. Then vacuum or sweep the next day. Follow that with 2 cups of white vinegar mixed with 1 gallon of water. Mop the floor, then rinse.
A second or third round of treatment may be required if it's really bad. But I had good luck with this. (04/08/2008)

By Matoaka
RE: Dog Odors in a Basement
Put a few sheets of foil or newspaper down with charcoal briquettes laid out on it. Better yet, smash up the charcoal (outside) down to marble-size chunks first. (04/12/2008)

By kimhis
RE: Dog Odors in a Basement
Try spreading coffee grounds on the floor. Fresh grounds, not used. We had a problem with cat odor and it helped a lot. Leave it there as long as it takes. (04/13/2008)

By kflocey
RE: Dog Odors in a Basement
I have a dog that sometimes makes a mess in the basement on the concrete floors. When this happens, I wash the floor with bleach and hot water. Smell is gone and the floor is nice and clean.

Karyn (04/15/2008)

By Karyn01