Toilet paper is a household staple that we use everyday; so how can we save money on toilet paper? This is a guide about saving money on toilet paper.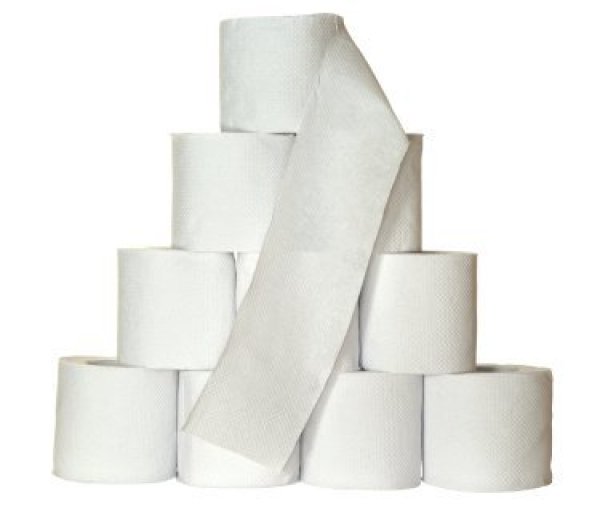 Filter

: All Articles
Sort

: Relevance
Buy your toilet paper in bulk from online restaurant overstock suppliers. You can get 96 rolls of toilet paper for .67 a roll. Most are double ply, so if you turn one roll into two rolls, you can get 192 rolls of toilet paper for under $65!

By Beka from Catoosa, Oklahoma
Sometimes (especially for children), it's easy to use more toilet paper than you really need. Although I don't have kids, I've found I use a lot less toilet paper by keeping a bean bag (or something similar) laying on top of the toilet roll. The bean bag just needs to be lifted slightly when you pull off the sheets you need and it makes me conscious of what I'm doing!

By Peggy G. from Yulan, New York
I just wanted to share that I found a way to save on toilet paper. Just put a crimp in it so that it does not go round and round so easily. By having the crimp, it stops and allows you to use a smaller amount instead of the waste of what you don't really need.
By Judy from Akron, OH
When putting on a new roll of toilet paper, squeeze it first before you hang it. That way, it will not keep on rolling. Very helpful if you have small children.
By april52 from Celina Ohio
How do you determine the best buy on toilet paper? This is driving me crazy!
By Sharon
Answer
Was this helpful?
Helpful?
Yes
It's really true that Scott 1000's are the most economical, especially when on sale. However, I've found *some* store brand 1000's that are just as good.
Reply
Was this helpful?
Helpful?
Yes
Read More Answers...
Ok, this may sound kinda weird but, what do you do to save on toilet paper? What is the best buy on it and how do you avoid overusing it? TIA
Answer
Was this helpful?
Helpful?
Yes
Absolutely right but you should also teach them to wash their hands BEFORE using the toilet in a plublic place or at home. In a house the place with more germs and bacteria is not the bathroom it is the kitchen.
Reply
Was this helpful?
Helpful?
Yes
Read More Answers...
Do your kids get mesmerized watching the toilet paper roll spin 'round and 'round, thereby using WAY more paper than they actually need? Next time, before you put the toilet paper roll on the spindle, "squoosh" it slightly between your hands. This will flatten the inner cardboard roll just enough to cause a little resistance as the roll turns -- resulting in fewer "avalanches" of TP!

By Becki in Indiana
Answers:
Toilet Paper Tip
I'll have to remember that one, also ~ how about putting the roll up with the sheets facing towards the wall instead of towards the room - not so many sheets are "dispensed" this way round. (05/10/2004)

By Lizaixi
Comment
Was this helpful?
Helpful?
Yes