I already had an old pitcher filled with pink silk roses. To make it more festive, I simply tucked in some gold colored trim from AC Moore (about a buck a piece). Then I sat it on a nice tray and scattered pretty ornaments around it which I had around but were too heavy for my tree. You do this with a country look (use a crock or a tin vase) any colors you like, pine cones around. There are so many options!
I have also taken wide glass vases filled them with different size Christmas balls and tucked silk flowers in. Really pretty!
By Carol from Landisville, PA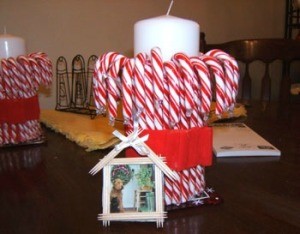 I know it's kind of early, or late for that matter, for Christmas but I am a new member and I thought I would share. This is a Candy Cane Candle holder that I made for gifts last year.
I took a little glass decorative coaster (bought for a buck at the dollar store). I used a tin can from mushrooms or soup, spray painted it red and glued it onto the coaster. Next I glued the candy canes on. (this was the most expensive part of this project so try to get them when they are on sale) The candy canes get glued around the outside so the "hooks" of the canes fan out.
I glued the ribbon around the candy canes to kind of pull it all together, and glued it to form the bow (this ribbon was also purchased at the dollar store for a buck and I was able to make 4 candle holders plus I have more extra). And last, but not least, put the candle on top (candle was a dollar as well).
This is relatively inexpensive and it makes for a great (and cute!) centerpiece for the holidays!
By Terra from Manitoba, Canada
I would love some help with figuring out some centerpiece ideas, among other things. But you would like to know a little more before touching on that. I would like flowers in my centerpieces I think. I'm also interested in candles. I would prefer small or large centerpieces. Maybe large is better for the view of other people. Simple or extravagant would work, also.
I used to do silk floral's at craft shows so I do have a lot of supplies left, but need help with that also. I'm not sure how to arrange them I guess, unless I had pictures or ideas I suppose. I never took a class just always used book ideas.
Our venue will be Hotel Bethlehem for the reception and First Baptist Church in Bethlehem for ceremony. We are having a Cinderella carriage take us from church to hotel. We are having the fairytale theme and our colors are red and silver and budget what is that? When they say this is the biggest party you will ever throw they meant it on the wallet. More than we ever thought.
By Connie from Bethlehem, PA
January 26, 2010
0

found this helpful
Have a look on this website. You can make many of the decorations yourself!
January 27, 2010
0

found this helpful
Well Connie, you have given us a lot to go on, but some of it might be a bit ambiguous. You say small or large, simple or extravagant. So I am not sure what we can do with all that. Also, smaller centerpieces let you see others better than bigger, so...
What I can tell you that gold goes with red better than silver. Just look at most holiday ornaments, and you will see that gold and red are together and silver is generally with blues.
If you are getting married in the holiday season, you can't go wrong with fake poinsettias which are sold anytime after August in any Dollar Tree.
You can get wine or brandy glasses, fill them almost to the top with water, color it with food coloring, and drop in some red emergency candles still in their metal protective bases, and light them. This will give you the simple and elegant effect I am hoping you were asking for. I hope this helps.
January 28, 2010
0

found this helpful
Connie My Grandson had their ceremony in Hotel Bethlehem & then the reception also. It was beautiful, the brides maids & bride all entered the room by coming down the steps into the room where the groom was waiting for her. The centerpieces on the tables were to high, we had to remove it to see across the table. Someone suggested brandy snifters & decorating them. We had 8 guests at a table.I don't know how many tables you 'll have but I have 20 brandy snifters 5" high with candles in them if you can use them I live about 4 miles from the hotel in Salisbury Township. Email me & I'll give you more info where. Joan Bluejay636 AT aol.com
April 10, 2010
0

found this helpful
A simple idea would be taking a large glass bowl (think candy dish not mixing bowl lol ) or a vase and put ornaments with your colors in it. If possible also put a strand of Christmas lights. this may be difficult due to the cords, but maybe possible near the cake? Then you can maybe go around the base of the bowl/vase with flowers. Hope this helps, best wishes for the wedding :)