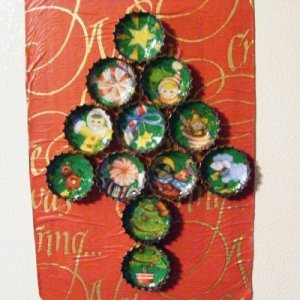 Make Christmas decorations by recycling items you have on hand. This is a guide about making recycled Christmas decorations.
Ad
---
Solutions: Making Recycled Christmas Decorations
Read and rate the best solutions below by giving them a "thumbs up".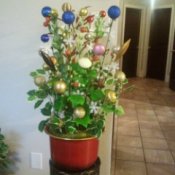 Instead of trashing those broken Christmas decorations, try to create something useful and meaningful. The leaves were a total waste because of being dirty and very old. Some of the Christmas balls were broken and not good for hanging.
I washed all the plastic leaves with soap and hung them to dry. I've fixed the broken Christmas balls. I got an old pot and put styrofoam inside. Then I arranged the leaves according to my style. With the help of glue stick, I fixed the Christmas balls on all the leaves.
Now these discarded materials have become useful and help decorated my home.
By MaryJane from Lachine, QC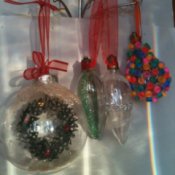 The "wreath" is a captured quilled wreath. The two little bulbs are recycled burned out bulbs with glitter (tape/glitter) and the round recycled light bulb is quilled tight coils! Fun and easy peasy!
By Linda from Ashdown, AR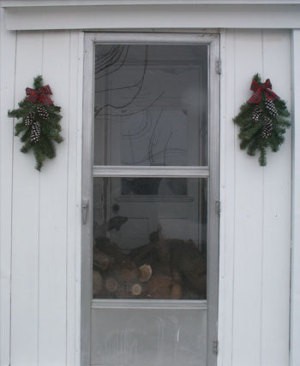 These are some swags I made for our porch where we keep our firewood. For each swag I took two branches from our old artificial Christmas tree. I laid them on top of each other, with one slightly higher. To hold them together I tore a piece of duct tape in half widthwise so it was narrow and then taped them together. I then hot glued on the pinecones which I got from my neighbor. For the bows I used an old jumper dress that I cut strips out of. I also painted the tips of the pinecones with a little bit of white paint after they were all assembled.
I think they're a little Martha Stewartish and even better because they were completely free to make:) My local thrift store sells the trees for $6. So maybe if you don't have a tree to work with you can pick one up for cheap.
By Mom 2_5 from IL
What do you do with the milk and soda caps nobody wants?

I believe I pretty much covered before their use as game pieces. How about Holiday Decorations or just small vessels that can be used to decorate holiday decorations?

1. Caps For Holiday Decorations?
The many colours of milk caps can easily be used on Christmas trees. Once you add your personal idea to them. Me? I like Glitter and little glow in the dark writings on the back.

2. Believe it or not there are still some metal soda caps that can be found on the larger soda bottles.

Those caps are neat as you suspend small bits of fishing line through them and add small figures made of paper to create a merry Go Around affect.

The Plastic Soda Bottle caps? They also come in different colours. Add a few bread ties for arms and legs plus a pair of shiny wings to the 3 strung together soda caps and you got yourself a made by you Christmas tree angel. Nope this one you hang on a lower branch

Almost every year I decorate whatever type of tree I have reusing things like bottle caps, junk mail holiday pictures, cutouts fashioned from cereal boxes. Even tinsel made from aluminum looking plastic bags you find in some food boxes. And no lights on the tree? Just passive lighting works for me.

Sure you can reuse those milk and bottle caps for most any holiday.
Just use your imagination before your hands
Reuse Is Non Abuse of Our Earth

Mr. Thrifty from Shermansdale, PA
My friend made me two Christmas ornaments from shoulder pads, she had removed from her clothing. Really cute.
She covered the pads with white material, then again with white netting or lace. She glued a medium sized craft clothes pin, (not the spring kind) which she had painted white. She also gathered net or lace, attached with small dot of hot glue at back, around the middle of the pin for a skirt. Then painted a pink face on the top and added some embroidery thread for hair. Then she placed a small gold band attached to a short piece of pipe stem cleaner and glued to the back of pin to make a halo.
Next she added a pipe stem cleaners for arms, she added net sleeves on one, glued to the back of pin. Hot glued the pin body in the middle of pad which made shoulder pad the wings to an angel. Added a braided thread or folded thin ribbon to back of pad to hang the ornament on the tree.
These can be dressed and decorated, fancy or plain to suit your taste. I gave one to each of my two grandchildren. I used a mark-a-lot and attached their names on small cloth label and the date I gave them.
By Gladys H.
Give a "thumbs up" to the solution that worked the best! Do you have a better solution? Click here to share it!
Questions
Here are questions related to Making Recycled Christmas Decorations.
How can we make Christmas decors using recycled papers? I would like ideas and instructions. Thank you.
By Joel