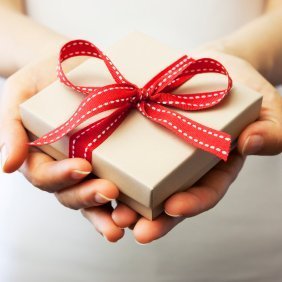 Every year crafters begin planning their homemade Christmas gift projects. This is a guide about homemade Christmas gifts.
Ad
---
Solutions: Homemade Christmas Gift Ideas
Read and rate the best solutions below by giving them a "thumbs up".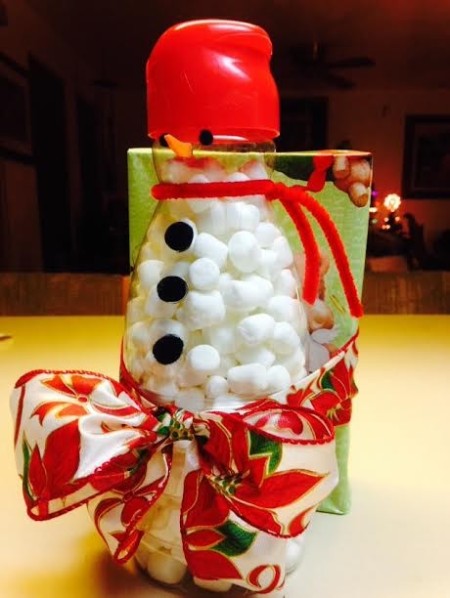 Turn your empty Coffee-Mate into a unique gift by adding a box of hot chocolate and marshallows.
Approximate Time: 45 minutes to an hour
Yield: 1 container makes 1 gift
Supplies:
Coffee-mate container
orange craft foam
black pom poms small for eyes and larger for buttons
red pipe cleaner for scarf
mini marshmallows
box of hot chocolate
Christmas wrapping paper
ribbon for bow
Ad
---
Steps:
This is a snowman made from a Coffee-mate container.
Start by peeling off the plastic from the container to reveal the clear glass container.
Purchase some small black pom poms and some medium sized pom poms at a local craft store. I also purchased a sheet of orange craft foam. The pom poms will be used for the eyes and buttons; the orange craft foam can be used to cut out triangles for the nose; and the red pipe cleaner is used around the neck of the creamer container to represent a scarf. You could also use a strip of fabric if you prefer.
I used a hot glue gun to position and glue the pom poms and nose into place. No need to glue the red pipe cleaner, simply twist the pipe cleaner around the neck area of the creamer container or tie your strip of fabric if this is what you have chosen to use.
Once your snowman has been assembled, you can use small marshmallows to fill your snowman and purchase a box of hot chocolate packages and about 12-15 inches of a 2" ribbon to prepare your assembled gift.
I wrapped the box of hot chocolate in Xmas wrapping, filled the snowman with the small marshmallows, and placed the snowman on top of wrapped box of chocolate. Tie your ribbon around both package and snowman and tie bow in front. Your cute snowman gift is now ready to bring smiles to your friends and neighbors!
A dish towel, spoon, sprinkles, and a purchased (or homemade) cookie or cake mix is just about all you need to make the fun Pocket Pack baking kits for the whole family to enjoy. And there is no sewing or gluing! Cost is less than $5. Nice teacher or hostess gift.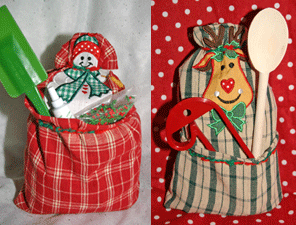 Approximate Time: 10 minutes
Supplies
1 Christmas dish towel (linen is best)
1 cookie (or cake) mix
cookie cutter or foil star cupcake pans
wooden spoon or rubber spatula
yarn or ribbon
sprinkles
writing gel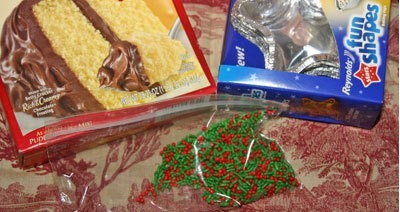 Instructions For Cookie Kit
Using a dish towel with a design similar to the one shown, open towel and place cookie mix on the inside.
Fold bottom two-thirds up over mix to meet Rudolph's head to make pocket.
Fold excess neatly and secure along edge of pocket. Tie in Back.
Tie yarn to top of kit around "antlers."
Place cookie cutter, spoon, sprinkles, etc. in pocket.
Instructions For Cupcake Kit
Remove cake mix from box. (Cut instructions from back of box and include in kit).
Tape foil pans to back of cake mix bag, leaving top of cake mix bag free.
Place inside dish towel.
Fold bottom two-thirds up to snowman's middle to form pocket. Secure with yarn and tie in back.
Tie yarn around snowman's neck. Finish with bow.
Place spatula, writing gel, and sprinkles in pockets.
This project would also work well with a Santa applique on the towel and a brownie mix could be used in place of the cake mix.
By Cindy from Waynesburg, PA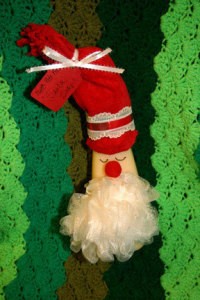 Make this quickie for a child using, kids' bubble bath or spray foam. For a teacher, use hand soap or hand sanitizer.
Time to Make: 10 minutes
Cost: About $3.
Materials:
1 bottle bubble bath, spray foam, shower gel, or liquid hand soap
1 red hand towel or wash cloth (single hand towels in red are easier to find)
1 white bath mesh sponge
3 rubber bands, red is best
ribbon scraps for trim and tag
1 red pom pom
1 scrap red card stock
black marker, tape, tacky glue
Instructions:
Attach mesh sponge to front of bottle, about half way down, with rubber band as shown for Santa's "beard."
For his hat, fold hand towel in half and wrap around top of bottle, placing the fringe at the top and leaving about 3 inches below for Santa's face. Secure to bottle with second rubber band as shown in photo.
Gather fringe and secure with third rubber band.
Draw eyes on bottle and attach pom pom for nose with tacky glue.
Attach wide ribbon to cover rubber band on bottom of hat with masking tape.
Cut out a gift tag and punch a whole in the top. Write: "North Pole Brand Santa Soap".
Tie thin ribbon over rubber band on top of hat, leaving 4-inch tails. Attach tag and tie a bow.
By Cindy from Waynesburg, PA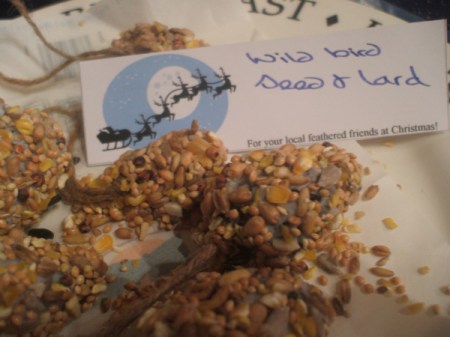 As money is tight I have made my own Christmas presents for friends and neighbours. I made bird feeders (1 kg wild bird seed £1. A block of lard 38p - string I had already) Some I shaped myself, others, I got the kids to collect pinecones and put the lard over them and rolled in the seeds.
The cinnamon decorations I bought a bag of cinnamon sticks (£2.50 - reduced!), cut on in half (they were 20 cm long|) and hot glued the two together and added ribbon for hanging.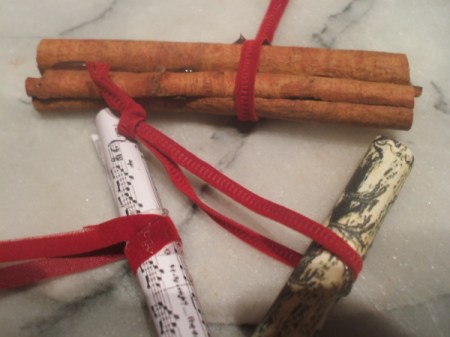 The other decorations I made; I printed music sheets from the internet, I was hoping to find some in charity shops, rolled them up loosly, and added ribbon the hang them. These too will be used for present along with the bird feeder and cinnamon sticks.
Source: Bird feeder from Super Scrimpers TV program
For giving cake, cookies or candy at Christmas, to new neighbors or a sick friend, I look a garage sales, Goodwill or sales at retail stores for containers. Today at the General Dollar Store, they had their summer dinnerware on sale for half price. I got eight nice sized, bright colored dinner plates for a total of $2.50. They will make great plates for the rum cakes I give away at Christmas and look so much better than just a paper plate.

By Jane from Piqua, OH
Start any holiday (Halloween through Christmas) crafting now, especially if you do craft shows or just for gifts. This way you won't be stuck at the last minute trying to finish gifts. At the very least, make a list of crafts and items needed. Some can be probably found at yard sales or clearance sections.
By Carol from Massachusetts
Homemade Christmas gifts? We love them in our family. My aunt always gives homemade dishcloths, etc. My parents, who are in their 70's, loved their gift last year. I went to the store, bought a couple of big boxes of Q-tips, Ivory soap, toothpaste, everything they use in the bathroom, careful to use their usual brands.
What do you buy the people who have everything? I knitted afghans for everyone, one year. Another year, I made homemade throw pillows. I always include a homemade Christmas tree decoration.
Another gift I do for my parents and did for the siblings and their spouses a couple of years, was go to the grocery store, buy 5 or 6 small packages of different cheeses I know they like and different crackers and turkey kielbasa. They loved it.
This year, I've knitted each recipient 4 dishcloths, and am in the process of finishing four kitchen handtowels that attach to the oven handle for each. I'll include dish soap, dishwasher soap also for the sister and a few other goodies as well as the homemade Christmas tree decoration. One year, my sister went to the dollar store, got a pair of hand towels for everyone and knitted fancy edging and sewed on. Beautiful!
It's not the amount of money, it's the love behind it. Remember Jesus is the reason for the season.
Tanya from Oshawa, ON
Do you have a frugal story to share with the ThriftyFun community? Submit your essay here: http://www.thriftyfun.com/post_myfrugallife.ldml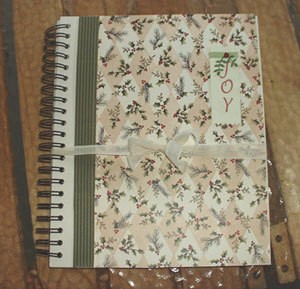 In essence, a handmade book covered in beautiful seasonal paper. This book provides a lovely place to record Christmas memories, lists, and recipes. It can be large or small, depending on your needs.
Materials and Equipment:
a large garbage bag or several sheets of newspaper
craft glue
glue spreader or foam brush (choose a larger size if making a larger book)
a lid from a used plastic container (such as a yogurt container)
ribbon
a blank canvas-covered book (available at craft or art supply centers)
several pieces of decorative paper (slightly larger than the cover of your book)
a piece of corrugated cardboard (slightly larger than the cover of your book)
a beautiful Christmas card or embellished placard (smaller than the size of your book)
a ruler or straight edge
scissors or Xacto knife cutting tool
a thick piece of cardboard or plywood as a cutting surface
Instructions:
Before you start, clear the table and cover it with newspaper or a large garbage bag to avoid getting glue on the table.
Place all your supplies on the table in front of you. The first step in this project is to decorate the cover of the book. Before cutting your papers, layer them over the cover to get a sense of which papers you want to use in your cover design. I like to place corrugated cardboard on the cover first to provide a backdrop with three-dimensional visual interest. Next, I layer one or two other lighter pieces of patterned paper over the cardboard. Then I add an embellished placard from a craft store or a pretty Christmas card I received last year and couldn't bear to throw away. (Refer to photo.)
Once you have decided on your design, cut the paper and cardboard (if you are using it) to the sizes you need.
Pour a small puddle of glue onto the plastic container lid.
Spread a thin layer of glue on the back of the piece of paper that will be undermost in your design. Press the paper firmly over the cover of the book, smoothing out any wrinkles as you go. Allow this layer to dry completely.
Repeat step five for each piece of paper you have incorporated into your design.
Glue or stick on the embellishment of your choice. Allow to dry.
Repeat your paper design on the back of the book or simply glue on a sheet of paper that matches one that you used on the front. Allow to dry. You can also opt to leave the back uncovered.
Tie a festive ribbon around the book and start scribbling that holiday gift list!