Old incandescent light bulbs can be used to make a variety of craft projects. They lend themselves very well to Christmas ornaments. This is a guide about recycled light bulb Christmas ornaments.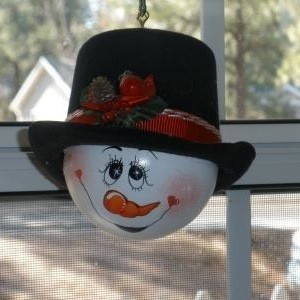 Approximate Time: 2 Hours, allowing for drying time
Supplies:
Recycled large vanity bulb
Flat white spray paint
Cosmetic sponge
Acrylic paints (Ceramcoat)
White (Gesso)
Black
Yellow
Pumpkin
Rouge
Red
Clear acrylic spray
Sparkle Glaze (opt)
Various size paint brushes
Black felt hat to fit lg. Bulb
Ribbon of choice for hat band
Small Christmas embellishment for hat
Small pieces of 18/20 gauge wire
Instructions: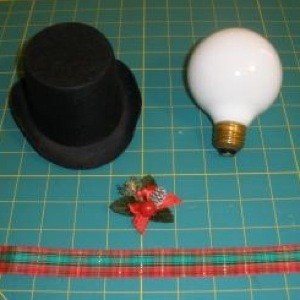 Spray paint light bulb with flat spray paint until bulb is completely covered. I use the bottom of a egg carton to hold the light bulb while spraying it.
After the light bulb is dry, start sponging several coats of white acrylic paint, letting dry completely in between coats of paint. It may take several coats to completely cover the light bulb.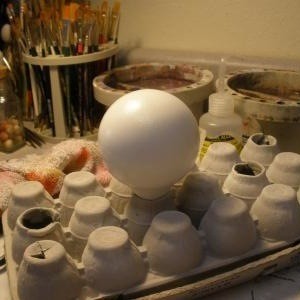 Decide what kind of facial expression you want for your snowman. Trace onto tracing paper and with a piece of graphite paper underneath, trace the face onto the light bulb. Paint the nose eyes and mouth and don't forget to give him rosey cheeks. When completely dry, spray with a non-yellowing clear spray. Sometimes I brush on a sparkle glaze on the white before I add the facial details.
While light bulb is drying, glue on the hat band and embellishment to the felt hat. Wrap the wire around the threads of the light bulb very tightly. Then thread the wire through a hole in the top, front portion of the hat. Twist wire together and form a loop for the hanger. Enjoy!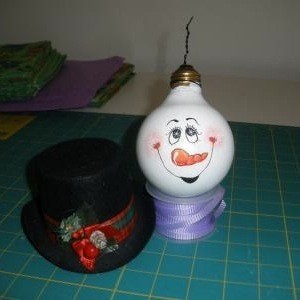 By Lana from Show Low
When making light bulb ornaments, how do you drill a hole into the plug side of the bulb to thread wire?
By Annie from Glasgow, KY
December 8, 2010
0

found this helpful
I'm confused, too. :-( Wouldn't a small drill bit from one side of the bulb's base (the part you screw in) to the other make a large enough opening for you to thread light weight wire, or sturdy thread through? Perhaps I'm misunderstanding the craft project itself. It sounds interesting, though. More info?
December 11, 2010
0

found this helpful
That sounds dangerous to me. Everyone I know just takes ribbon or thread to match the tree and ties it at the base of the bulb just above the part that screws into a lamp.
December 13, 2010
0

found this helpful
Right after I posted this I realized that. (I'm almost embarrassed to say this) I had the drill in reverse. It definitely works better when you are drilling in the right direction!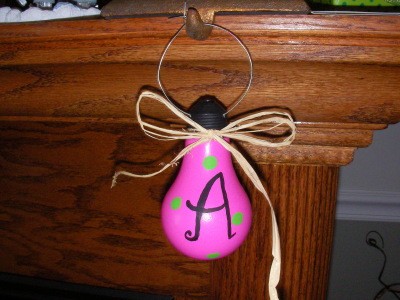 December 13, 2010
0

found this helpful
einna68/Annie,
How funny! Well, we all have 'duh' moments. Part of being human and learning humility ;-) I love your light bulb decoration and Bless you for recycling those bulbs! You should submit that to the weekly ThriftyFun Craft Contest with how to directions!
Read More Answers...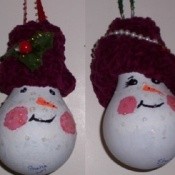 Use old burned out light bulbs for this craft.
Materials
Light bulbs to recycle
Acrylic paints
Yarn and Crochet hook
or
Baby sock
Glue gun and glue
Ribbon or wire for hanger
Decorations as desired.
Directions
Wash and dry, use acrylic paints, paint light bulb white, let dry about 25 minutes.
Paint on face. While face is drying I crochet the hat for it out of yarn scraps, if you don't crochet you can use a baby sock, it is just as cute.
Hot glue hat on, hot glue ribbon or wire whatever you are going to use to hang it, hot glue decorations on the hat. I use clear glitter glue on the face to look like snow, these are so cute, I had to show people it was a light bulb, lol.
By Sheri from Stockton, CA
Editor's Note: Use incandescent bulbs instead of compact fluorescent bulbs for this craft. CFL bulbs contain mercury and can be hazardous when broken. They should be appropriately recycled instead.
Use old burned out light bulbs as Christmas Bulbs: Paint and decorate with glitter, sequins, spray snow, and then add a decorative string or ribbon around top (base) of bulb for hanging.

By Aurelia C.