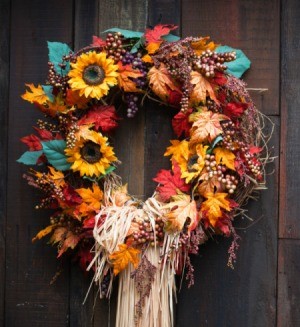 Add a festive look to your entryway by making a fall wreath. This is a guide about making a fall wreath.
Ad
---
Solutions: Making a Fall Wreath
Read and rate the best solutions below by giving them a "thumbs up".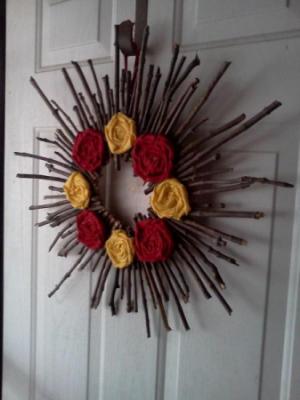 This is a fun project that your kids can help out with. It is made from materials around your home and yard. It's perfect for fall!
Approximate Time: an autumn afternoon
Supplies:
lots of sticks
cardboard
hot glue gun and lots of glue sticks
brown paper bag or something to wrap your cardboard in
fabric scraps cut into strips
Instructions:
Have your kiddos help you with the stick hunting. You need "a lot" of sticks!
Break your sticks into various lengths. They can be all similar or have a few longer like mine.
Cut a hoop out of an old cardboard box using a medium sized mixing bowl and a smaller bowl for tracing.
Cover your hoop in brown paper bag or burlap or anything you want.
Hot glue the sticks around the cardboard hoop. It takes tons of sticks and tons of glue. It does not have to be perfect.
Use some fabric scraps to make some pretty twisted fabric flowers and glue onto your wreath.
Hang with another strip of fabric, glued to the back.
By Shawna G. from Ann Arbor, MI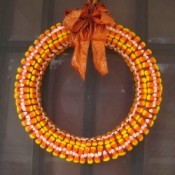 This wreath can be used through the fall season and is made of a purchased foam wreath, cloth, and candy corn.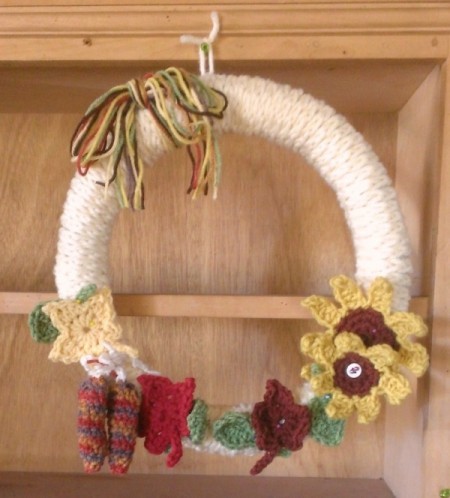 This wreath is a combination of fall flowers and veggies, plus some leaves and love.
Approximate Time: About 4 hours
Yield: 1 for this size
Supplies:
3 ft pipe insulation ($.57)
3 yd gold yarn ($.10)
1 yd brown yarn ($.10)
2 yd green yarn ($.25)
2 yd dark red yarn ($.25)
20 yd cream (Bulky) yarn ($.75)
10 yd variegated fall colors yarn ($.25)
1 darning needle ($.75)
1 scissors
1 hot glue gun and butter knife to hold the item down so you don't burn yourself. ($.10)
duct tape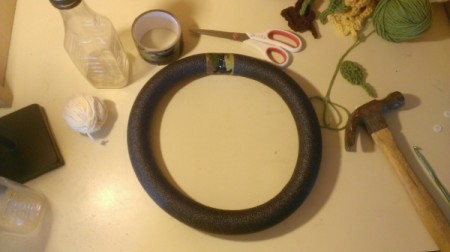 The chain that wraps the ring will need a size N or K hook, if you use a larger size yarn, or even if you double the yarn.
Ad
---
Steps:
For the smaller green leaves, and with an I hook, chain 6 and make a single, half double, two doubles, half double and single in the 5 remaining chain. Repeat on the other side.
The corn is a chain 4 and join. Chain 1 and make a continuous row till you get to 8 then keep that amount around till you get to 4 inches long. Leave a tail and use it to weave in and out of the top row, then cinch and stitch the top closed. Make 3 or these.
For the stalks, attach your cream color to the center of the corn top with your hook. Chain 10, slip stitch to the end, and repeat. Secure the corn stalk to the top and when you have 3 made, gather with some matching corn yarn and tie.
For the maple leaves, with an I hook and your fall colors, chain 2 and make 11 half doubles in the first chain. Join.
For the first small leaf part, chain 3 (the 3rd is the chain 1 in between) and make a half double in the same stitch. Make a slip stitch in the next stitch and a single in the same stitch. In the next stitch, make a half double and a double, then a chain 3 picot (chain 3 and make a slip stitch in the first chain), then reverse the pattern. Make 3 of these, then repeat last smaller part. When you reach the beginning, chain 6 and slip stitch on the chain back to the beginning and break off, tying tails in the back.
For the sunflowers, with your choice of center color, usually brown, and an I hook, chain 2 and make 6 more singles in the first chain for 7. Join and chain 1. Make 2 in each for 14. Break off and knot ties in the back.
Switch to a golden color at any single and chain 5. Make a single, half double in the first 2 chains. Make 2 doubles in the 3rd and a half double in the 4th. Slip stitch in the 3rd stitch. You will have 7 petals on the smaller. For the larger, do a 3rd row in the brown for 18, then 9 petals.
When you have all the components done, chain a chain as long as you have yarn for, but in 3' lengths. This is so your work doesn't "twist" on you and you can keep the top of the chain showing instead of the sides or the back. You will need to glue or pin the ends down. If your work is in white, or cream, you may need to cover the insulation with white fabric, or in my case, trash bag strips. If your work in black, gray or dark brown, the gray insulation won't show through.
For the bow, I gathered all 6 colors and made it with them. You can use other mediums if you prefer. Tie a tie to the back and glue on the components as you like and you have a welcoming to my favorite season!
Link: www.miss-elaine-yus.com
I went looking today for a rattan or foam wreath at the local thrift store. I think what I found is much better. With some stuff I had and cool things I found, I was able to come up with this. The best thing about it was there is no other like it and I brought it in for under 5.00!
Approximate Time: 1 hour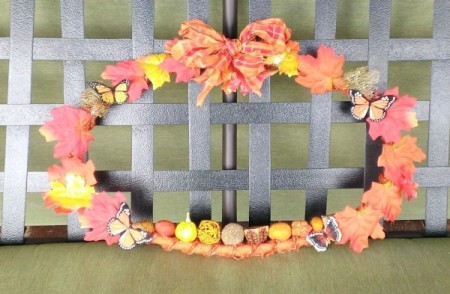 Supplies:
1 oval or round large embroidery hoop ($.99)
2 oz fall colored yarn ($.50)
3 yd burlap ($1.00)
3 oz fall foliage (faux from a thrift or dollar store) ($.50)
3 oz fall potpourri ($.25)
1 Spool wire edged ribbon ($.10)
1 Bag embellishment ($1.25)
1 hot glue gun ($.05)
1 scissors/wire cutters ($0)
1 crochet hook/size J or K ($0)
Ad
---
Steps:
With your hot glue gun heated up, unroll the roll of burlap and glue/wrap it around the hoop. The rolls are about 9 feet and I suggest you cut it in half length wise so you don't run out like I almost did.
With your hook and two strands of your favorite fall colored yarn, chain enough to wrap around the burlap. Your amount will vary depending on the size you get.
Next, take your glue gun and choose the biggest pieces of potpourri to glue along the bottom. Leave them pressed onto the frame about 30-40 seconds. For durability, they should bond to the wood itself through the burlap.
For the last step, hot glue on the leaves. You will want to clip them off the stems and even clip off the stems from the leaves themselves. This will give you a wider base for the glue.
Add your ribbon and embellishments and you are done. This is for a friend who loves butterflies so you might want to make one for someone who likes dragonflies, flowers, ladybugs, or anything that can be found in a faux style. Or make one that you love and keep it. N-JOY!!
Source: None
Link: None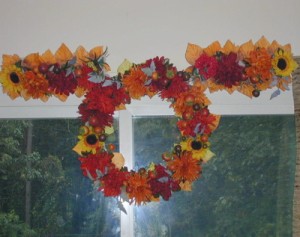 An inexpensive uniquely made fall window decoration and matching wreath for your Church event or a classy way to just decorate your windows.
Approximate Time: 30 minutes each piece
Supplies:
5 large bunches of fall flowers in a garland
extra fall flowers such as sunflowers and mums
fall leaves of different colors
fall fruit: pumpkins, gourds, and berries that are small
5 drapery hooks
one 6x4x3 inch piece of white Styrofoam
glue gun and glue sticks
18 inch white wreath form
8 inch piece of wire (optional)
Instructions:
Cut all of the flowers and berries and leaves off the garland. Leave about an inch and half piece to the ends so you can glue them onto the Styrofoam. Gather the rest of your materials and separate the leaves if necessary. Group up the flowers and berries and other items so they are readily available.
To Make the Window Decoration:
Heat up the glue gun. Start by gluing in the flowers randomly around the long piece of Styrofoam. Add in the berries and fruits.
Add in the fall leaves and try to arrange them so that the Styrofoam doesn't show.
Cover the entire piece using hot glue to hold them in place and turn over to add in the drapery hooks.
The window decoration will need three hooks. Firmly press the sharp edge into the back of the Styrofoam equal distances apart. (I find it easier to put the middle one in and then add the ones for the sides.) They may need adjusting to open a little wider for a proper fit.
For the Wreath:
Make sure you have all your supplies ready to glue into place. Begin with your flowers and randomly add them around the wreath. Add in the berries and fruits. Add in the fall leaves to cover bare areas.
Be sure to hot glue the tips of each piece into the Styrofoam. Press gently against the flowers and berries to make sure they are secure.
When satisfied that everything is in place turn the wreath over and place two drapery hooks in the top of the wreath. You want to make sure they do not show if you are hanging them in a window. Adjust the hooks if necessary.
(If you decide you want the wreath on the door disregard the drapery hooks and add a piece of wire around the top of the wreath hiding it in the flowers and leaves so it doesn't show from the front.)
Notes:
I made these for a Church homecoming. I already had the Styrofoam and a few flowers. I made 6 window decorations and one wreath. I found a lot of flowers and berries at discount stores. It cost me about $15.00 to do this whole project.
By Maphisx7 from VA
With an older doily, rattan ring, and some time, you can have a nice wreath.
Approximate Time: 60 to 90 minutes
Supplies:
rattan ring
doily of your choice
I used one I found at a thrift shop.
cool temp glue gun
ribbons of your color choices
embellishments of your choice
metallic ribbon
buttons of your choice
Instructions:
I didn't want to string the ribbon through the doily, so I just did the ribbon first, gluing to the back every 4-5 wraps. I used two colors that worked with my doily.
Then, I hot glued the doily to the back of the wreath.
Flip over and choose a position to attach the big ribbon.
I made mine to look like I tied it, as this kind of ribbon is hard to work with when you are actually trying to make a bow. You just make a loop and tie with some crochet thread or yarn. Glue that to the bottom of the ring.
Embellish with the things you want to put on it, using the glue gun. If you wanted to do this with wrapped ripped fabric, buttons would work really well. I used some DT fall glitter leaves, buttons, and such to make it just like I wanted it to be. You can do the same.
Hang with ribbon through the rattan rings.
This can be custom made to your specs. So don't think if you don't have what I had that you can't make this wreath. See what you have, find the rest cheaply, and have fun!
By Sandi from Salem , OR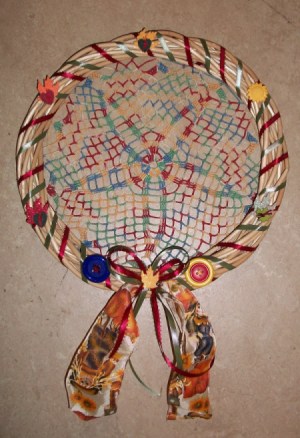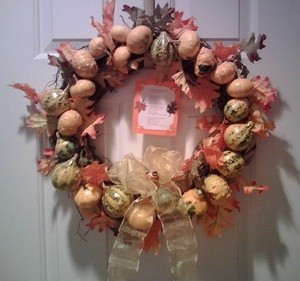 I saved the gourds from my garden and hot glued them to an old vine wreath and added some ribbon and a poem. November Blessings to you all!

By Wendy S from Coopersburg, PA
Easy to make eucalyptus wreaths to decorate your home or use as a gift. Make your own for a fraction of what one would cost you to purchase.
Approximate Time: about 1 hour
Supplies:
2 - 3 packages eucalyptus branches
heavy duty scissors and wire cutters
spool of wreath wire
metal ring or wooden embroidery hoop
silk leaves and flowers in fall colors
thick craft glue or a glue gun
raffia and/or ribbon (optional)
Instructions:
Cut the branches into 3 - 6 inch lengths. Varying the length of your pieces will make your wreath look better.
Gather several of the branch pieces into a bundle, wrap the bundle with wire and attach the bundle to your wire ring or embroidery hoop with additional wire. I used two metal rings from an old lampshade to make the two wreaths pictured.
Continue to attach bundles to the frame, placing one over the bottom of the other to hide all wires, to complete the wreath.
Glue on silk leaves and flowers to add fall color. I used odd leaves and flowers that had fallen from full branches, so these were basically "free".
If you prefer, add a simple raffia or ribbon bow, which you can wire or glue on.
Use additional wire to make a hanger for your wreath.
Wreaths can be stored in a plastic bag and used for several years. They also make lovely gifts.
Note: The first wreath was made with dark green branches. The second with red branches, though they look black in the photo.
By Marie E. Cecchini from West Dundee, IL
I always check the thrift stores for vine or Styrofoam wreath bases. Add any sort of decoration you have on hand. I gather dried, wild flowers, pine cones, dried seed pods, and dried stalks from plants. Using hot glue, or a good all purpose glue, I attach them to bases in in shape I want. Add a nice bow. At one time I even placed small gourds, a small corn cob with a small scarecrow to empty middle. Any seasonal item makes a nice wreath.

By Gladys
The dry leaves left on irises and day lilies make great "ties" for holding things on autumn wreaths and they are so natural, they blend in too.

By springmaid5
Give a "thumbs up" to the solution that worked the best! Do you have a better solution? Click here to share it!
Questions
Here are questions related to Making a Fall Wreath.
I have a large group of lavender plants and want to make a wreath. I have never done one and could use any suggestions on how to go about starting. Thanks.

Kathy from Lawrenceville, NJ
AnswerWas this interesting? Yes No
---
Most Recent Answer
By Marion 7 10/08/20080 people found this helpful
http://www.save-on-crafts.com/wreatmakandd.html
easy instructions at that site I have made them in this fashion using pencil thick flexible branches and then covering them with wet new paper this helps to keep flowers alive. I make them for wrapped sweets at christmas.