Do the dishes with a smile! Make one of these unique "dish dollies" to put next to your kitchen sink. This is a great way to turn odd bits of fabric, trim, beads and other craft supplies into a useful and unique hostess or bridal shower gift, too. Best of all, the dish dollies are refillable, so your creativity can be enjoyed for months to come.
Approximate Time: 45 minutes
Supplies
1 bottle dish detergent (any brand)
fabric scraps, lace, beads, trim
glue gun
scissors
Instructions
Cut piece of fabric large enough to make bottom half of apron "dress." Denim from old jeans, pretty florals and cheerful stripes all make good choices - separately or together. Trim if needed and glue into place directly on bottle. Next, cut separate piece for bib top and glue into place. Glue a strip or two of lace, beads or ribbon around middle for "belt," leaving enough to tie in back of bottle. Embellish with beads, rhinestones, buttons or charms. Tip: Don't glue anything around top of bottle cap; you'll need to remove this periodically to refill.
By Claire from Phoenix, AZ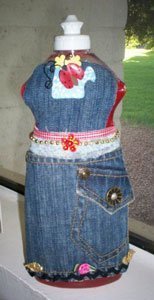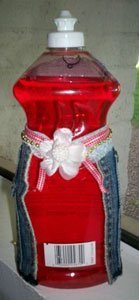 This dish soap bottle apron is very simple to make. You can use any color combinations that you want. I like making these for my friends and family around the holidays. I make them for Christmas as they are very affordable to make. You can use your scrap material instead of throwing it away. It does not take much time or money to make these little aprons. I think they are so cute and if they get dirty you can throw them in the washing machine.
Approximate Time: 45 minutes
Supplies:
scissors
thread
needle
straight pins
pin cushion
fabric
pattern
lace or ribbon
Instructions:
Choose the fabric that you want in any color combination.
Pin your pattern to the fabric and cut it out.
Place the half circle and the small square with the right side of the fabric facing the wrong side of the main apron piece (see photo). Pin in place.
Thread needle and sew around the pieces.
After stitching turn them inside out, that way the right side of both the apron and the pockets face out.
Take your ribbon or lace and pin it in place, or you can hot glue it. I have done both and either way works just fine. They will also act as the neck and waist strap and hold the apron on to the bottle
Add any extras if you want, like buttons or little bows.
Put it on your dish soap bottle now you have a pretty decoration for you kitchen.
By Mary from OK