Videos
Watch and rate the videos below.
Solutions: Making a Utensil Holder
Read and rate the best solutions below by giving them a "thumbs up".
This wall mounted utensil holder is great to use in small kitchens or if you need to free up some drawer space.
Approximate Time: 1 hour
Yield: 1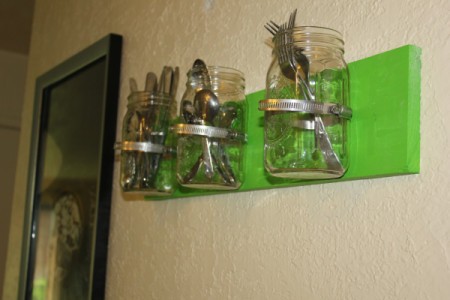 Supplies:
3 quart sized canning jars
3 hose clamps
3 screws
measuring tape
screw driver
pencil
wood board
paint (optional)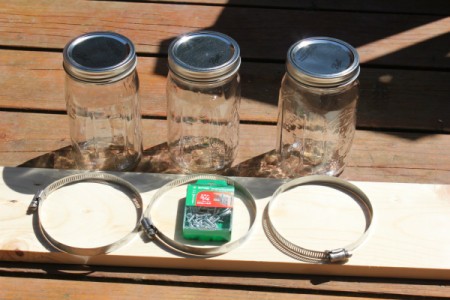 Steps:
Paint your board the color of your choice.
Lay the jars on the board to see how far you would like them to be apart from each other. Make a mark, then with a measuring tape make marks evenly spaced.
Then make a mark in the middle of the board, where you will attach the hose clamps.
Screw the hose clamps to the board. I screwed through the pre cut slit in the hose clamp furthest from the end.
Tighten the hose clamp around each jar.
Mount on the wall and put you utensils in the jars.
By Stella Bella
I bet you never thought about using a flower pot to hold your kitchen utensils! This project is so easy. It won't take but a few minutes. This is the perfect utensil holder. It won't burn if you forget and leave it sitting on the stove. It won't tip over and it holds a lot of tools! You can custom match it to your kitchen decor.
Supplies:
one 6 inch clay pot
enamel paint (any color)
decals or paint to decorate if you wish
Paintbrush (if you brush the paint or if you paint a design)
Directions:
Just get a 6 inch clay flower pot and paint it any color you wish. I recommend enamel paint because it makes clean up from kitchen splatters easier. It may take more than one coat because the clay is very porous and absorbs the paint. Let the paint dry. Then you can apply decals. If you are artistic you can paint on a design. If you prefer, you can use a stencil. Use your imagination.
This craft would make a cute wedding shower or housewarming gift filled with all kinds of tools.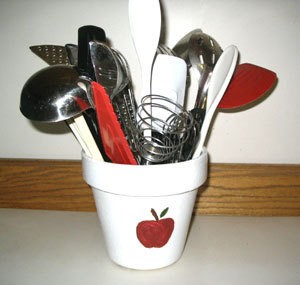 By Kim Davis
This is a Depression glass Hobnail cookie jar. I either lost or broke the lid. To make it still useful I use it by the stove as a utensil holder. I have the habit of just grabbing another wooden spoon instead of rinsing it off. So if you find a bottom half of a cookie jar at a garage sale, think about reusing it this way. It's handy :)
By Ariela from MI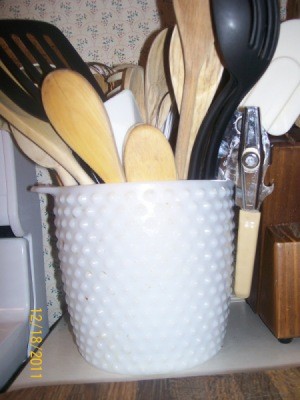 Share Your Feedback:
Once you try any of the above solutions, be sure to come back and give a "thumbs up" to the solution that worked the best for you. Do you have a better solution? Click "Share a Solution" above!
Questions
Do you have a question related to this page?
Related Guides
Related Posts