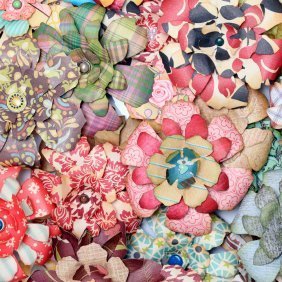 Solutions: Making Paper Flowers
Read and rate the best solutions below by giving them a "thumbs up".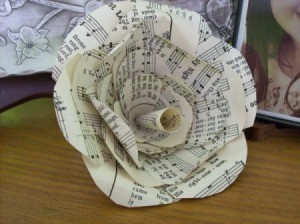 A beautiful use for discarded books.
Approximate Time: 1 hour
Supplies:
Instructions:
Friendly Disclaimer: Let's get this out of the way up front. I'm a book-lover. I would never do this with a book that could still be enjoyed as "a book," and I'm going to trust that you never would either. I use books that are in very bad condition, headed for the landfill, especially ones that I have multiples of, like the old hymn books I collect.
Now, on to the craft.
Tear out a section of pages from the binding of the book. For the one in this photo, I think I used about 6 pages.
Keeping all the pages together, draw petal shapes onto the top page of your stack. I did a free-hand tear-drop shape. You will want to draw the petals in 6 separate sizes, large to small. Use more pages if you can't get all 6 sizes onto the top page.
Cut out your petals through all 6 pages at once, so that you end up with 6 of each size. 36 total petals.
If you want curly petals, roll the rounded tip-end of each petal around a pencil. Or wait until your flower is complete and fold some of the petals to suit your fancy.
When your petals are all cut out, you can start to assemble your flower.
Smallest petals first, glue the petals to each other at their pointed ends, in a fairly tight grouping. Now glue the next size to the backs of the small grouping.
Work your way outward with each petal size forming a flower.
Make the middle piece by rolling one more large petal shape and pinching one end. Glue it into the middle of the completed flower.
Now your flower is ready to be used in any way you like. The possibilities are endless.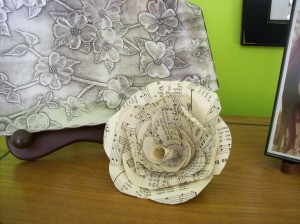 Mine is going on a wreath.
By Gloria from western NY
Take a paper that is blank and color it red or pink at the top, about two inches down. Then color the rest of the paper green, on both sides of the paper. Then when you arrange it a certain way, as in the pictures, and then twist the stem part and tape or tie it together, it makes a flower.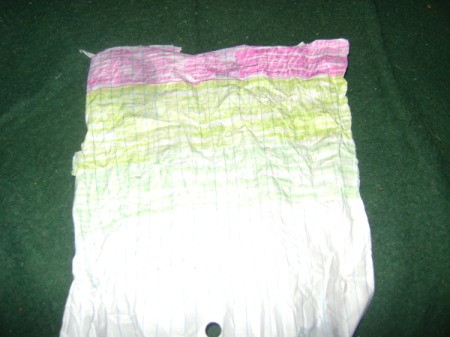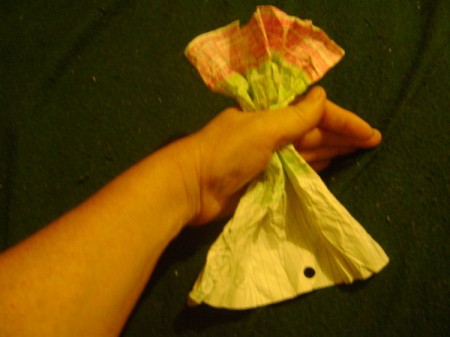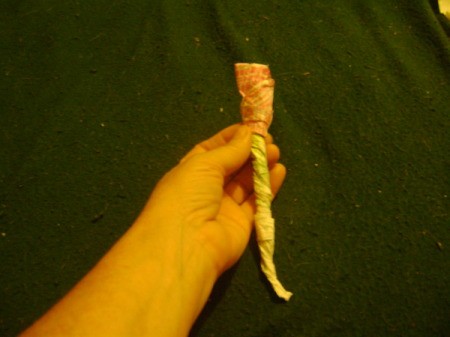 I watched a neighbor do this on my porch. It was so cute. I love entertaining kids with paper crafts!
By Robyn from Tri-Cities, TN
Reuse old newspapers or magazines by making them into flowers. Choose a few of your favorite images or texts (old poetry works great). You can even dye regular newspaper using the water from boiling beets. Cut paper into different sizes of circles with wavy circumferences. Put the smallest one in the middle on top. Pinch the center of the back and twist so that all layers are wrapped together. Insert a piece of wire through the pinched area once or twice then wrap it around. Tie the wire to a stick or a pencil to give it a creative twist. Make several and place in a vase or give to a loved one as a nice gift.
By Emma from Missoula, MT
Saw a nice tip about crafting when I read something in a calendar at the store. Use fragrance strips to cut out to make scented flowers. You could make a nice corsage or put the paper flowers on a wire stem, or even one of those wire place holders you see a lot of. Good for a budget valentine.
By Pamphyila from L.A., CA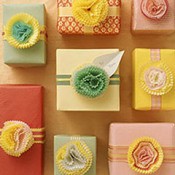 Great for Mother's Day. Use up to a dozen liners for each flower. This is from Martha Stewart.
By Melanie from NC

View This Page
This page is not on ThriftyFun, but we had to share it. Be sure to come back and rate it.
Give a "thumbs up" to the solution that worked the best! Do you have a better solution? Click here to share it!
Questions
Here are questions related to Making Paper Flowers.
How do I make Kleenex tissue carnations?
By Grams x3 from Cutler Bay, FL
I'm looking for instructions for making realistic paper flowers. I'm also looking for information about paper mosaics and faux stained glass.
---
Most Recent Answer

By Lisa from Lena, WI (Guest Post)01/13/2008
Martha Stewart has great paper flowers on her website. www.marthastewart.com
Do you have a pattern for paper or fabric roses?

Birder from Flint, MI
---
Most Recent Answer

By Mary09/14/2006
I found these instruction by using Google. Hope it helps some.

http://www.ehow.com/how_16356_make-paper-roses.html uses crepe paper looked nice

http://www.bloom4ever.com/howto/howto01.htm Origami one - looked complex but beautiful

http://members.aol.com/linnyandmo/rose.html simple paper napkin rose

http://www.dorlingkindersley-uk.co. ... /uk/11/features/craftyart/intro.html tissue paper - looked beautiful

http://www.webindia123.com/craft/flower/paper/party.html tissue party rose

http://www.webindia123.com/craft/flower/paper/cabbage.html tissue cabbage rose

http://www.wholesale-table-linens.com/napkin-folding.html shows a couple of roses from napkins

if you Google in Napkin folding - there are tons of pages. Some of the instructions look like roses.

I couldn't find anything under fabric roses!

Photos
Below are photos related to this guide.
We were eating out and when we were done, Trey, our friend's teenage child, presented us all with a "paper rose." I could not tell you how he did it, even as I watched, art is amazing, and even this photo does not do justice to how much it looks like a rose. He started out by rolling the napkin into a cylinder, but the leaf, I have no idea.
Isn't it beautiful?
By Robyn Fed