Solutions: Making a CD Purse
Read and rate the best solutions below by giving them a "thumbs up".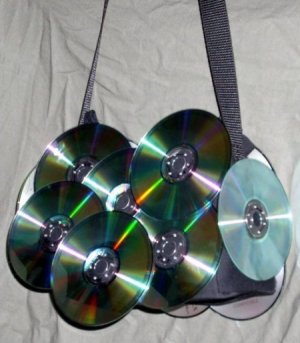 In response to the one who asked about uses for DVDs... make purses! My mom mentioned liking the purses made from license plates, so I got to thinking about what kind of purse I could make her for her birthday of unusual things and I came up with the CD purse!
Supplies
CDs
an old purse
needle and thread
Directions
Start either with a simple cloth purse, either bought at a thrift store or garage sale, or made with cloth (sturdy cloth, use two layers if needed, make sure there are no holes).
Figure out how many CDs you want to cover this - be creative! Make a line of overlapping disks at the bottom, or cover the whole thing. You can use them to cover a small purse or a big shopping bag.
Then take the CDs, and using the pointy tool from a wood burner (or a hot, thick needle) put four to six holes around the clear plastic, inner circle of the CDs. Make sure the holes are smooth, or it will saw off your thread. If you like, use sandpaper to round the edges and make them a bit less sharp.
Then, using those holes... just sew the CDs on!
It makes a unique gift for someone, or interesting things to sell at a craft sale. If you carry these bags under you arms: wear long sleeves. Mom said the disks cause lines. Have fun!
By Saber from Omaha, NE
Share Your Feedback:
Once you try any of the above solutions, be sure to come back and give a "thumbs up" to the solution that worked the best for you. Do you have a better solution? Click "Share a Solution" above!
Questions
Do you have a question related to this page?