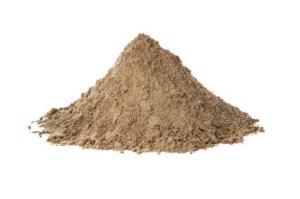 Sand is sometimes used in crafting. This is a guide about crafts using sand.
Ad
---
Solutions: Crafts Using Sand
Read and rate the best solutions below by giving them a "thumbs up".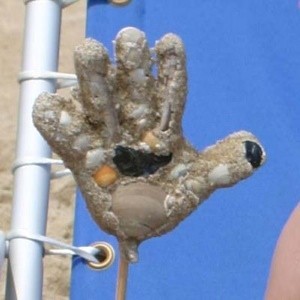 Here is a craft to do at the beach this summer! What a great keepsake for the memories.
Approximate Time:
Supplies:
plaster of Paris
Ziplock bag (quart size or bigger)
dowel rod
water (salt water works fine too)
seashells
sandy beach!
Instructions:
In packed moist sand, have child push down and make their handprint.
Arrange seashells collected from the beach upside down inside of the handprint.
In a Ziplock back filled with 1 1/2 cups of plaster of Paris, add 1 cup of water (salt water works too). Seal the bag and mix completely.
Pour the plaster into the handprint, using the dowel rod if needed to spread into the fingers.
Press the dowel rod into the palm of the handprint. Allow to dry.
Carefully remove the sandy hand print keepsake.
I used a Sharpie marker to write my child's name on the dowel rod as well as the beach and year. I also sprayed the entire keepsake with acrylic to seal, but both of these are optional.
Use in a plant/ flower pot to keep all of those beach memories close. Just stick the dowel rod into the soil and enjoy!
By Jayme from Harrisonburg, VA
I lived in Tucson for three years. Once a summer, I got to drive back to Salem for a month. One year, I went to the beach down at Coos Bay. I took a bucket and scooper, and collected about 2 lbs of sand, shells, driftwood, and pretty rocks. Then I went to the ocean, and collected about 2 liters of water. When I got to my daughter's, I separated the sand, shells, wood and water into baby food jars for everyone back home.
You can do something similar even if you don't live close to the ocean. "Play sand" is available in any home improvement store, and you can get shells, driftwood, and rocks from the Dollar Tree. Just add them all together and use regular tap water. I sealed mine with E6000 glue and decorated the top with paint, and sand mixed together, so that it looked like the sand was green and blue.
By Sandi from Salem, OR
Here is a great craft for kids to make and use for passing time.
Approximate Time: 10-20 minutes.
Supplies:
jar (plastic mayonnaise jars are perfect)
sand
trinkets, small toys, jacks, etc.
strong glue
Instructions:
Fill jar almost to the top with sand. You want to leave about an inch of space at the top.
Place trinkets inside the jar.
Glue top on (don't want a mess)
If you want you can paint the outside of the jar or add a list of things that are in the jar for your kids to look for. Warning: It's addicting, you'll be looking for things inside the jar yourself!
By TheMDames from Proctor, TX
Give a "thumbs up" to the solution that worked the best! Do you have a better solution? Click here to share it!
Questions
Here are questions related to Crafts Using Sand.
Does anybody know how to make colored sand used in sand art, the kind you fill bottles with?

Madison
Ad
---
---
Most Recent Answer

By Kathy01/21/2010
As an elementary teacher, I often took the whitest sand which I could buy. Then I mixed food coloring with sand in a baggie. After that I dried the sand on a metal tray in the oven at 225 degrees. Stir a couple of times to make sure it all completely dries.
I am trying to glue sand onto a wood block, but the sand won't stay. Any ideas how to maybe create an almost cement out of the sand so it can be molded to wood, harden, and still appear to be sand?
By rubes22 from Boston, MA
Ad
---
---
Most Recent Answer

By Barb Hopkins [6]09/03/2009
Just a thought - use sand colored paint and mix the sand with it! I have used white paint and mixed sand with it to paint my "snowmen" out of concrete blocks - except the sand darkens it, so I have to spray a coat of white over it - but looks like snow!