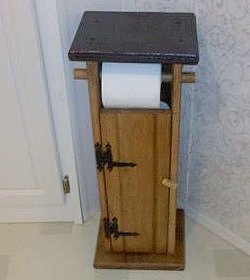 Having easily accessible rolls of toilet tissue in the bathroom can be a decorating challenge but there are lots of ways to display them either discreetly or humorously. This is a guide about making a toilet paper holder.
Ad
---
Solutions: Making A Toilet Paper Holder
Read and rate the best solutions below by giving them a "thumbs up".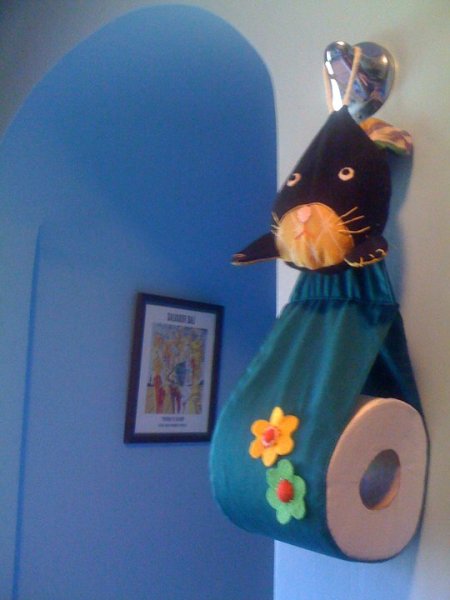 Don't throw away those old cloth scraps you've accumulated. It just takes a few little pieces to sew together a toilet paper roll holder. If you aren't good with sewing, you can also use a hot glue gun (as I often do). The most important part is to make sure you have enough fabric to wrap around a roll of toilet paper, plus a couple inches. This bunny head has a pocket in the back so I can refill it with sacks of used coffee grounds, which work as a bathroom deodorizer!
Source: My auntie :)
By attosa from Los Angeles, CA
I take 3 metal empty coffee cans and cut the tops and bottoms out of two of them. I stack one on top of the one with the bottom still in it and solder it the bottom of the fist tube to the top of the can with the bottom. Then I take the third can (with both top and bottom cut out) and solder it to the top of the two that are already soldered. Decorate or paint as desired. I put one of the plastic lids on the bottom and one on the top to keep the paper clean.

You can do just two and make a matching trash can. You can decoupage paper on them if desired. They make a really easy and inexpensive bath accessory.

With the plastic coffee cans, I use to store beans, rice and other dried food items. They make really cure canisters too. You can spray paint them or cover parts of them with self adhesive paper. Makes great cookie jars, too. Really great for baked gifts.
This is an old craft revisited and made much simpler now with a glue gun.
Approximate Time: 2 hours
Supplies:
1 2/3 yards of 6 inch flat lace
2 1/2 yards of 3 inch gathered lace
hot glue and gun
5 or 6 inch wooden ring
2 yards 1/2 inch ribbon
scissors
silk leaves and flowers
1 yard of 2 colored ribbons to match flowers
Instructions:
Cut and glue 32 inches of your 3 inch lace, down the 2 front edges only of the 6 inch lace, folding the end of the 3 inch lace under at the bottom.
Bring the plain end of the 6 inch lace up toward the back even with the other end.
Make a 2 inch slit in the center and glue the ends open in a V.
Wrap your wood ring with ribbon and glue the bottom of the ring to the bottom of the V.
Glue your 3 inch lace around the top edge of the ring.
Measure down 9 inches and glue a piece a ribbon across from one edge of your 6 inch lace to the other, securing the two layers together.
Repeat 9 inches below that one.
Decorate.

By Ann from Loup City, NE
I take a towel rack instead of a toilet roll holder just leave one end loose enough to slide the rod off to put more on it I can get 4 rolls on a wooden towel rack.

By Debbie
Give a "thumbs up" to the solution that worked the best! Do you have a better solution? Click here to share it!
Questions
Here are questions related to Making A Toilet Paper Holder.
I am looking for a knitted pattern for a toilet tissue holder. Just the other day, I saw a handmade toilet tissue holder at a flea market but it was already sold. I tried to take a picture so that I could attempt to make one when I got home, but thought that would be tacky.

It was really nice, hung on wall, was knitted I believe, held 4 rolls, with lace around edges. Any ideas would be greatly appreciated. I don't know how to crochet so it would have to be knitted or sewn. Thanks you guys.

Linda
AnswerWas this interesting? Yes No
Ad
---
---
Most Recent Answer
By (Guest Post) 05/13/20080 people found this helpful
I use an empty oatmeal box decorated to match my bathrooms (contact paper works well as it is easily cleaned as is the plastic top). They hold two rolls perfectly. An extra lid can be placed on bottom also to keep it free from bathroom "spills"
---
Photos
Below are photos related to this guide.
I built this toilet paper holder for my daughter's birthday. I think it is just great.
By Karen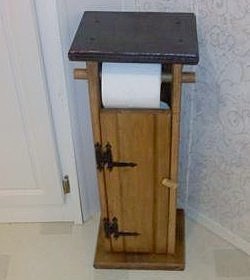 Archives
Thrifty Fun has been around so long that many of our pages have been reset several times. Archives are older versions of the page and the comments that were provided then.
Do you have any ideas on how to make a toilet tissue paper holder easily?

Comrpmarm from Shorter, Alabama
---
RE: Toilet Tissue Holder
Why can't you just use a paper towel holder? It will hold two rolls of tp and it can be simple wood plastic or very ornate. You can use one that you have, buy one at the 99 cent store or my favorite, ask around to see if a friend has one they are not using. (12/03/2006)
By Kitchengodess
RE: Toilet Tissue Holder
My daughter made this one for me. She took three large coffee cans, cut the top and bottom out of two, and left the other one with just the one end open. She then took duck tape and taped together all three. Then took a matching towel and hot glued onto the cans, taped the tin lids together and covered with the end of the towel and added some trim. It holds 4 rolls and matches my bathroom. (12/04/2006)
By BARBARA
1 We drink a lot of coffee. I use three pound coffee cans. I save the plastic lid. You will need 3 three pound cans. Cut the bottom out of the first can, cut the bottom and top out of the second can. Then take all three cans and electrical tape them into a long tube. After taping them all together, use your favorite Con-tac paper to cover the whole thing.

You can use this as a toilet paper holder for bathrooms. It works great for cabins with not a lot of storage. Also, I have one in all three bathrooms for storing toilet paper. It works well for small children who are always yelling for more paper. They can get their own. Seniors like this idea because they don't always have storage spaces. It works for both single and double rolls. Just fill it up when you clean the bathroom. No more toilet paper sitting on the back of the toilet or sink.

By Diane from Milwaukee, Wi
---
RE: Coffee Can Toilet Paper Holder
Awesome ! Great idea i will do this one a.s.a.p (10/06/2006)
By misty23
RE: Coffee Can Toilet Paper Holder
We've used coffee cans for toilet paper on canoe trips for years. (10/06/2006)
By Cheryl from Missouri
RE: Coffee Can Toilet Paper Holder
My grandmother does this, but she uses thin towels and a wash cloth for the lid. She uses whatever color matches the bathroom of the person she is making it for. The lid from one of the coffee cans you put the wash cloth under it and bring the sides up to the top and secure with hot glue then hot glue in flowers to hide the ends. (10/06/2006)
By micksgirl
RE: Coffee Can Toilet Paper Holder
I have been making the Toilet Paper Holders for years as I have three boys (who are all on their own) and everytime I went to the bathroom there was never any toilet paper. So out of desperation I came up with this idea: 3 large coffee cans, take the bottoms of two cans off. If you have a glue gun glue them together or use the glue 800. I then take inexpensive towels roll them and cut the excess off (save as you will be using it for the cover), Then with glue gun seal the two sides down the back (the seam). The top of the towel keep it just below the top of the coffee can. Then take the cover (the can bottom)-(use two as it makes it heavier), and take the extra towel material put over and under, cut the excess. Then glue this material to the two can tops. You can put trim aroung the top and get a wooden ball, paint it the color of the towel or a differnet color and this is your knob to lift up to take the (it holds 3 rolls) toilet paper out. I have given thease as gifts, they have been raffled off. Xmas is coming and it's an expensive gift. Good luck. (10/11/2006)
By sandie george