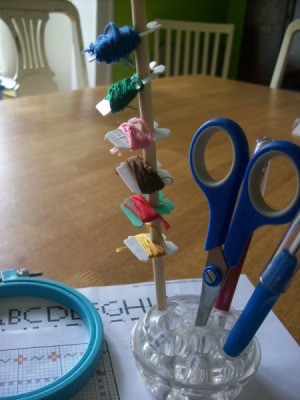 My embroidery supplies always ended up in a tangled mess stuffed in a shoe box somewhere. Until I noticed the flat, little plastic thingies for sale at the craft store to wind your floss around. Then I noticed the price. Puh-leeze! I will not pay that much for plastic thingies no matter how tangled up my embroidery stuff gets. There had to be another way.
Then I noticed the flat, little plastic thingies for sale at the craft store looked a whole lot like the flat, little plastic thingies that hold a bread bag closed. EUREKA! I actually had a handful of them in my kitchen junk drawer just waiting for a Eureka moment. After winding my stray lengths of floss around the FLPTs (flat, little plastic thingies) I found a short dowel in my craft supplies that worked perfectly for holding them. I stuck the dowel into a glass flower frog; also great for holding some of my other embroidery stuff.
Bonus tip: If you want something more permanent, you could hang the dowel on a wall in your craft room (wish I had a craft room) from cup hooks.
May 21, 2012
0

found this helpful
Oh I like this! However, I crochet. I once cut bobbins from empty cereal boxes, but the yarn still wanted to come off sometimes when I wasn't ready.
If I shape mine like these (only larger) & put that narrow opening at the top I can attach them to a thicker dowel to hold them still till I'm ready!
And what a super wat to keep track of it!
When I was growing up; my mother would use her old thread spools to wind her embroidery floss. It hooked in the small slit for regular thread and it was stored along with all threads.
Source: My mother.
By Andolopolus from Atlantic Beach, FL