Making a Rag Rug
What better way to reuse and recycle a variety of used fabric than to make a rag rug? This is a guide about making rag rugs.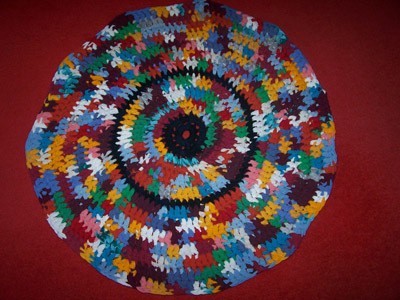 Filter

: All Articles
Sort

: Relevance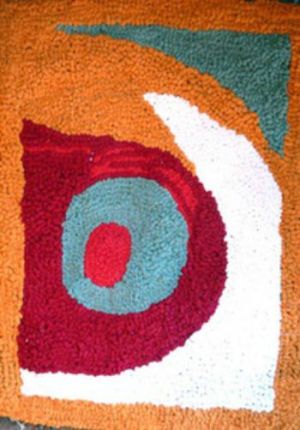 I have just joined the site and thought you might like to see a rug made from recycled fleece jackets. They are very cheap to buy in the charity shops, there are some brilliant colors and make a super rug. Animals particularly like the cozy feel and I suppose they could be made with the name of the dog/cat.
For a large rug, hessian needs to be fixed on to a stretcher and needs to be quite taut. Cut fleece garments or throws into long half inch strips and work with holding the strip under the hessian and poking a hook.
I used a large crochet hook, through the hessian and picking up a loop through the hole. I continued with loops close to each other following the design drawn on the hessian with marker pen, leaving a border for folding under.
I used double sided carpet tape to fold the edges over but copydex is good. I then covered the back and glued the edges of a square of hessian tucking in a hem for neatness.
By Isobel
I like to crochet rag rugs out of fabric scraps. However, you always have to deal with the edges fraying. I got an idea. My husband had about 11 old colored cotton tee shirts. I cut them up in 1 1/2 inch strips going around and around (the fewer strips you've got, the less sewing them together you have to do). Then I crocheted them into a round rug. I think it turned out beautiful. I use it on the side of the bed. It matches everything.
By Donna from Millbury, OH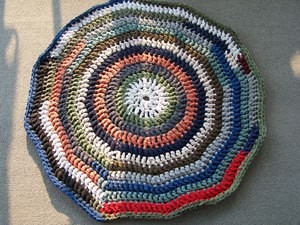 Using old tee shirt scraps I used to make a t-shirt quilt, I made a crocheted rag rug. My rug is 40 inches in diameter.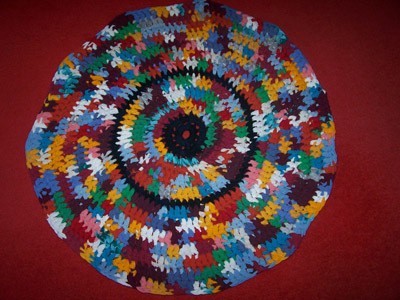 Approximate Time: 10 hours.
Supplies:
rotary cutter
scissors
sewing machine
thread
cutting mat
crochet hook size "Q"
tee shirts
plastic quilters ruler
you need around 12 tee shirts
Instructions: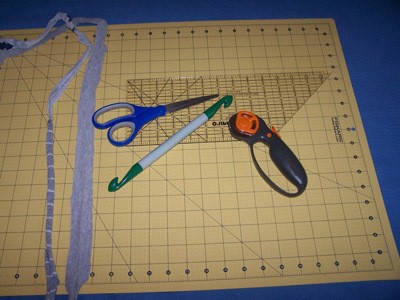 Cut 1 1/2 inches wide strips from tee shirt scraps. Sew the ends together.
Roll up the strips into balls.
Chain 4. Join with a slip stitch.
Chain one and single crochet 12 stitches in the chain 4 circle.
When you get to the beginning of the first row, join with a slip stitch and chain one.
Crochet two single crochets in each stitch and join with a slip stitch when you get to the beginning of the second row. You should have 24 stitches.
Join with a slip stitch. Chain 2.
Double crochet in first stitch and 2 DC in the next. Crochet in this pattern all around and join with a slip stitch as before.
Continue increasing at regular intervals for each row. Continue around as big as you want until you are out of strips.
Slip stitch into the first stitch of the last row you did. Cut the strip. Fold it back under a loop and hand sew so you cannot see it.
By Little Suzy from Millbury, OH
These are rag rugs that I make and sell. They are around my house on all of the floors. We enjoy using them!
By Susie from Enumclaw, WA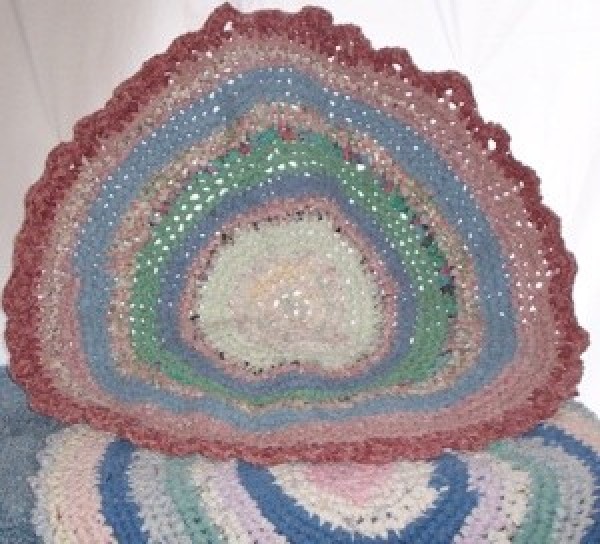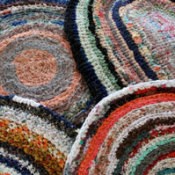 Instructions on how to make a rag rug out of strips of materials as suggested by the ThriftyFun community. Post your own advice here.
Make A Braid
My mother taught me how to make rag rugs when I was a child. You take scraps of material that you want to use and make three separate, very long strips. Each strip would be a piece of material tied together at the end by a knot. The three strip lengths should be equal in length, and the length would be determined by how large you want the rug to be. You could always add at the end if it is too short. You can also add as you go as long as they are equal in length to make it easier. Now that you have the three pieces, you start braiding like you would braid hair. Form braids in a circle and when you are through, you would tack them together with a heavier thread or yarn, etc. You can also use masking tape to hold it until you get it tied. Have fun!
By Agatrel
Crochet Together
I love rag rugs! I learned the simplest crochet chain stitch from a friend, and I crocheted 2 rag rugs out of old tee-shirts. I cut a long strip of cloth out of each tee-shirt to use as yarn, about 1/2 inch wide, and on a spiral from the bottom of the shirt to the top, all in one continuous long "thread". Then I roll that up for a "ball of yarn" to crochet with.
I have made a circle rag rug and a rectangle rag rug this way. They are multi-colors (no patterns) and all from tee-shirts. They are sturdy and wash up easily in the washing machine. I highly recommend the person who wants to start with rag rugs try making one like this...it's easy and looks nice when finished. (10/05/2001)
By Ness
Rag Rug Out Of Sweaters
For rag rugs that absorb water well (best for bathrooms and in front of the kitchen sink), try using stripes of old sweaters. This does need a little prep work with the sewing machine. Cut the strips about 2 in wide and zig-zag around the outside of the strips (this prevents any runs that will develop. Braid the strips together. When you get near the end of the strip (I recommend 2-3 inches from the end), take another strip and encorporate it into the rug. When you reach the desired length (I believe about 5 feet), stay stitch the ends to prevent them from coming apart (this step is not required but if it is your first one, it helps). Begin to turn the one end of the braid to create a spiral. When the spiral is completed, stay stich in frequent intervals. I personly prefer to zig-zag stitch it on the machine, it stays in place and withstands frequent washing.
By the_mouse_2b
Cross stitch On Latch Hook Material
You can use strips of cloth as "thread" and do counted cross stitch on latch hook rug "fabric". Nearly any cross stitch pattern would work, but one with large sections would be best. Perhaps a large heart in the middle of a simple geometric background. Draw it out on graph paper if you'd like to design your own pattern. (07/02/2005)
By Leigh Ann
Grandmother's Crochet Technique
My husband's grandmother used to tear strips of fabric into strips approximately an inch or less wide. Then she would roll the fabric into balls. She would crochet this "yarn" into an oval or circular rug. To add to the rug, she would stitch the new strip on to the just finished strip of cloth and continue crocheting. For the outer border, she would use the "pineapple stitch" to make it pretty. These rugs need to be washed by hand and hung out to dry, for best results. (12/15/2006)
By AnnMel
Use Fabrics With Similar Washing Instructions
The rags needs to belong to the same washing instructions or you might have shrinkage and color transfer problems later. Been there, done that. :(
By cookwie
Sew Strips And Crochet
My mom and I made rugs by sewing strips together and crocheting them.
By bobbiejean
Free Online Instructions
I found complete free instructions for toothbrush rugs, plus traditional hooked rugs and many many other homemade rugs on the website for Rugmakers Homestead. This is a wonderful site, with a "tour" of all the kinds of rugs thrifty women have made for centuries. If you need instructions, this is the place to go!
By Mary
Yarn Lovers Room Pattern
Go to the website called yarnloversroom (
http://www.knitting-crochet.com/pattern.html
) I got my pattern from there and it's brilliant. I've used it so many times. It is so quick and easy.
By Cett
Advice About Techniques, Fabric and More
First thing you must do is decide what type of rag rugs you want to make. There are ones that are woven on traditional looms, ones woven on a basic flat homemade loom, hooked rag rugs, braided rugs, crocheted rugs (in several different stitches and shapes), ones made on a rug canvas (kind of like a needlepoint backing), old spool-like looms that make circular yo-yo circles that are stitched together (NOT like the yo-yo quilts), and some that are pieces stitched to a cloth backing. I'm sure there are others that I've not mentioned here.
Look through books, flea markets, etc., to see what type you like, then look for instructions. It's kind of hard to explain how to make them when one is not sure of the type you're wanting to make. Some need special equipment (looms, hooks, needles, etc.).
Also, the best type of fabric to use depends on the type of rug you want to make -- hooked rugs are best made from old woolens, ones woven on looms are great made with cottons, crocheted rugs work nicely when made from old t-shirts or knits, braided rugs made out of wools last forever, and so on. Also, I've found that ones made from cottons or sheets last longest when the strips are sewn together end-to-end rather than pulled through loops/slits or tied -- they seem to hold up through more washings.
I absolutely love rag rugs and have used them for almost 50 years. They are a fantastic way to recycle outgrown, unstylish, stained, or ruined clothing and get something usable. A lot of work goes into them, so make sure you make a style that will work both for you and the fabric you have on hand. (01/02/2007)
By Susanmajp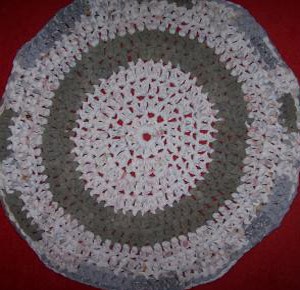 I crocheted this small rag rug out of 2 nighties, 2 tee shirts, and a pair of knit shorts. It measures 28 inches in diameter. I love working with old knit clothing because the edges do not fray.
Approximate Time: 5 hours (estimate)
Supplies:
old clothing
size Q crochet hook
thread
shears
sewing machine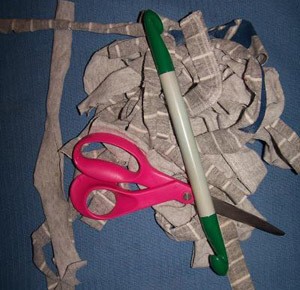 Instructions:
The most time consuming thing is cutting the clothing into 1 1/2 inch strips. Sewing them together. Rolling them up into a ball to use for crocheting. It is all an estimate as to how much you need.
First I cut off the sleeves and any ribbing along the bottom or cuffs.
I cut the strips from the bottom of the tee shirts and went around the shirt trying to keep the strip as one big long strip. That saves on sewing a lot of short strips together.
When I sewed the strips together, I did it as you always do, right sides together. Back stitch in the beginning and at the end before you cut the thread. Open the seam. Fold the top part of strip down and fold the bottom part of strip up. Then I sew a "V" going across from the top to the bottom making it a strong seam and will never tear apart.
Roll into a big ball.
Round 1: Chain 4, sl st to beg. ch to make a circle. Ch 1, 12 DC in circle, sl st in first DC,(ch 2 st is considered a DC st. Count as DC in each row). You now have 12 DC.
Round 2: Ch 2, DC in same space as ch 2 (remember ch 2 is considered a DC st),2 DC in each DC around. Sl st in top of ch 2. You now should have 24 DC.
Round 3:(Remember at the beginning of each row your ch 2 is the first DC st) Ch 2, (DC in the first DC, 2 DC in next DC) continue around, sl st in top of ch 2. You now have 35 DC.
Round 4: Ch 2, (DC in first 2 DC, 2 DC in next DC) continue around, sl st in top of ch 2.
Round 5: Ch 2, (DC in first 3 DC, 2 DC in next DC) continue around, sl st in top of ch 2.
Round 6: Ch 2, (DC in first 4 DC, 2 DC in next DC) continue around, sl st in top of ch 2.
Round 7: Ch 2, (DC in first 5 DC, 2 DC in next DC) continue around, sl st in top of ch 2.
Round 8: Ch 2, (DC in first 6 DC, 2 DC in next DC) continue around, sl st in top of ch 2.
Follow this pattern, increasing at equal intervals for each row until you reach the size you want or run out of material. You can finish it off by SC in each stitch around and joining with a sl st. Fasten off and work the end back into your work. I like to hand stitch it with needle and thread so it does not work out.
If you increased correctly your rug will lay flat.
My rug was about 9 rows. You can make it using double crochets or single crochets.
By Little Suzy from Millbury, OH
My round rug (3 ft in diameter) is really puffing up in the middle. It seemed to be laying flat while I was working on it. Then the farther I got from the middle it started poofing up, cone shaped. I have read about misting, wetting and putting heavy objects on it. I was wondering if it would be possible to take the center braids loose and re-lace it working from the poofed part backwards into the center. Is that too crazy or would it work?
By Sue S. from Knoxville, TN
January 28, 2013
0

found this helpful
Undo your work and add more. You've been tightening the tension inadvertently as you went around...the heavier it got, the harder you tugged sort of thing. It may take a bit more effort, but you'll be happier with the result.
Best of luck.
January 28, 2013
0

found this helpful
Good advice. If your rug doesn't have to be round, it makes a nicer effect with the back and forth stitch. You have to get used to counting, counting, and more counting. Each row you increase has to increase the same amount. If your 10th row, for instance, has 100 stitches, your 11th row might need 110. If your 12th row only increases by 10, you are in trouble. I hope that helps. PBP
November 24, 2013
0

found this helpful
If you've run out of fabric, then yes, you'll have to start from the center, but yolk need to tighten it, rather than loosen it. If you have more fabric to work with (to achieve the same dimensions), it would be easier to make note of where the buckling starts, & place a marker there (like a safety pin) then from the outside edge, undo it, back to the marker. Then, redo from that point outward, making sure to loosen it. Stop every round, & make sure its laying flat, until you're done.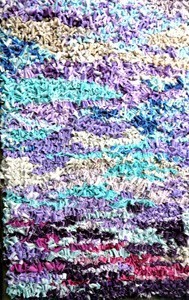 This is an image of a picture I did using the same technique as the rag rug using narrower strips.
I stapled a piece of hessian on to an old picture frame and used a book of discarded discontinued curtain samples from the local store (I found cutting the material on the cross made the strips easier to work with).
I placed the finished picture onto stiff board and stretched, tucked, and glued the border round the back.
I have yet to frame it, but intend to place it on with carpet double sided tape to a piece of the heavy board which came with the book of samples leaving a border for framing
I think I will use skirting board, which is very cheap from the wood store, and cut and staple it to the back for the frame. Or I could use driftwood as I live 20 yards from the North Sea and have a plentiful supply.
The beauty of curtain samples is that they come in batches of matching hues and complementary colours. I might add some shells and sea glass into the picture and perhaps continue embellishing some on the frame.
Isobel
Editor's Note: Here is Isobel's original post:
How do you make a rag rug or a tied rug?
By Penny from Watson, LA
February 3, 2010
0

found this helpful
You usually need a loom to make a traditional rag rug. However I have seen a charming rag rug made using crochet. First you make strips out of the rags and attach them end to end. Next you take a large plastic crochet needle and crochet the one long strip. You can make round/oblong rugs by single crocheting in a circle/snail pattern. Or you can make rectangular ones going back and forth.
February 3, 2010
0

found this helpful
You can cut rags into long pieces about 2 inches wide & plait them as in hair. Lay them in a circle then sew them together by hand with needle & thread, good luck.
February 8, 2010
0

found this helpful
Just took a class. simple single crochet. Old sheet ripped into one inch length. Fold and end over itself by an inch small cut with scissors that way you can add the next strip on like a slip knot do all strips or as you go. Get the biggest crochet needle. It is plastic no number on it but like those giant pencils we had as kids. Start with a slip knot and 4 or 5 single crochet then connect into first just continue around if you want to make oblong, single crochet twice in same stitch. Very easy! Sore forearms once it gets bigger. (picture is the slit to join pieces) Good Luck!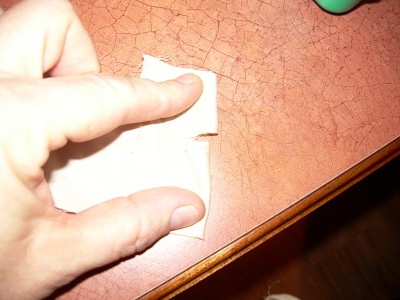 I am looking for instructions to crochet an oblong rag rug.
By Dee307
April 7, 2009
0

found this helpful
I don't know whether oblong means rectangular or oval, but here are instructions for making an oval crochet rag rug.
April 12, 2009
0

found this helpful
Decide on the width and length, and just crochet a beginning row, turn and crochet back and forth. You can change fabrics to create stripes, or just crochet until you run out of one fabric, then add another color. I like to use knits from old t-shirts and use a half double stitch.
Does anyone know approximately how many tee shirts of varying sizes it would take to make a 6X9 foot recycled rug, the kind that's looped through a grid backing? I'll cut the strips 1X 4 inches, as suggested.
I just need to know if I've set my size sights too big. Would 100 tee shirts make this size?
Thanks!
By Patti S
February 13, 2012
0

found this helpful
Unfortunately I'm horrible in math. That being said, what I would do is prepare four or five tees and begin. After I had those tees used. I would be able to see how much of an area they covered and that would give me an approximate idea of how many I would need to finish the project.