Solutions: Buying A Sewing Machine
Read and rate the best solutions below by giving them a "thumbs up".
I just recently bought a Brother Project Runway sewing machine. It is computerized, has 80 stitches, automatic needle threader and many other features. It is much heavier than other table top machines I have had. When it runs, it doesn't sound all clicky and shaky. It has a good powerful sound to it. I am really enjoying it. The very best part is that it is under 200 dollars!
I heartily recommend it to anyone who sews and needs a good serviceable machine. We were at Walmart looking at different machines. Three customers and one employee came over to us and started raving about this wonderful sewing machine. It has 2 manuals about the size of a Woman's Day magazine, one in English and one in Spanish.
By Marty from Knoxville, TN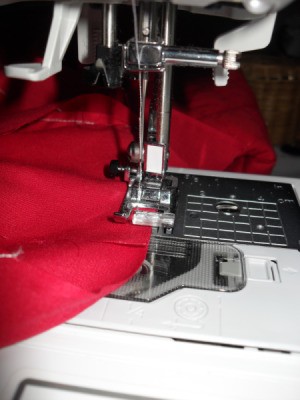 A few weeks ago I told you about my new Brother sewing machine. I just noticed something wonderful about it. I can't believe I didn't see this before. It has a needle threader which I haven't been able to figure out so I've continued to fuss and thread it like I've always done (with the index card or scrap of paper behind the needle). I just noticed this morning that there is a little white area just above the presser foot which lines up with the needle when it's in the highest position for threading. This is another reason for an old person who doesn't see too well to buy Brother.
By Marty D from Knoxville, TN
Share Your Feedback:
Once you try any of the above solutions, be sure to come back and give a "thumbs up" to the solution that worked the best for you. Do you have a better solution? Click "Share a Solution" above!
Questions
Here are questions related to Buying A Sewing Machine.
Sewing Machine Recommendation
My daughter wants to make her own clothing and I want to get a her a sewing machine for her birthday. Any sewers out there have any recommendations of what sewing machine to get her and reasonably inexpensive way to get one? Thanks, Carol.
---
Most Recent Answer

By c t
04/28/2010
I have had a PFAFF for over 35 years. They are jam proof & last forever, great machines. Like the other person said, you could try the sewing center & buy a used & reconditioned one. I had a 1222E for about 30 years & gave it to a friend & got an electronic one. New they are expensive, but my old one is still going strong for my friend. Never was in the shop once.When I researched machines, I found out that PFAFF can b used by anyone & not break or jam. I had young kids. I wanted them to b able to use it & I didn't want to worry about my machine...great, great machines!
Singer Tiny Serger Sewing Machine Advice
I'm considering buying a used Singer Tiny Serger Sewing Machine and want some feedback from anyone who has used this machine. I'm completely ignorant about serging and want to know if this machine can be used to shorten T-shirts and leave them with a smooth hem the way they were before. Any other hints about serging also appreciated. Thanks.

Seagrape
---
Most Recent Answer

By Dzzzyd
09/08/2009
I know this is late in finding this post, but want to respond anyway. I just bought a Singer Tiny Serger at an Estate sale for $7.00. I thought what the heck it's worth trying. It had everything with it including the book, so I was really lucky. After reading the manual I started threading it as was shown. This was my first experience with a serger, but I have had many other sewing machines, so threading wasn't that confusing. To my delightful surprise it worked, first try. For simple edging this will work great, but for something fancy I'd probably go with another machine. The stitches were even, yet widely spaced. Nothing you could use to edge a napkin or anything. For me this is great for my purpose. Of course now I may want another one so hubby beware! Hope this helps someone.
Handy Stitch Handheld Sewing Machine Reviews
Has anyone purchased a Handy Stitch Sewing Machine and had good results? I only do a little mending and I didn't want to spend the money on a regular sewing machine. I also don't have the space so I thought the handheld one would be better.

Caramel1 from NJ
---
Most Recent Answer

By kffrmw88
04/19/2009
I would not get one. It's a waste of money, mend with your fingers or get somebody else to do it for you, maybe the cleaners will do it or put an add in a news paper, good luck.