A duct tape purse is easy to put together and looks great too. Use these helpful hints and suggestions for making your duct tape purse. This is a guide about making a duct tape purse.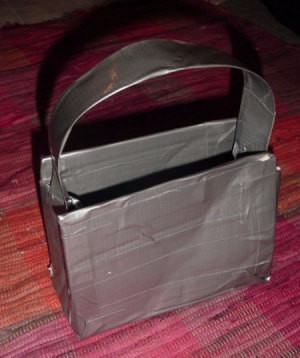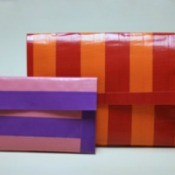 My daughter and I have gone a little crazy over duct tape :) This is a purse and clutch we made out of some, and the best part is that if one rips I can patch it up and make it look even more original!
By princessgrace from Austin, TX
By Bonnie 7
To make this purse, I used Hershey bar wrappers and duct tape. I did use some dectorative paper inside to make the pockets a little showy. It was fun and all the kids ask me where I got it and it is very durable.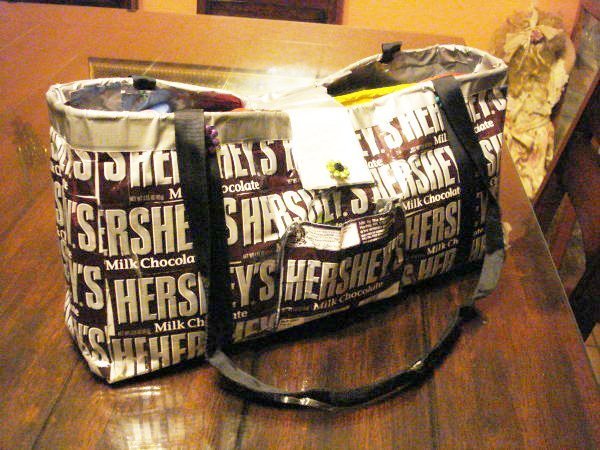 Approximate Time: 3 hours
Supplies:
Duct tape
clear packing tape
decorative paper for pockets
colored duct tape
ribbon for handles
buttons to decorate
clear contact paper
collected Hershey Bar wrappers
dental floss
large needle
Instructions:
I layed the pattern I wanted size wise and put it on a piece of clear contact paper on my glass table. I only uncovered an inch or so on the top and bottom and folded back the paper and stuck it on my table.
Then put stripes of duct tape down on the contact paper to you can lay the Hershey wrappers on top of the sticky duct tape in stripes. cover the surface you want for your outside of your purse or whatever you are making.
Put it upside down and then double tape the other side again to make it stronger.
Do the same for your dividers that you want and the pockets you want.
Tape them all in with your Duct tape.
Take a strong ribbon preferable ribbed as it is stronger and make it the length you want for the handle.
Slit holes in the side and run the ribbon up through and over the whole bottom and sew ends together. I use dental floss for sewing to make it stronger.
Tape it all together and make your purse or gift whatever you want it to be. I decorated mine with pretty buttons.
Go shopping.... Enjoy!
By Bonnie from Brownsville, Texas
By coville123 326 89
These look really nice. It's a good use for old tops.
Approximate Time: 1 hour
Supplies:
Shirt spaghetti straps
stapler
duct tape
scissors
iron
Instructions:
Turn your shirt inside out, iron all creases out if any.
Then cover every inch of fabric with duct tape. Be sure there is no wrinkles. Do both sides of shirt.
When done cut off excess duct tape around the edges.
Then about an inch from the bottom of your shirt staple all the way across from end to end.
Then cover the staples with more duct tape to avoid poking your fingers.
Then turn the bag inside out again this will be the outside of your bag or purse. You can add extras to decorate it or just leave it the way it is.
By coville123 from brockville, ontario
Need a purse? You can make one out of cardboard and duct tape. They are easy and cool!
Materials:
Duct tape (there are an array of colors available)
Ruler
Box cutter
Cardboard or tagboard
Writing utensil
Instructions
First you need to cut five pieces of cardboard/tagboard into the dimensions you want your purse. I cut the large sides 7x5 inches, the small sides 6x3 inches and the bottom 7x3 inches. The strap should be 2-3 inches wide and as long as you want it.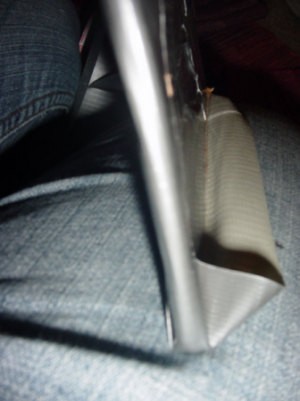 After each piece is cut out, you can cover them with duct tape. Try and keep the tape as flat as possible to avoid creases and air bubbles. On the edges, place the cardboard in the middle of the tape and fold the tape over on each side.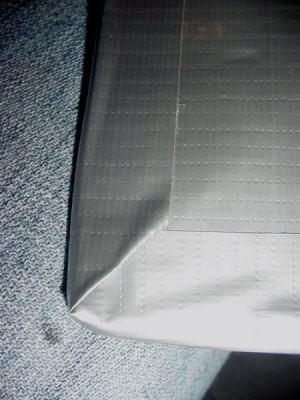 When you get to the corner, don't fold it until you go around the corner with the tape, then fold the sides down so the tape sticks to itself making a triangle. Then you can fold the other sides down.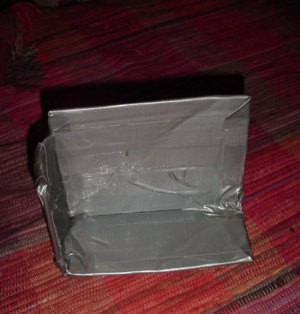 Once each piece is covered, you can start taping the sides together to form the purse.
Now you will have a box which is the main part of the purse.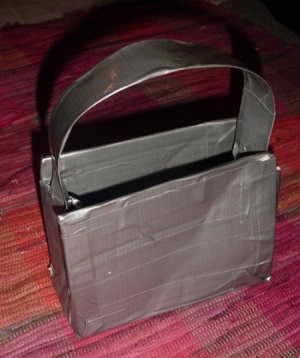 Strap
To make the strap, cut two pieces of tape as long as you want your strap, if you cut it too long you can always cut it down. Place the two pieces together with about 1/4 inch of sticky side offset on either side so you can fold those edges down. (This keeps the sticky edges from being exposed on the edge of the strap.) Now tape the strap to the your bag, make sure it is strong. You can attach a piece of tape to the strap and wrap it around the bottom of the bag and attach the end to the other side of the strap. Also tape the strap to the inside of the bag so it is extra strong.
Ways to make this purse even more stylish:
Use different colors of duck tape.
Add a fake flower.
Make a bow with the tape.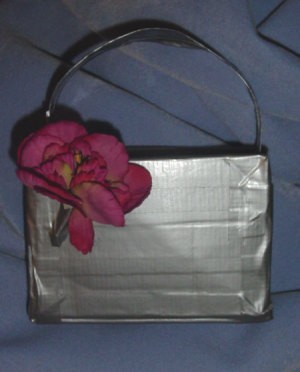 By coville123 326 89
These are easy and fun to make.
Approximate Time: 1 hour
Supplies:
duct tape
scissors
ruler
keychain optional
empty tape roll optional
Instructions:
Lay down 5 strips of duct tape about 14 inches long, overlapping them together sticky side up. Cover over your strips with 5 more 14 inch strips to make a fabric.
Cut off rough edges on each side of your purse. Fold your purse in half and use duct tape to secure each side of your purse. Cut off rough edges.
Cut a piece of duct tape about a foot long for your strap and another strip about 2 inches shorter. Lay the short one on top of the long one, leaving sticky ends at both ends. Then stick each one inside of your purse, add extra tape for a stronger strap.
I also made a matching key chain and bracelet. Just take the empty tape roll and cover with duct tape. For the key chain, cut a strip about 10 inches long and lay another strip on top of that one. Cut a smaller piece to make a loop in the bottom of your chain. Do the same at top but attach to a key ring.
By coville123 from Brockville, Ontario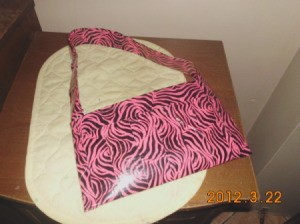 I am looking for pattern for a duct tape purse.
---
Most Recent Answer
By guest (Guest Post) Flag
November 3, 2008
Hey, here's a website duckitup.com it has a bunch of duct tape patterns for only $2 a month! It's amazing. There's all kinds of patterns.
---
How do you make a duct tape purse with a flap?
Tina from Grantville
---
Most Recent Answer