Cookie cutters can be used for more than just making cookies. Their variety of shapes and sturdy construction make them perfect for use with other foods and many types of craft projects. This is a guide about creative uses for cookie cutters.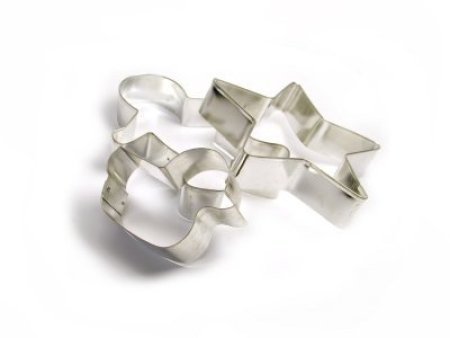 Here's a way to display my cookie cutters. Some are gifts, some are ones I bought, some are my mom's, and some are my grandmother's. I can't tell you what wonderful memories they all hold for me, as I can remember why I bought or received every one. I get lots of compliments on them, too!
By Margie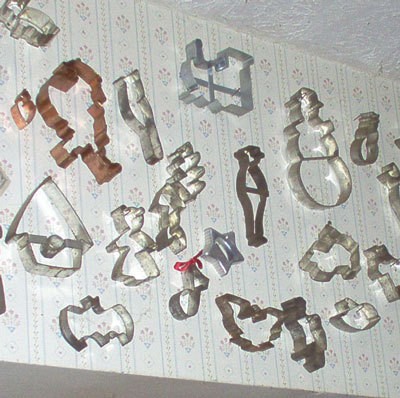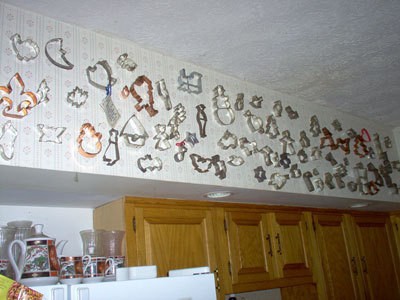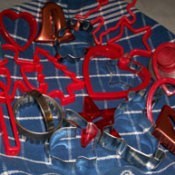 If you're crazy for cookie cutters, you probably have a drawerful of all shapes and sizes just begging to be put to use. Here are some ways to have fun with your stash, without rolling out the dough.
In The Kitchen:
Cut cheese for appetizers.
Make pancakes from animal-shaped cutters.
Cut out star shaped sandwiches for your "star" pupil to carry in lunchbox.
Liven up a plain bakery cake or box-mix cake by pressing cookie cutter shapes into sides. Dust with confectioners sugar, if desired.
Need a fast and fancy dessert? Cut store-bought pound cake into shapes with cutters, place on a pretty plate and top with whipped cream and berries.
Encourage kids to eat more fruit. Cut watermelon, cantaloupe or honeydew into shapes for after-school snacking.
For The Holidays:
Tie stars, bells and other holiday shapes with ribbon and hang on Christmas tree.

Attach to a homemade kitchen gift (such as a box of fudge, your own special granola or a potpourri jar) for a special touch.

Let kids cut out shapes for Fourth of July, Easter, or Thanksgiving using cardboard, construction paper, and glitter. Punch hole in top, tie a ribbon or piece of twine and hang over a doorway for a mobile.
Around The House:
Use as picture frames. Go through that old box or drawer of photos that didn't make it into the scrapbook and cut the shapes to fit inside the frames, using a little craft glue to keep them in place.

Trace cookie cutters onto cardstock for unique greeting cards.

Use up fabric scraps from sewing projects. Trace and cut out designs, sew together and fill with beans for beanbags or use as homemade patches for blankets, jeans or jackets.
By Claire B from Phoenix, AZ
By Monica 296 58
Place cookie cutters on top of frosted cakes or cupcakes then pour candy sprinkles or colored sugar inside the shapes. Remove the cookie cutters and you have a nice decoration.
While preparing dinner last night, I decided on something different in the presentation of the meal. I took slices of Kraft cheese and using a frog cookie cutter, I cut the cheese and placed one frog on each plate. I surrounded each frog with vegetables, salad, and meat and served the meal to my family. Now my family can say they have eaten frog legs.
By karyn01 from Ottawa, Canada
By granniem 1
When my children were home, we were on a pretty tight budget. I would save the white foam meat trays and use the cookie cutters to cut designs in the meat trays. I would have to trim some of them with a knife or scissors. I would then give them to my children along with craft paint and brushes, and we made Christmas ornaments, decorations for Easter baskets, name tags for parties, and Thanksgiving place cards. I still have some of these as mementos of my kids growing up.
By granniem from Athens, Arkansas
Make paper characters - either ink bottoms with magic marker or ink pad. Then apply the character outline to paper or paperboard. Decorate to your taste. From there, you have got yourself a movable figure or a refrigerator magnet and whatever else you may come up with.
Cookie Cutters can create holiday ornaments by pressing and cutting out figures from the Styrofoam platter that comes under your meat from the supermarket.
There are some cookie cutters that can stand by themselves. You could fill in and glue on to skeleton to use as figures for your own little stage play atop of and old game board.
Make a wind chimes from a bunch of plastic cookie cutters.
Make a suncatcher for your window using the cookie cutter and cutting out to fit a plastic cup lid. Then color with magic markers. Fit inside the cookie cutter and hang in a sunny window.
Cookie Cutter Mud Cookies. Apply the cookie cutter to mud, let dry and there are your mud figures. Maybe you could decorate your outside planters.
Cut and glue pieces of colored magazine pictures to your cookie cutters. Hang on walls in a scene display.
Make badges or brooches from your cookie cutters super glue a paperclip to the back to fit over shirt pocket.
Cookie Cutter toast and pan cakes. Create after food is cooked. You should use the metal cookie cutters to create those edible forms.
Cookie Cutter counted cross stitch frames - Imagine all the different figures. Better then those bought expensive kits. You can do these with just left over material.
I hope I helped and now you turn on you creativity and come up with more reuses of those COOKIE CUTTERS. Happy Thinking And Creating
To You From Mr. Thrifty from Shermans Dale, PA
Use your cookie cutters for something other than making cookies. Small cookies cutters can be used to press shapes (heart shaped for instance) out of carrots, cucumber coins, apple slices and any other vegetable that can be sliced thinly or flatly.
By Hope
Use cookie cutters for mobile designs and then create a mobile or use them in kids play doh. My son loves them to draw also - you draw the outside shape.
Inexpensive cookie cutters make cute seasonal napkin rings. By Linda
Seasonal cookie cutters make great festive napkin rings and can be a little party favor, too. Just add a bright bit of ribbon or raffia.