Solutions: Duct Tape Backpack
Read and rate the best solutions below by giving them a "thumbs up".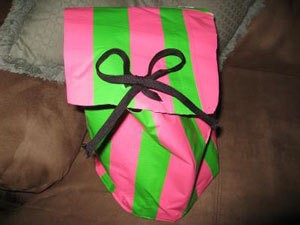 A duct tape bag with straps that go around your arms at whatever length you decide. Inside can be any color you would like, I recommend gray. Card board on back and bottom and holes for bow on top.
Approximate Time 2 to 3 days
Supplies:
card board
1 roll of duct tape for inside gray is the best
1 or 2 or 3 rolls of duct tape for outside colors
a string like a shoelace
Instructions:
Cut a piece of cardboard out in a circle or square.
Put gray tape on one side and colors on other side.
Start ripping pieces of tape to whatever length you want.
Attach them to cardboard.
On the sticky side, apply gray tape.
Leave side for a rectangular piece of cardboard.
Put cardboard on and tape to the bottom of circle.
Just put colors on outside, you can put gray on the inside but you don't have to.
Take two long pieces of tape and fold them over (these will be the straps)
Put straps on with another piece of tape
Poke holes in bag for string (2 on top, 2 on top of the front
Make string go through front first then through top and tie a bow.
By Desney from Jourdanton,TX
Share Your Feedback:
Once you try any of the above solutions, be sure to come back and give a "thumbs up" to the solution that worked the best for you. Do you have a better solution? Click "Share a Solution" above!
Questions
Do you have a question related to this page?