Solutions: Easter Egg Hunt Ideas
Read and rate the best solutions below by giving them a "thumbs up".
For our Easter Egg Hunt last year, we hid them outside even though it was a bit on the cold side. Our 5 year old grandson Mason didn't care. We hid them first and then he hid them as he loves to have us find them.
We colored them together and discussed each one that way he remembered more of them for the hunt. He would say "oh gramma I haven't found the one with the stars on it yet" as he looked through his basket.
We take lots of pictures and build lots of memories for his future this way along with having a total ball at the time.
By Ann from Loup City, NE
I had forgotten this until I read an article on another site. We use to hide our children's Easter Baskets and they would have to hunt for them. Being 5 children, if they found someone else's, they were not allowed to say that. They had to leave it where it was.
One year, our youngest child's basket was hidden in the fireplace (of course the fireplace was clean) and she was the last one to find hers. She was getting pretty jumpy, thinking the Easter Bunny didn't leave her anything until we began playing hot and cold with her. It was so funny to see her retrieve her basket from the fireplace.
Oh those wonderful memories of times gone by. They just last a lifetime. So try it; you may find you will have some wonderful memories later on when they become older.
By Gem from VA
To avoid jealousy and hard feelings at an Easter Egg Hunt for your kids or grandkids, use all the same color eggs for each person. Example: blue for Joey, pink for Amy, yellow, green and purple for other kids, etc. Then take one egg of each color and put the same thing in each. Continue until all the eggs are filled. For the hunt, tell each kid what color is theirs and to only pick up eggs of that color. That way everyone has the same amount of eggs and the same amount of "goodies". No one gets their feelings hurt. If you want to and if the kids are old enough to understand, you can have one special "prize egg".

I hope this helps someone and I hope everyone has a Happy and Holy Holiday - Easter, Passover, or whatever holiday you happen to be celebrating.

By Margaret from Denton, Texas
We color and hide Easter eggs every year for our 4 children to find Easter morning. Early on when we only had 2, we found one always found more then the other and a lovely morning quickly turned into a fight! So I started assigning a colored string of yarn draped throughout the house with Easter eggs hidden along the way per child. Each child has to follow their own color and as they follow the winding trail behind couches, under tables, and over TVs, they also collect their eggs and it all leads to their Easter baskets. The kids love waking up to the mess of yarn in the living room and no one argues about who got more eggs!
By mae11197 from Branford, FL
All year, I secretly save up little trinkets from the dime machine, or the quarter machine, and store them away for Easter.

By the time Easter comes around you have a big stash of already filled "Easter eggs" and can put them in a little basket you make or buy. I also save the grass from one year to the next. It is virtually indestructible.

The grass can also be hung on a little "branch tree" with a little plastic Easter egg closed over a string of grass so it hangs from the branch. You can paint or glitter the little Easter eggs or just leave them as they are. Just a little extra excitement. Make sure you find all the little Easter eggs, the lawn mower does not like them at all.

These make excellent Christmas tree decorations also. A stocking full of these are cute to get, and they are so fun!

By Racer
Go on an Easter egg hunt at the flea market. I did this one year for my Easter display. I looked at every booth for any kind of Easter egg (ceramic, glass, porcelain, etc.). I had a ball! It was really amazing how many I found. No two were alike. They were all very inexpensive. When I was done, I put some Easter grass in a large basket and nestled them in it. It made a great Easter display with my big ceramic bunny. I think kids would love doing this too. Happy hunting!

By Jess from Wooster, AR
Share Your Feedback:
Once you try any of the above solutions, be sure to come back and give a "thumbs up" to the solution that worked the best for you. Do you have a better solution? Click "Share a Solution" above!
Questions
Here are questions related to Easter Egg Hunt Ideas.
Ideas for an Easter Scavanger Hunt
I would like to do a scavanger hunt for my girlfriend's kids for Easter, instead of just giving them Easter baskets. Does anyone have any ideas for some clues. I will probably do it inside the house since it is still cold outside.

Laura
---
Most Recent Answer

By Kzog92
04/18/2011
Here is a suggestion but it takes a year to come to fruition so you have to be patient. I had a flower garden that I put annuals in each year, so one year I took a bunch of plastic eggs and filled with money, prize notes, etc. No food and buried them in the fall in that garden. The next year the kids got Easter pails with little garden shovels and trowels and had to dig up the eggs. This got my ground all turned over and we had a muddy blast!
Archives
Here are archived discussions related to this page.
Easter Egg Hunt
The fun of being a kid is looking forward to the "Easter Egg Hunt". By Laura from Orlando, Florida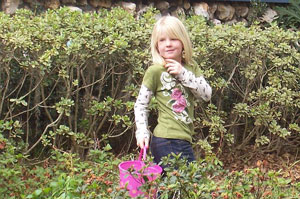 What Fun!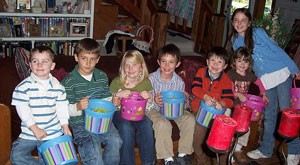 "Where is Kylie, we can't wait forever."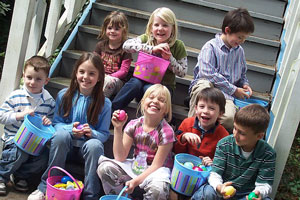 Wonder who got the $10.00 in the Easter Egg Hunt?

"Wow, aren't they beautiful", and what fun it was!
---
RE: Easter Egg Hunt
They are all gorgeous children! Look the happy faces! I love it. (04/27/2007)
By caraing
RE: Easter Egg Hunt
What wonderful memories! I can remember watching my own children and grandchildren having fun like that. Thanks for sharing with us. God bless you! (04/28/2007)
By tedsmom