Every year thousands of people have kitchen fires. These fires can become very dangerous and can get out of control quickly. A fire extinguisher is very helpful in situations such as this, but a simple remedy can save your home.
Keep a large box of baking soda near your stove. Should a fire occur, you just throw baking soda on it and keep it contained until you can get more help. Usually the baking soda will put out the fire immediately and doesn't cost much for such a simple solution.
So the next time you go to the store, buy a box of baking soda and keep it within reach should you need it.
By Gem from VA
September 28, 2010
0

found this helpful
Great idea! You can use baking soda for cleaning as well and can get a far cheaper supply of it from cattle food stores: just ask for cattle grade baking soda; it's not edible! But is fantastic to keep in a canister near the stove, and also to use just like you do "comet" or other cleaners; far cheaper, and no chemicals to harm you! Do buy baking soda without aluminum in it; available and only get a small amount to use from bulk; that way it will be fresh for you to use! Aluminum is added into the boxed kind sold in the usa and other countries along with other additives; which in excessive amounts in the body, causes alzheimers !
Read More Comments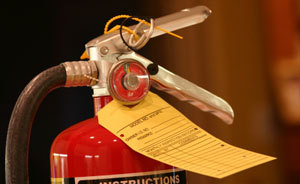 It has been three years ago this month I had a kitchen fire and panicked. When the fire got out of hand, all I could think about was calling 911 and getting my dog and myself out of the house. We had extensive fire damage to the kitchen and extensive smoke damage to the entire house. We were out of our house for three months.
As I was reflecting on that experience today, I felt strongly the need to share a few tips with you. The first thing I learned is never, to throw anything on your kitchen counter where you have a smooth top cooking range. I did this as I came into the house with groceries. I then headed to another room in the house to use the bathroom. When I came back to the kitchen, the entire area above the stove top was in flames. I did do the correct thing by calling 911 and getting my dog. I did not remember to use the fire extinguisher, and, to be honest, I doubt I could have put it to good use. Now, I am aware of how to use the extinguisher.
After calling 911, here are a few things you can do. If the fire is contained in your oven, close the oven door immediately and turn the oven off. If it is a small grease fire, put a lid on the pan. Do not lift the lid again or oxygen can start the fire up again. Here are the directions for using your fire extinguisher, read them and commit them to memory. Remove the plastic tie from the handle, pull the pin out and aim the nozzle at the base of the fire. Keeping the extingusher upright, move the extinguisher from side to side until the fire is completely out. If this does not work, back yourself out of the room and get out of there. Again, be sure you have called 911.
If you catch your sleeve on fire or any part of your clothing, STOP, DROP, and ROLL by doing this you are taking oxygen away from the fire, so you never want to wave your clothes around. Thankfully, I was not hurt in my kitchen fire, but the months that followed were very stressful to say the least. Even with insurance, we had a large amount of money we had to pay out of pocket.
By Bobbie from Rockwall
March 24, 2015
0

found this helpful
After reading this I decided to go get a kitchen fire extinguisher after work! Thank you for sharing your story. It could easily happen to anyone.
Read More Comments