Solutions: Cooking With Pumpkins
Read and rate the best solutions below by giving them a "thumbs up".
Gardening is my passion and I grow lots of butternut squash and pumpkins. The fastest way to use them after picking is to soften them in a pressure cooker. I do two at a time, or one if the pumpkins are large.
First cut them in two and remove seeds. I have found the best way to remove the seeds is to use an oval ice cream scoop. Add water to the bottom of a baking pan, put in a rack, add pumpkins or squash, then cook for approx 5 minutes after red button pops up. Cool down. Remove skins, then puree in a food processor. Then it can be used in your recipes. These make yummy pies, custards, cakes, or bread.
By nelliemary from WV
Share Your Feedback:
Once you try any of the above solutions, be sure to come back and give a "thumbs up" to the solution that worked the best for you. Do you have a better solution? Click "Share a Solution" above!
Questions
Here are questions related to
Cooking With Pumpkins
.
Using Halloween Pumpkins for Cooking
Can I use a regular pumpkin that you see all over for making pumpkin pie or soup? I heard there are different types of pumpkins and the one we use to carve as Jack-O-Lanterns are not good for cooking.
By Rose from Malvern, PA
---
Most Recent Answer

By Anonymous
11/02/2011
Your question seems to already be answered but don't forget to roast those pumpkin seeds for snacks. ;-)
Recipes Using Pumpkins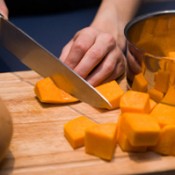 You can get great deals on pumpkins this time of year. Do you have any tips or recipes for using pumpkins? Also, do you have any tips for selecting pumpkins to eat? Post your ideas below.
---
Most Recent Answer

By Linda in the kitchen (Guest Post)
11/01/2008
I like to put a whole "cooking" pumpkin in the oven at about 300 degrees F and cook it for an hour or two, until it smells good and the shell breaks when I press on it. I take it out and let it cool, then cut it open. I separate the seeds for roasting and scoop out the cooked pumpkin. It is so much easier than trying to skin a raw pumpkin.

Now if I can only think of something to do with that lovely hard shell.
Cooking With "Jack-o-lantern" Type Pumpkins
I was given three BIG pumpkins (aka jack-a-lanterns) that were on sale after Halloween. I would really like to use them to make pumpkin pie for Thanksgiving but have been told that they are NOT the right type. There has to be a way to use them, maybe not as pies but as other food type things. I am really trying NOT to waste food at all, as we have gone hungry in the past.
---
Most Recent Answer

By Irene, Florida (Guest Post)
11/18/2008
I have always used my "Jack" as my pie source for the past 20 years. I steam it until soft; then place inside a cheesecloth "pocket". Twist and squeeze out the excess water. If it seems less than tasty I just up the amount of spices used by 1/4 or 1/3. Family loves it when I use extra pie crust to cut out a jack-o-lantern shape for the presentation. Enjoy.
Related Guides
Related Posts