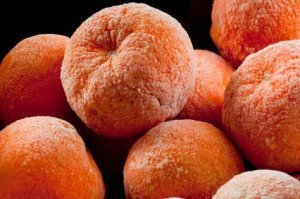 Freezing oranges is one way to enjoy this delicious and nutritious fruit year round, not just when it is in season. You can use it to make smoothies, sorbets, and other fruity desserts and snacks. This is a guide about freezing oranges.
Solutions
Share a solution for this guide today!
Questions
Here are questions related to Freezing Oranges.
How do you freeze oranges?

Eleanor from Connecticut
---
Best Answers

By Diane12/19/2006
I used to peel and section oranges and lay flat in a sealed baggie to freeze. In the summer, I would give my grandchildren frozen orange sections instead of popsicles. They loved them and it was a lot healthier for them. Make sure they are seedless.
---
Best Answers

By Donna Carnall12/18/2006
I've never frozen oranges, but I often freeze lemons, so I guess it would be pretty much the same. I freeze lemons by just sticking them in the freezer whole. When you need a lemon (or orange) put it/them in the microwave for about 30 seconds or so on high or just leave out to thaw.

Donna