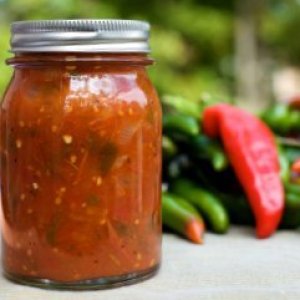 Whether you bought bulk salsa or made a lot at home, freezing salsa is a good way to preserve it for later. This is a guide about freezing salsa.
Solutions
Share a solution for this guide today!
Questions
Here are questions related to Freezing Salsa.
I have lots of tomatoes. Can fresh tomato salsa be frozen?
By kscheele39 from Plymouth, NE
---
Most Recent Answer

By Becca J09/04/2010
Yes it can, however, the tomatoes will get mushy upon thawing.
Archives
Thrifty Fun has been around so long that many of our pages have been reset several times. Archives are older versions of the page and the feedback that was provided then.
Can you freeze store bought salsa? I have a large bottle and hate to see it go to waste!
mellowmona
---
RE: Freezing Salsa
I read a tip that if you freeze picante sauce, and then let it thaw, it actually improves the flavor. Since picante and salsa are almost the same, I would think it would be fine. I haven't had the chance to try this yet. (06/11/2005)
By mkymlp
RE: Freezing Salsa
Yep! (06/11/2005)
By Mart
RE: Freezing Salsa
We buy half-gallons for our food concession, then freeze what's left until the next engagement. No problems. (06/12/2005)
By Coreen
Harlean from Arkansas posted info regarding freezing fresh salsa. My question, how is it, once it is thawed? I do not want mushy salsa. Appreciate any feedback available.
Terry from Zionsville, IN
---
RE: Freezing Salsa
I've frozen homemade salsa in ice cube trays, then put into baggies and it did fine. (08/29/2006)
By imaqt1962
Can salsa made with fresh tomatoes be frozen?

By Tina from KS
---
RE: Freezing Salsa
I am not sure about freezing it, but we always canned it and the shelf life is amazing. Be sure and learn how to properly can before doing so. It is very important to do it the right way so the food doesn't make you sick once you do eat it. (06/06/2010)
By hcannon
RE: Freezing Salsa
I freeze mine. The only thing is it will get a little watery on top as it thaws, but usually you can just stir it up well after it is completely thawed. (06/08/2010)
By tshallow74