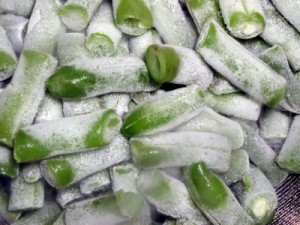 Most vegetables can be frozen which preserves them for later use and saves you money. This is a general guide about freezing and storing vegetables.
Ad
---
Solutions: Freezing Vegetables
Read and rate the best solutions below by giving them a "thumbs up".
If you think about it, a lot of recipes start the same way, sauteing onions with, depending on the cook, garlic, celery, carrots, or peppers. You probably have your own preference that you use more than any other. Well, on a day when you have a little extra time, make a huge batch of it, make your meal with a portion of it, and let the rest of it cool. Then measure in 1/2 or 1 cup portions and freeze.
When you are rushed or tired and need some, you can thaw out however much you need. You might even want to make a couple of variations, such as onions and peppers, and onions and celery, or with garlic, and without.
Source: This is inspired by pure laziness, a little work one day saves me a lot later!
By Copasetic 1 from North Royalton, OH
When I open a bag of corn (or any other veggies), I use my scissors and cut across the top of the bag, leaving enough that I can use it to tie my bag up with it. The other thing I use is leftover twisty ties. When I get garbage bags, I always get the ones with twisty ties so I have plenty when needed. I always hand tie my garbage bags, so it doesn't really matter what kind of bag I get.
Veggies on sale? Buy a lot and freeze them. Your freezer can be your best friend when trying to save money on your food bills.
Freezing Vegetables:
Wash and trim vegetables.
Cut them into useful sized pieces. If you plan to use them for stew, cut them accordingly, it will save youtime later on.
Blanch the vegetables to prepare them for freezing.
Blanching Instructions:
Bring a large pot water to boil. Put the vegetables in a strainer or wire basket and immerse in water. Use one gallon of water per pound of food.
Click the link below for an article that contains more information about blanching as well as a chart that tells you how long to blanch different vegetables.
Once you have blanched your veggies for the appropriate amount of time, put them in ice cold water to stop the cooking process.
Cool the vegetables for the same amount of time that you blanch them.
Drain vegetables until dry.
Then package them in freezer bags or containers with the date they were processed.
By blanching the vegetables, they retain more vitamins and will cook faster when you decide to use them. To cook your frozen vegetables: Heat vegetables in water until tender.
Freezing veggies is not as difficult as freezing meat or proteins. As for zucchini, carrots, etc, cut them the same round size and blanch them in boiling water for about a minute.
Then strain them and blot them dry on a tea towel. Spread them out on a large cookie sheet and freeze quickly. When frozen, bag them in a freezer bag, They will last about 6 months.
Or, you can dehydrate them in a household dehydrator from Ronco etc. These dehydrated veggies, tomatoes, green peppers, mushrooms , bananas, peppers etc. will last over a year. The dehydrated veggies will come back in hot water just like fresh in soup or chili etc.
I buy frozen vegetables in the bags. Then when I get home I divide the veggies into the proportion size I want and put them into a sealed container. That way if I want some corn, for example, for a dish I'm making, I don't have to try and break up the corn in the bag. And it doesn't get freezer burned either.
By Pixie from Ohio
Fresh vegetables can be frozen quickly and easily during the harvest season. Whether you freeze purchased or home-grown vegetables, the keys to a successful product are using vegetables at the peak of ripeness and freezing quickly after purchase or harvest.
Contents include:
Selection and Purchase
Blanching
Packing Food into Freezer Containers
Thawing and Preparing Vegetables to Eat
Guidance for Peas, Onions, Green Onions, Peppers, Potatoes, Squash and Zucchini.
This article is available in PDF format. Click here to download it.
Published by: New Mexico State University
Give a "thumbs up" to the solution that worked the best! Do you have a better solution? Click here to share it!
Questions
Here are questions related to Freezing Vegetables.
How do you freeze cauliflowers and green beans? Do you have to blanch them first or can you freeze them without blanching?
By Yvonne from Coventry, England
Ad
---
---
Best Answers

09/01/2011
Follow Elaine S' advice and it's the same (3 minutes) for cauliflower but the florets and stems need to be cut into about 1 to 1 1/2 inch pieces. Assorted veggies need different blanching times but beans and cauliflower happen to both be the same.
---
Best Answers

By Elaine S. [39]09/01/2011
I have never frozen cauliflower but I am sure you can find directions by googling. For the green beans, you blanch them about 3 minutes and them cool them in ice water to stop the cooking action. Bag them, getting as much air out as possible. I use a straw to suck the air out as suggested by many on here.
How do I freeze fresh celery?

By Vic
Ad
---
---
Best Answers

By Sheila [3]01/10/2012
I have done this too, but I also wrapped several layers of plastic wrap and placed it in a zip lock bag to insure no freezer burn, in case I didn't get it used up in a timely manner. Now I use a vacuum sealer works much better, no freezer burn because all the air has been 'sucked' out.
---
Best Answers

By Vicki [21]01/09/2012
Cut it in sticks or in slices, wash it and freeze it. Make sure it is very dry before freezing so ice crystals don't form on it, which causes it to deteriorate faster. Also, try and remove as much air out of the container because air also does the same. Peppers and onions can also be frozen in this manner, without blanching.
I am freezing zucchini and one of the methods is to freeze it unblanched. Is this method safe? What about the enzymes that blanching kills? I would hate to have problems with the zucchini once it is thawed but like the idea that it would not be as mushy as it gets when it is blanched. Please help, as we have a garden full of zucchini.
By Mira
---
Best Answer

By Myrna [14]07/30/2009
I wash my zucchini well and drain. Then grate it peeling and all for making my zucchini cakes in the winter. I've never had any bacterial problems arise after immediately thawing it for use.

I also do not blanch bell peppers but clean well and stuff with rice, tomatoes, ground beef and onion and place in freezer bags. When ready to use, I put them in a pan with water covering the lower bottom a little and use a lid and cook til done. Again never had any bacteria problems arise preparing some vegetables in this manner.
Do all vegetables have to be blanched before freezing?
By G Norman from Oxfordshire
---
Best Answer

By Susan06/06/2012
No - most do need to be blanched, but not all. I freeze summer squashes without blanching, just slicing and freezing. Tomatoes can be frozen whole. This is an excellent way to have fresh-tasting sauces all winter, and the skins just slip right off once the tomatoes are partially thawed. I also freeze corn straight out of the garden without shucking, then microwave still frozen and still in the husks - tastes like summer!
I want to vacuum pack vegetables without cooking them. Can you freeze vegetables without cooking them?
By Joan
---
Best Answer

09/29/2011
Except for veggies like peppers and onions they need to be blanched. The reason is to keep their fresh color but, most importantly, to stop the enzymes that break down the quality and nutrients of the food. Here's some info I shared a few weeks ago:

Vegetable Water Blanching Timetable

There have been a lot of requests for blanching veggies as of late so here's an easy timetable to follow. Be sure to check tenderness part way into the blanching guide times because freshness and size of vegetables vary and can affect how long they truly need to blanch.

Be sure to give the veggies an immediate ice water bath after the blanching to stop the cooking process. Pat veggies dry if you are going to be freezing them and remove as much air from the freezer bag as possible because both help to reduce freezer burn.

Artichoke Hearts, Globe: 7 minutes
Artichoke Whole, Globe: 10 minutes
Artichoke Whole, Jerusalem: 3 to 5 minutes
Asparagus: Small Stalk - 2 minutes, Medium Stalk - 3 minutes, Large Stalk - 4 minutes
Beans: Snap, Green or Wax - 3 minutes
Beans: Lima, Butter, or Pinto - Small - 2 minutes, Medium - 3 minutes, Large - 4 minutes
Beets: Cook until tender
Broccoli, Florets and Stems: 1 1/2 inch pieces - 3 Minutes
Brussels Sprouts, Heads: Small - 3 minutes, Medium - 4 minutes, Large - 5 minutes
Cabbage or Chinese Cabbage: Coarsely Shredded, thin wedges or leaves separated - 1 1/2 minutes
Carrots: Whole - 5 to 6 minutes, Diced or Sliced - 2 to 3 minutes
Cauliflower, Florets and stems: 1 to 1 1/2 inches - 3 to 4 minutes
Celery: Diced - 3 minutes
Corn-on-the-cob: Small - 8 minutes, Medium - 10 minutes, Large - 12 minutes, kernels - 5 minutes
Eggplant: 1 1/2 inch slices - 4 to 5 minutes
Greens, All Varieties: Tough Stems Removed - 2 1/2 to 4 minutes
Kohlrabi: Whole - 3 minutes, Cubed - 1 minute
Mushrooms: 4 to 6 minutes
Okra: Small - 3 minutes, Large - 4 minutes
Peas: 1 1/2 to 2 1/2 minutes
Peppers, Sweet: Strips or Rings - 2 to 3 minutes, Halves - 3 to 4 minutes
Potatoes, All Varieties: Cook until tender
Pumpkin: Cook until tender
Rutabagas: Diced - 2 to 3 minutes
Soybeans, In Pod: 4 to 5 minutes
Squash, Winter: Cook until tender
Squash, Summer: 1/2 inch slices - 3 to 4 minutes
Turnips: Diced - 2 to 3 minutes