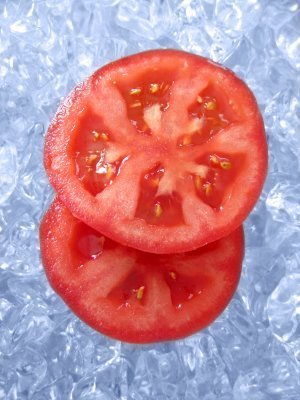 Freezing tomatoes is a great way to save them for use later. However, if you have a lot of them you will need to figure out what you want to do with all those frozen tomatoes. This is a guide about using frozen tomatoes.
Ad
---
Solutions: Using Frozen Tomatoes
Read and rate the best solutions below by giving them a "thumbs up".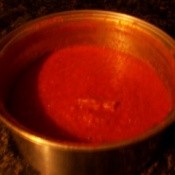 This is a multi use pasta sauce made from tomatoes frozen from my garden bounty. Economical, easy to make, and more flavorful than store bought. I remove seeds from my tomatoes before freezing for smoother sauce.
Ingredients:
1 gallon frozen tomatoes (or 4 large cans crushed tomatoes)
3 minced garlic cloves
1/2 cup minced onion
1/4 cup olive oil
1/3 cup sugar
2 tsp. salt (more or less to taste)
1 tsp. black pepper
1 Tbsp. basil
1 Tbsp. oregano
Seasonings can be adjusted to suit taste
Directions:
Thaw tomatoes, puree in blender. Saute onion and garlic in olive oil until crisp tender. Using a large dutch oven saucepot, add tomatoes, seasonings and sauteed garlic and onions. Heat on medium to boiling, reduce heat to low, cover and simmer for at least 2-3 hours, stirring every 15-20 minutes.
At this point, if thicker consistency is desired, remove lid and up heat to medium , stirring until more liquid is absorbed. The longer this simmers the better it is.
When done you can either jar into quarts and process according to jar manufacturer directions, or let cool completely and ladle into quart freezer bags and freeze.
Add hamburger or other meats to sauce before serving. Great on any pasta dish!
Servings:
12 -1 cup servings
Prep Time:
10 minutes Minutes
By Cheryl from Trinity, NC
I use my frozen tomatoes in soups and stews. But the big thing I do is save them until I have enough to can them and I make my own spaghetti sauce. I thaw them and make my sauce and then I have lots on hand. If I have extra I make some chili sauce also. You can use frozen tomatoes in canning just like fresh ones and once thawed the skins slip off nice and easy!
By Artena from Tahsis, BC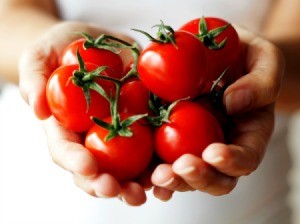 This is a guide about cooking with tomatoes. Whether fresh, canned, or dried tomatoes are a delicious in many different kinds of recipes.
Give a "thumbs up" to the solution that worked the best! Do you have a better solution? Click here to share it!
Questions
Here are questions related to Using Frozen Tomatoes.
How can I make tomato juice out of frozen whole tomatoes with skins on?
By Miriam W.
AnswerWas this interesting? Yes No
Ad
---
---
Best Answer
By Harlean G. 7 18 02/16/2014 Flag
Let the tomatoes thaw enough to pull the skins off. They will slide off with little trouble. Cut the tomatoes into chunks. Hold them over a pot as you cut them so you don't lose any of the juice. Place the pot on medium heat and bring them to a boil. do not add any water. Reduce to simmer, and let them cook for about 20 minutes. stirring frequently. You can break them up more with a potato masher. Remove from the heat and let cool. Push them through a colander to extract the juice. Get as much of the pulp into the juice as you can. Add salt to taste, about 3/4 t. per 4 cups of juice. Store in the refrigerator.
My garden produced an abundance of Roma tomatoes, which I have frozen whole with skins on. I would like to make salsa and spaghetti sauce out of these. Most recipes I find use canned tomatoes. Any ideas or recipes? I would be grateful, thanks.

Karen from Leavenworth, KS
AnswerWas this interesting? Yes No
Ad
---
---
Most Recent Answer
By Graycrab (Guest Post) 12/09/2008 Flag
You can use them in any recipe. I figure ( eyeball) about 2 cups for each can called for. They make wonderful sauces.
---
My sister placed 2 one-gallon bags of tomatoes in my freezer without my knowledge. They still have the skin and seeds but she did cut them in quarters. Grateful as I am, what can I do with them? Thank you.
By sooz
AnswerWas this interesting? Yes No
---
Most Recent Answer
I've been freezing a lot of tomatoes this year! Use them in any dish you'd normally use cooked/canned tomatoes, hot dish, soup, spaghetti sauce, etc. You can thaw them very easily in a dish with a little water in the microwave. The skins slide right off. :) They won't work in anything that requires fresh tomatoes (like salads) as they'll be mushy. HTH!
---
My husband and I have a garden. We always plant way too many tomatoes, so we freeze them whole. My husband wants me to make some salsa and can it. My question is, are my tomatoes going to be good to use as they have been frozen?
By Jennifer from TN
AnswerWas this interesting? Yes No
---
Most Recent Answer
By Jess 129 761 09/22/2010 Flag
I think it would be fine, especially if you are making cooked salsa.

I have the same problem with my garden. Not enough tomatoes to can but too many to eat fresh.
---
I am putting them in the microwave for hot salsa; will they spoil?
By Minnie