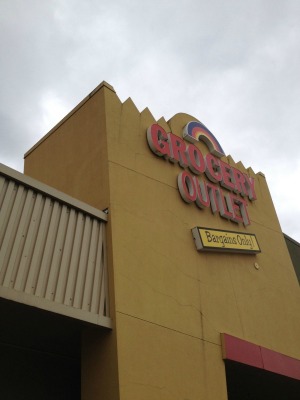 Finding the best deals at a bargain or salvage store can save money on your food purchases. This guide is about shopping at discount grocery stores.
Ad
---
Solutions: Shopping at Discount Grocery Stores
Read and rate the best solutions below by giving them a "thumbs up".
Shopping at salvage stores can save you big bucks on groceries. But when you're there, take note of the environment. Are there small bugs or tan colored moths flying around? If so, pick the items to purchase carefully. Check each item around the part of the can where you open it or where a jar's lid fits. Look for moth eggs or larvae.
If a product you were planning on buying has one or more on it, do not purchase it. Just leave it at the store. Also beware of cereals, flours, rice, as they can be inside the package already and you won't know until you get home.
If you've never had a moth infestation in your home, and had to toss out all kinds of foods, you're very lucky. Mine even got in unopened bags of dried fruit, nothing keeps the little critters out but canisters. We had to "bomb" (bug foggers) our whole house twice before getting rid of all the moths!
I had to totally re-do my whole kitchen, and pantry. But not until after having to toss out at least a couple of hundred dollars in packaged foods! Now, I keep a bay leaf on every shelf in my kitchen and pantry. I replace them 1-2 times a year.
By Terri
Give a "thumbs up" to the solution that worked the best! Do you have a better solution? Click here to share it!
Questions
Here are questions related to Shopping at Discount Grocery Stores.
Are there still any Scratch and Dent grocery stores in existence? I live in NC, near Burlington in the Greensboro area.

Julie from Liberty, NC
Ad
---
---
Most Recent Answer

By Chris Shylor W.03/15/2014
We have a few on our map. http://saverdex.com. We are trying to find some more if you know of any.
Where do I find a list of discount grocery stores?
By Marty
Ad
---
---
Most Recent Answer

By brittan01/31/2013
Bargain Depot Discount Grocery
8035 Vincent Rd
Denham springs, LA 70726
225-667-6715

I am interested in opening a bent can food store, plus health and beauty aids. How can I find these salvage suppliers?
Stan from Montgomery, AL
---
Most Recent Answer

By carolyn [8]05/13/2009
www.andersonscountrymarket.net/directory

source: AARP Bulletin May 2009, page 22
Where are discount grocery stores in the Dallas area?
By Linda from Dallas, TX
---
Most Recent Answer

By Ann Bartholomew10/06/2010
Dallas
The Grocery Clearance Center, 3107 S. Cockrell Hill Road (at Kiest Blvd), Phone 214-330-3663
http://www.groceryclearancecenter.com/site/page/pg126-pn_Home.html
Fort Worth
Town Talk Foods, 121 N Beach St., Ph 817-831-6136
http://www.towntalkfoods.net/
Grand Prairie
Topline Warehouse Store, 433 E Church St., Ph 972-262-5326
Most of the listings for Topline seem to indicate it's an appliance place rather than food...
The places in Dallas & FW have websites.

Does anyone know of any discount type food stores around Northern VA?
By SAPHO99 from Leesburg, VA
---
Most Recent Answer

By Dinah Blackmon [2]10/05/2009
I found one location in Woodbridge Va called
Global Warehouse Foods, But that is a bit of a hike to save money. I do thank you for the information and wish you the best.

How can I find Dent and Bent stores near Falkner, Mississippi?
By Dareion from Falkner, MS
---
Most Recent Answer

By that penguin11/27/2009
Type Bent and Dent Faulkner MS in a search engine, I recommend dogpile.com because its a metasearch and compiles from all the big names plus others.
Where can I find a nationwide listing of discount grocery stores or dented can stores?
By Garth
Where can I find a list of dented can or discount grocery stores in Illinois?
By Garth