Saving Money on Ground Beef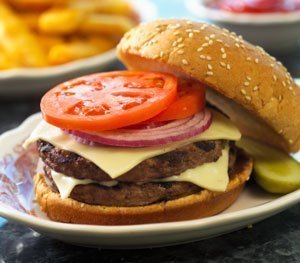 Ground beef is so versatile and the basic ingredient of many inexpensive meals. This is a guide about
saving money on ground beef
.
Solutions
Share on ThriftyFunThis guide contains the following solutions. Have something to add? Please share your solution!
Every few weeks the different grocery markets have London broil and top round roasts on sale for $1.79-$1.99 per pound. What I do is go to the butcher at the market and tell him/her that I want 10 or 15 or 20 pounds of the roasts made into ground meat. I do this all of the time. Sometimes you will see in the AD that the roast will be sold as roast only. Then you can't do it. However, if that isn't mentioned go ahead and have them grind to your heart's content. You will save a lot of money.
By Anita from Schenectady, NY
A lot of recipes call for 1 pound of beef. Hamburger helpers, tacos, etc. To get an extra meal I use 3/4 of a pound of meat. I get the same flavor but more bang for my buck. So that way a 3 pound pack of beef will be good for 4 meals.
Then I'll include something else to supplement the meal. For example when I make hamburger helper. I'll make a salad (I'll get those bags of salad for 99 cents and add some tomatoes), for tacos since it doesn't make as much meat I'll make a can of re-fried beans so we layer meat and beans in our tacos.
My family loves it! With lasagna I'll add more cheese layers since meat is still more expensive than cheese.
By Parsnip39 from USA
I have been shocked at how expensive ground beef has been lately. But I found a way around the higher prices! At my supermarket, ground beef is $2.69 per pound. So a 4 pound pack is $10.76. BUT, When I go to the freezer section, a 4 pound box of frozen hamburger patties is only $6.99 for the box.
I buy the box of patties, and then at home I thaw out 4 patties. When they are thawed, you can cook them just like you would a pound of ground beef. You can mix them together with herbs to make meatloaf of Salisbury steak, you can break the meat up for hamburger helper, or just cook them as burgers.
Using this tip saves a lot of money. I saved $3.77 for 4 pounds of ground beef, or $0.94 per pound!
By Shannon from Lakewood, OH
October 23, 2004
5

found this helpful
A few weeks ago I came upon a ground beef bargain. The expiration date was nearing and my supermarket needed to get rid of 10 pounds of ground beef. I decided to try something different, albeit a little weird.

I put the entire 10 pounds of raw ground beef into a big stock pot. I added enough water to cover the meat and set the pot over high heat to let the water come to a boil -- no cover, no salt. After about 5 minutes, I gave it a stir to break up the big clumps, which were few. The hot water was doing all of my work for me -- no splatters, no mess. When all of the pink color disappeared I knew it was done, even though it had not started to boil.
I placed my large colander into a big bowl in the sink and poured the now cooked beef into the colander. I did this in batches because my colander would not hold all of the meat at once. With the colander I was able to drain off all the liquid into a bowl, including the fat, leaving uniformly fine-textured ground beef in the colander. No clumps! I could have done the same thing scooping the meat from the stockpot with a large sieve, transferring the drained beef into a large bowl. (When done draining, I put the beef broth in the refrigerator. Later I skimmed off the fat and will use the broth for soup.)
I measured 2 cups of cooked beef (the equivalent of about 1 pound of raw ground beef) into 1-gallon size, zip-type freezer bags, pressed out the air and zipped. Then I laid each one on the counter to flatten it thin, stacked them like sheets of paper and popped the stack into the freezer.
Because my bags of beef are flat, I can use them frozen. I take one of these flat, frozen packages of ground beef, whack it on the side of the sink to break it into pieces, unzip and pour the contents into a non-stick skillet. It's ready for all uses. Here's the best part: This method removes most of the fat, leaving the ground meat nearly fat-free.
By Kathy
September 28, 2007
0

found this helpful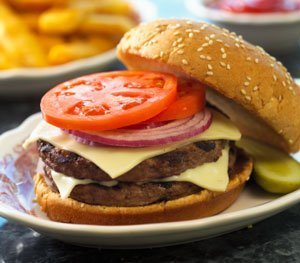 Tips for saving money on ground beef.
Buy Hamburger in Bulk
Buy hamburger in bulk packages, divide into desired amount then put in freezer bags and mash flat. This is great for saving room in your freezer. It also helps when thawing out the meat, it's a lot faster.
By Judy
Quart Size Bags For Storage
I like to use 1 quart size baggies. Fill it 3/4 full then flatten it. I find using a whole pound of hamburger (in most, but not all) meals is too much and isn't always needed.
By IMAQT1962
Buy On Sale And Stock Up
We watch for our local market to put ground beef on the loss leader sale for $1.08 or close to that. Then we buy about 40 to 60 pounds because we know they usually only run this great sale every 2 to 3 months.
We have a presto-sealer machine. I stuff the bags and my husband does the sealing part of it so it doesn't take as long. The bags are kind of pricey, but we can reuse them once or twice even though it says to throw them away. Heck ya, they are going to tell you that! I won't reuse a poultry bag. When cleaning them thoroughly with soapy water, then I dry them thoroughly and then store them away in a dust free place with paper towels stuffed in them. Next time I use them I just clip off the top straight. No more freezer burn and it's great having all those flat packages in the freezer. They thaw out fairly quickly too.
The $1.08 a lb. ground beef is in Marion, Arkansas. One time they had it for 98 cents a few weeks ago! They run their hamburger on a good price maybe once every two or three months. Just a small market with only two stores, Marion Market.
By Loridawn1956
Add Oatmeal
Add oatmeal to it when cooking. Makes it stretch and no one knows the difference.
By Tardev
Stretch With TVP Or Turkey
In answer to your question about stretching hamburger, buy a package of TVP Add it to your hamburger and it takes on the taste of whatever you are cooking and it is pure protein so it is healthy too. You can also add ground turkey to your hamburger and in the long run it is cheaper too.
By Barbo
Storage And Recipe Tips
I sometimes cook my hamburger loose and if it has a lot of fat, run water over it in a colander with hot water to take the fat away. You can also add onions, peppers, celery, carrots, or any veggie. Then freeze in zip bags, adding some water to eliminate air to keep from freezer burn. When you go to use it, bullion can be added for more flavor instead of salt.
Some of the things I use this in are, creamed hamburger on toast or biscuits, chili, chili dogs, tacos, spaghetti, goulash, manwich, sloppy joes, or hamburger helper. Makes a great quick meal.
By Chml
Tasty Patties With Oatmeal
Try this: Take oatmeal, onion or onion salt, garlic, salt and pepper, add one pkg. Hidden Valley dry Italian Dressing mix, and a little bit of catsup. Mix all up and make patties. You can cook on a stove or barbecue. Delicious!
By Autumn
365 Ways With Hamburger
I have a book from the library called "365 Ways With Hamburger" It has great ideas. The author is Doyne Nickerson.
By Margeth
Add Ground Pork for Meatloaf
When making meatloaf, I add some ground pork to the ground beef, along with a pack of dry onion soup mix (from the dollar store). The pork is less expensive and makes the meatloaf moist and tasty.
By Deborah
Feel free to post your ideas below.
Depending on the size of your family, thaw and brown a number of pounds of ground meat on a set day every week. It will stay good in your refrigerator and will make easy meals whenever you use it.
Read More...
For ground beef, substitute 3/4 lb for any recipe calling for 1 lb. It adds up to savings over time and no one will miss it.
Read More...
When I buy ground round, I buy ten pounds at a time and make twenty 1/4 pound burgers, freeze them with Press and Seal; the rest I freeze in one pound bundles with the Press and Seal and then a Ziploc bag.
Read More...
To save money on ground hamburger, turkey, etc. I buy it in bulk right before the 'best sold by date'. This way I get $2 to $3 off and often get hamburger for $1/lb! Then I separate it into pound amounts and freeze them for use when I need it.
Read More...
When my grocery store puts ground beef on sale, I buy the larger size package and separate it at home. Using my kitchen scale, I weigh out about 3/4 pound chunks. I put each chunk into a plastic bag to refrigerate until it is time for that chunk to be browned.
I wait till the grocery stores have whole sirloin tips on sale. They are usually less than $2.50/lb. I buy and have them ground up for hamburger. This is about half the price of regular hamburger.
Read More...
Being a busy mom I find myself trying to save time and money at the grocery store. Here is how I have saved money and time with ground beef or chuck:
Read More...
Archives
ThriftyFun is one of the longest running frugal living communities on the Internet. These are archives of older discussions.
January 29, 2010
0

found this helpful
When buying ground beef, I usually buy a 10 lb. roll and bring it home and divide it up into my own freezer bags in whatever size package I want. Saves time at the grocery store as well as saving me a little money for buying the larger amount.

By Robin
Answers:
Ground Beef Tip
I do that also and often brown a good portion of the meat with seasonings that I like and package it in sandwich size ziplocs for the freezer. What a timesaver when getting a meal on the table fast. (11/06/2004)

By patsAZ
Ground Beef Tip
I also like to get a bulk amount of ground beef when on sale. I don't have a big family and while it was an initial investment the FoodSaver is a blessing. I have had ground beef in the freezer for months without any freezer burn. I either leave it raw or take the time to brown it off. That way it's ready for any seasoning you want to add once it's reheated.
(11/19/2004)

By Vicky K
Related Content