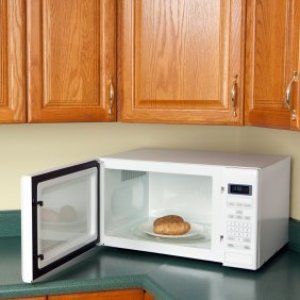 Rather than the traditional oven baked potatoes, try cooking them in your microwave. Your microwave can cook potatoes much faster, saving you time and energy. This is a guide about cooking a potato in the microwave.
Ad
---
Recipes
Read and rate the best recipes below by giving them a "thumbs up".
When I bake potatoes in the microwave, I coat them with Pam or other cooking spray. When they are done, they are easy to peel the skin off of or great to eat. I love to eat the whole potato so I do this all the time. It's much less messy than using oil.
By Cindy B. from Vaughan, MS
I was talking to my son and he told me that a number of guys were sitting around sharing single guy cooking hints. The subject came around to baked potatoes. A police officer friend said. "I just wrap mine in saran wrap and hit the potato button." I wasn't aware that I had a potato button on my microwave. I tried it today and it is wonderful. 5 minutes for a huge baker.
Source: A man on the Houston Police Force and my son, the machinist.
By MartyD from Houston,TX
Brown paper lunch size bags are great for baking potatoes in the microwave.
Scrub and rinse potato well. I always peel my potatoes, even though lots of people keep the potato skin on. I pierce the potato lots of times with a knife. I sometimes cube it while keeping it in one piece on the bottom.
I put the potato in the brown paper bag and squish the top of the bag closed. I microwave on high for five to seven minutes. Then leave the potato in the microwave for about a minute or two. I then feel of the softness level of the potato. If it is not soft and fluffy enough, I cook it another minute.
I take it out and mush it with a potato masher, put butter on it and microwave it for thrity seconds or so to melt the butter.
I noticed there are new cloth items available to bake potatoes with, but I have not tried them yet.
As an item of trivia, a long time ago, potato was spelled with an 'e', as in "potatoe". Now they are not spelled with an 'e'.
Potatoes are wonderful little power packed nutrient rich food! Here is some more info on why potatos are so good for you to eat.
By Robyn [369]
Share Your Feedback: Have you tried this recipe? Do you have your own variation which you would like to share? Click "Share a Recipe" above!
Photos
Below are photos related to this guide.
For a perfect potato, take a washed medium potato, peeled or not, and coat with a bit of olive oil and salt (both optional). Place in a ceramic bowl covered with wax paper, and cook in the microwave on maximum, for about 8 to 12 minutes. Turn halfway through.
If you need your potato cooked more quickly, cut the potato in half or onto four pieces. Time of cooking depends on the potato, your microwave, and your appetite.
By Jose from Paine