I was talking to my son and he told me that a number of guys were sitting around sharing single guy cooking hints. The subject came around to baked potatoes. A police officer friend said. "I just wrap mine in saran wrap and hit the potato button." I wasn't aware that I had a potato button on my microwave. I tried it today and it is wonderful. 5 minutes for a huge baker.
Source: A man on the Houston Police Force and my son, the machinist.
By MartyD from Houston,TX
June 25, 2010
0

found this helpful
Forgive me, but I was told never to put Saran wrap in the microwave. Toxic chemicals in the Saran Wrap will leak in to the food. I love the paper bag idea. I also cook them in the microwave, then after they are cooked, put in foil for five minutes to finish cooking outside the microwave.
June 25, 2010
0

found this helpful
The saran wrap package has microwave instructions. But the important thing is to get a good baked potato.
June 25, 2010
0

found this helpful
I use a sharp knife and make cuts on the potato and place in microwave and hit the button on #7.
June 25, 2010
0

found this helpful
I wrap mine in paper towels and then put in microwave!
June 25, 2010
0

found this helpful
I have read the same thing as far as using plastic wrap but I am going to try the brown paper bag. I know it works to make popcorn so why not potatoes?
June 25, 2010
0

found this helpful
I am jealous because I only have a popcorn or beverage button and have to program the time otherwise. ;-)
It's recommended 'not' to place plastic wraps directly on food when microwaving. I do the fork or knife pokes, dampen the skin and then cover with a microwave food cover to help hold the moisture in. (The covers only cost a couple of dollars and hold up for months and months.)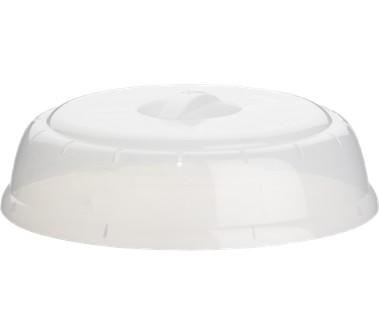 June 25, 2010
0

found this helpful
I have been doing this for years. As my microwave is very old, I prick the top of the potato with a fork, place it/them on paper napkins and set it for 7 minutes.
June 26, 2010
0

found this helpful
This is how I bake a quick potato. I also top it with a little butter and then a healthy portion of cottage cheese. I get my carbs and protein and it tastes great!
June 27, 2010
0

found this helpful
I never use plastic wrap of any kind in the microwave as it "plastic" breaks down under the heat and goes into our food. Also plastic containers which are deemed "safe" for the microwave, cute packages for steamed veggies etc. Unless you want to feed these toxins to your family, use corning ware, or dishes safe for the microwave. I use wax paper to cover food if needed.
March 22, 2015
0

found this helpful
I have never liked to use plastic in the microwave, or to microwave baked potatoes. I find them all tough or like rubber. When I find that if you poke holes and take wrap the Potatoes in a wet cloth it seem to keep it from it being rubbery. Try be you might like it.
November 13, 2016
0

found this helpful
People whatever you do never ever microwave any kind of food that's in a plastic container or wrapped in plastic, it becomes a toxic nightmare when you do that. You should never microwave food anyway, it destroys all nutritional content
When I bake potatoes in the microwave, I coat them with Pam or other cooking spray. When they are done, they are easy to peel the skin off of or great to eat. I love to eat the whole potato so I do this all the time. It's much less messy than using oil.
By Cindy B. from Vaughan, MS
September 12, 2011
0

found this helpful
I never peel potatoes, the skin is the best and healthiest part.
Clean baking potatoes

Prick the potatoes with a fork twice (or the potatoes may burst)

Spray with cooking spray (like Pam it makes the skin tender)

Sprinkle the outside of the potatoes with garlic salt or seasoning to your preference

Space potatoes 1 inch apart around the edge of a paper towel covered turn-able (to absorb moisture)

Cook per your microwave directions

Enjoy your favorite toppings on your "moist micro-waved potatoes". In just minutes rather than 45 minutes to hour in a conventional oven.
By guest (Guest Post)
January 23, 2005
0

found this helpful
I do this but the last step I do is to put the potatoes in a "zip loc" bag. Do not seal the bag completely. Saran wrap (individually) will work also. Good luck.
By guest (Guest Post)
January 24, 2005
0

found this helpful
I balence mine on a coffee cup filled 1/2 way with water. I don' t know why? Someone told me to.
Look forward to trying these other methods! Thanks!
January 25, 2005
0

found this helpful
TRY PUTTING YOUR POTATOES IN A BROWN PAPER BAG
AFTER YOU HAVE PREPARED THEM. SOMEONE TOLD ME THIS WORKS GREAT AND YOU CAN CUT DOWN ON THE COOKING TIME IN THE MICROWAVE.
LET ME KNOW IF IT WORKS FOR YOU.
TUEY
For a perfect potato, take a washed medium potato, peeled or not, and coat with a bit of olive oil and salt (both optional). Place in a ceramic bowl covered with wax paper, and cook in the microwave on maximum, for about 8 to 12 minutes. Turn halfway through.
If you need your potato cooked more quickly, cut the potato in half or onto four pieces. Time of cooking depends on the potato, your microwave, and your appetite.
By Jose from Paine