Garden: Irises
These are irises at our mail box. I'm very proud of them.
By kffrmw88 from Dothan, AL
---
RE: Garden: Irises
What beautiful flowers, thanks for sharing! (04/05/2009)
By Maryeileen
RE: Garden: Irises
I love those flowers ! Can't wait till mine come up. (04/05/2009)
By sally54
---
Cutting Back Iris After They Bloom
What will happen to my irises if I cut them way back, leaves and all, now that they are done blooming?
Hardiness Zone: 4a
Ginny from New London, MN
---
RE: Cutting Back Iris After They Bloom
I was always told that the leaves need to stay on the plants and to just let them wither. That the rhizome gets "food" from the leaves and that if you do cut the leaves off that you won't get as many blooms the next year. I believe it to be the same with daffodils and tulips, that if you cut off the foliage the bulbs won't get enough food and you won't get many blooms the next year.
My sister-in-law mows her daffodils every summer and they always come back nice and green the next year, but with very little flowers. I don't want to take any chances, I like the flowers too much! (07/10/2008)
RE: Cutting Back Iris After They Bloom
My sister has a day-lily business and she cuts the blades back called fans for shipment. It won't kill the plant, but may not produce next year depending on the size of the rhizome. This goes for irises as well.
I have irises in a permanent location and do not cut them back, but allow the leaves to die down and in the fall, clean up the dead blades. Always pick off the old blooms before going to seed so you can have more showy blossoms the following year.
Transplant extra rhizomes from the bed so you have space enough for growth when plants get too thick. (07/10/2008)
By Lorelei
RE: Cutting Back Iris After They Bloom
In most hardiness zones (yours included), Irises need to be cut back in late July or early August. This is also the time to thin and transplant the plants. Cut the fans back to where they are about 5-6 inches tall. This allows the leaves to continue to feed the roots but makes your garden look neater. Remove any spent or damaged leaves.
If you are transplanting any of the corms (root tubers), make sure that you check them for iris borers. Borers will leave small holes in the corms where they eat their way into the corm. Dispose of infected corms in the garbage, not your compost bin.
When dividing corms, cut the small "daughter" tubers away from the "mother" tuber with a sharp knife. Transplant into shallow trenches. Spread the roots out and cover lightly with soil. Irises do not like to be buried too deeply, they will not bloom if the corms are covered with too much dirt.
I hope this information helps. I've been doing this for twenty years, and I have a garden full of irises. So do my friends and neighbors to whom I have passed along plants over the years. Good luck and happy gardening! (07/11/2008)
RE: Cutting Back Iris After They Bloom
Wait till the foliage dies, then cut them back. (07/12/2008)
---
Bearded Iris (Rare Treat)
This Bearded Iris is called RARE TREAT.
By Great Granny Vi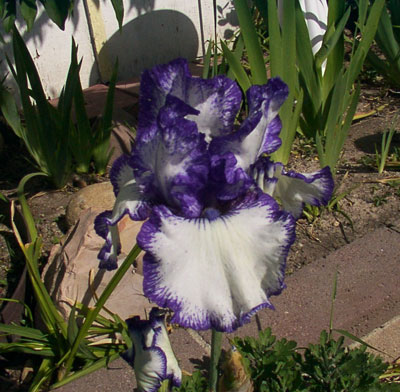 Bearded iris, Iris germanica, is a hardy, long-lived perennial that require a minimum of maintenance. The flowers have six petals; three upright petals (called standards) and three hanging petals (called falls). A fuzzy line or beard runs down the middle of each fall. Flowers come in many colors including blue, pink, purple, reddish, white, yellow, and bi-colors. Most bearded iris flower in the spring (April to June depending on cultivar), but some of the new cultivars re-flower in the summer and fall. The second flower display is not as showy as the spring display but last into the fall. Many re-blooming iris are fragrant... Source: North Carolina Cooperative Extension Service
---
Cutting Back Iris After They Bloom
My dwarf iris has finished blooming for the summer. The plant is a big sprawling mess. Can I cut it back now (June 12)?
Hardiness Zone: 5a
By Sally from Chicago, IL
---
RE: Cutting Back Iris After They Bloom
We can divide iris here in Southern Ca. during July/Aug into Sept. I haven't heard about "cutting them back". The normal thing is to dig up the rhizomes and cut the leaves into a fan shape, wash off the dirt and rinse the rhizomes in a 9 part water to1 part bleach solution. Let them dry/scar over for a few days before replanting. I assume that dwarf iris are treated in the same fashion. Good Luck. GG Vi (06/19/2010)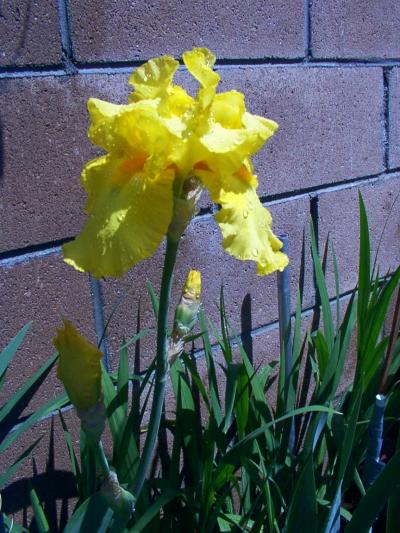 ---
Bearded Iris (Rare Treat)
This is a photo of my beautiful iris that I have planted in a container. I wasn't sure what color it was until it bloomed. It sure turned out pretty!
---
RE: Bearded Iris (Rare Treat)
Fabulous. We have a few, but they didn't do a whole lot this year. I think it takes a few years. (06/16/2010)
By Allison5
RE: Bearded Iris (Rare Treat)
Anyone who features an iris gets my attention. My late dad used to raise them, divide bulbs, and share with friends in their church. He also would always have a large variety to put in their yearly "sale", adding funds for church activities. My folks lived on Camano Island, WA., And although they have both gone to be with the Lord, I miss them dearly.
Thanks for showing me a "picture" reminder of their lives. I have lived on the Gulf Coast for over 37 years now, and miss "home" to this day. Now we are looking at oil on our beaches, here in Theodore, AL. (06/23/2010)
By LJF
---
Garden: Irises
"Escape from Iris Island"! The flowers came up around our new airplane yard sculpture last spring without any real planning.