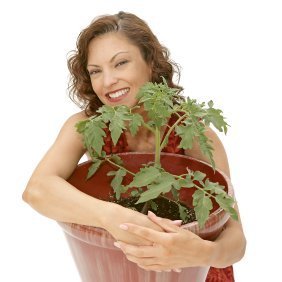 Solutions: Growing Tomatoes in Containers
Read and rate the best solutions below by giving them a "thumbs up".
The new tomato plants were out today, and I couldn't resist, thinking surely, I had some large planters at my apartment. You guessed it, no planters, but I do have a cat. He's particular about the cat sand he uses, and fortunately for me, I had several of the "plastic" bags in the recycle bins. They're wide and fairly tall. When filled with soil and a plant is about the same size and a large planter. It looks kinda funky, but hey, the cat wasn't going to use them, and they was free.
Peace.
By debit4857 from Vancouver, WA
Ideas for growing tomatoes in container gardens from the ThriftyFun community.
Tips For Containers
I have used container pots for many years for tomatoes and peppers, even lima beans and string beans. They are so easy and there are less bugs, less weeding and can be moved if you want more sun. I learned a couple of things about tomatoes which may help. First, there are plants called Patio Tomatoes, which are smaller sized plants (but give nice sized tomatoes) designed for container gardening. Also, I had noticed black spots on the bottoms of a few tomatoes. This is called blossom end rot, not to worry, just add lime to the soil and work it in and it clears it right up. I have planted cherry tomatos, plum and beefsteaks and have had excellent results.
By LI Roe
Merced, Roma, Heatwave, and Southern Star
I plant varieties such as Merced, Roma, Heatwave, and Southern Star (bhn 444) in 18 gallon (2.5 cu ft) containers with holes drilled for drainage I fill it with Miracle Grow potting mix, 1 cup of Osmocote slow release 13-13-13, 1/4 cup of lime, fed every 12 days with a high phosphorous fertilizer. They do awesome, just watch the high winds as taller plants may blow over if not supported.
By Atascosa, TX
"Window Box" Romas
There is a variety of Roma tomatoes called "Window Box" that would do well in a container, and another variety of cherry tomatoes that I believe is called "Tiny Tom" or "Tiny Tim."
A great fertilizer for tomatoes is fish emulsion because it has a high nitrogen content. The down side of using it is that it stinks so much. I imagine that yellow pear tomatoes would do well in a container; they are incredibly hardy.
The main thing to remember about tomatoes is that they are very temperature sensitive, so they won't do well in cool weather. Even if you plan to put them in a pot, I would leave them outside during the day to harden them off before letting them stay outside for good.
By Skbeal
5 Gallon Buckets
We have used 5 gallon buckets. Fill the bottom with rocks, then newspaper, then add your potting soil and other potting material. You have to be sure you keep them watered. You need to have drain holes because after a heavy rainfall, your plants will drown, hence the reason for constant watering. If your plants are sheltered from the outdoors, you will not need to worry about the drain holes. I prefer this method, as it is easier to weed, and they can be brought in when the weather begins to change, and here in New England, we have a short lived gardening season.
By Laura
My daughter planted one of the patio tomatoes in a 5 gallon bucket last year. She put some corn cobs in the bottom and all soil was from our compost pile. The plant grew to about 8 feet tall, and so many tomatoes they out lasted the growning season. It was a cherry tomato plant, must have gotten thousands from one plant. A lot were still trying when the first frost came! Needless to say, we lost the rest.
By Rosa
I have planted some in 5 gallon paint bucket and flower pots, they turn out great. Tomatoes and mint were my very best plants.
By Elva
Containers On The Deck
I have planted patio tomatoes also. I have about a 4x5 foot square deck. Not much fits on it but I have good success with the tomatoes. Peppers and lettuce were another story.
By Sandy
Upside Down Tomatoes
Last year we did the hanging upside down bucket tomato plants. It worked well, we used 5 gallon buckets with lids. Plant your tomato plants in the buckets, cut a hole in the lid about 4 or 5 inches in diameter and put lid on after you planted tomato plants. Puncture holes, several on the bottom of buckets, so you can water the plants. Attach a rope or wire from handles or sides of bucket, hang from nails in shady area. This worked well for us! All you have to do is go out and water, and when ready, pull from vine, so easy!
By Vicky Hunt
Black Plastic Bags
All 60 of my tomatoes are in containers, big black plastic bags. I feed them home made worm tea, we have done this for years.
By Marsbar
Tiny Tims In Balcony Planters
I have been planting Tiny Tim cherry tomatoes in my patio planters for the last few years with much success. They are so delicious. I live in a short summer season area. If they grow well here, they will grow well anywhere. I plant them in balcony planters available at any department store.
By Marlene
When To Water
To know how often to water container tomato plants, stick your finger in the dirt. If the soil is dry on the top, but you can feel moisture further down, you probably don't need to water them yet. If it feels dry all the way through, just water them. I always water them until the water leaks out. That way, you can be sure that you are watering all of the soil in the container.
By Skbeal
Book Resource
"Square Foot Gardening" by Bartholemew is a very good resource.
By Denise
Manure Water For Container Gardening Tomatoes
For container tomatoes or in ground, this will make your tomatoes grow huge! Go to your local stables and get 1/2 bucket (5 gallon) of manure, fresh or old, doesn't matter. This is the gross part, take it outside where people aren't going to see it, and add water right near the top. Leave in a shaded area and cover to keep flies from being attracted. Each day or so, take one cup of the liquid from the top and pour it into your tomato roots. Replace the water as you need into the manure bucket. Tomatoes love it and you don't get any weeds from mixing manure into your soil. Discard after the season.
By Ann
Half Barrels
I have been growing tomatoes in half whiskey barrels. I water daily and feed weekly with a Miracle Grow formula. In addition, I add a tablespoon of Magnesium Sulfate (epsom salts) and a teaspoon of calcium chloride, all to prevent blossom end rot. The plants are now 7 feet tall with many blossoms and lots of set fruit. They need 6 hours of direct sun.
By Sammy
Past Successes
I grew indeterminate Better Boy and Beefsteak tomatoes varieties in 10 inch self-watering planters in 2005 with super success. I caged, staked and raised them about 24 inches off ground to keep away the bunnies. I have 2.5 and 5 gallon buckets I'd like to use this year. I'm glad I stopped by this site.
By Bernie
Window Box
I planted my tomato garden in a 3 ft. window box because I didn't have enough room and I have 6 green tomatoes ready to turn red.
By Jen
Give a "thumbs up" to the solution that worked the best! Do you have a better solution? Click here to share it!
Questions
Here are questions related to Growing Tomatoes in Containers.
Why are the tips of my plant leaves turning brown? I have my plants inside placed by a window. I have just noticed that all the leaves tips are turning brown? I do have a fan blowing on them to strengthen the stems. Could this be why the tips are turning brown or?
By Chantel
What size container and how much soil will I need?
By Wendy M.
---
Most Recent Answer

By Marcia02/12/2012
I have tried several times to grow Tomatoes in 5 gallon buckets with garden soil in the bottom and Potting soil on top, Miracle Grow brand with watering, but they do not do well for me. I find that if I plant them in the ground it works better.
How often do you have to change the potting soil used to grow tomatoes in large pots on a patio?
Thanks.
By Bob
---
Most Recent Answer

By Joan B.05/18/2011
I would do it every year. I have always been told that when you plant a garden you shouldn't plant the different veggies in the same spot every year.
I am planning on planting in five gallon containers. Before planting my tomato plants in plastic containers should I cut holes in bottom for drainage?
Hardiness Zone: 6b
By Elena from White Plains
---
Most Recent Answer

By gbk09/30/2011
First make sure you know that tomatoes have fairly large root systems and about the size of a 5 gallon bucket is the smallest size to use. Yes the coffee filter, single piece of newspaper, or a thin piece of material over the holes keeps the soil from pouring out with the water. Which brings us to size holes, make them at least l/2 inch and at least 4 if you need more you can do so later (come up about 1 inch at least on the container to drill the holes (this makes you a water reservoir) and you will have to add liquid fertilizer regularly at the rate of 1/4 tsp. to a gallon of water.

If your container seems to get too hot then wrap it in newspaper & tie it with a string.
I am going to try the lady's idea with the match and so forth next spring has anyone else tried this I wonder I live in zone 8 deep south and this summer was murder for plants in containers.

When I go to the blood doctor or dentist I ask them for the styrofoam coolers they get their drugs in and sometimes I even get the icepacks with them and the bigger ones work great for the tomatoes and I root fresh tomatoes all summer in the little ones, just cut the suckers off and stick them in potting soil or water and root new ones all summer. Cut at least 1 one inch hole near the bottom for drainage. keeps plants roots warm in winter and cool in summer.
Photos
Below are photos related to this guide.
I used an old bench that no one could sit on and sat my potted tomato plants on and around the bench. As they grow, I can tie them to the bench for support. I have red, yellow and black cherry plants, so I am hoping for a little color also.

By Wanda from Climax, NC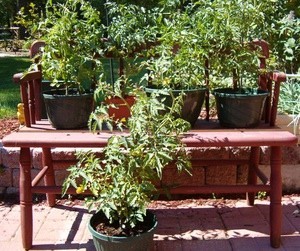 Archives
Thrifty Fun has been around so long that many of our pages have been reset several times. Archives are older versions of the page and the feedback that was provided then.
I am growing tomatoes in planters. The containers are 2 1/2 to 3 gallons. I just transplanted the plants. They are about 8-10 inches tall. Are these containers big enough to grow healthy tomatoes? Or should I transplant them into something bigger, like five gallon buckets?
By Rob from Santa Cruz, CA
---
RE: Growing Tomatoes in Containers
I planted tomatoes in 5 gallon buckets once and they got only so high then died. It's my understanding that tomato roots go as deep as the plant is tall so I just figured there wasn't enough room in the bucket for all the roots. I'm sure others know more but that was my experience. (03/23/2009)
By Glenn'sMom
RE: Growing Tomatoes in Containers
I am in North Florida and I have been very successful growing tomatoes in 5 gallon buckets for years. We have a small yard and I don't have room for a traditional garden. From what I have read on various gardening sites, you need to use 5 gallon or larger containers. It is my experience that tomatoes have shallow roots. My plants always get over 5 feet high (includes the bucket). Last year I only set out 2 plants and we still had plenty of tomatoes through the whole season. This year I've added cucumbers and squash. Good luck! Tracey in Jacksonville FL (03/23/2009)
By TraceyI
RE: Growing Tomatoes in Containers
I also vote for the five gallon buckets. They are adequate for one tomato plant each. As with any containers, they heat up and dry out more quickly than plants in the ground. So be sure to watch how often you have to water them. You might add some of the crystals that hold water to the soil mix. Also, because they're in containers, be sure to use a good quality soil mixture (not soil from the yard alone). My in-laws are moving to an apt. for the first time in fifty years this spring, so I am expecting to get them a five-gallon container and a tomato plant! (03/23/2009)
By Jilson
RE: Growing Tomatoes in Containers
Five gallon is better. The best place I get mine is at, the larger Food market, where they sale fresh decorated cakes. They will give you one or sale at low cost. I make a gallon of plant food ahead. put 3 small holes on the lid, fill half with liquid food mix, the other half filled with water. Take bottom leaves off. replant 1/2 way up to end.
Put two plants together in the center. They will cross- pollinate. Place one little bottle of food on each side. Shove them in the dirt. Refill once every 2and 1/2 weeks. Another tip I freeze plastic soda pop bottles 2/3's the way up and leave lid off, shove in the dirt for a cont. drink of water. Do not put close to plant. I hope this helps (03/24/2009)
By ellensplace0156@bellsouth.net
RE: Growing Tomatoes in Containers
Auto Zone sells the 5 gallon buckets for I think $5 or $7 each with lids, as advertisement for their business. You will see them all stacked up against the front window inside. (03/24/2009)
RE: Growing Tomatoes in Containers
Five gallon buckets with drainage holes, and completely change the soil from year to year (you can recycle that soil by re potting your flowers). If you're growing "Big Boy" type tomatoes you maybe should use a bit larger bucket, but the five gallons work well for my cherries and Romas. I receive a great harvest :-) (03/26/2009)
By Deeli
RE: Growing Tomatoes in Containers
Try home depot for 5 gallon buckets. My local HD sells for $2.98 ea. They are bright orange and have a HD ad on them though. (03/27/2009)
By Jeffd150
RE: Growing Tomatoes in Containers
I've used a 20" container for the past 3 years. I had baby toms the first year and they did great. Last year I grew romas and didn't get much of a crop. This year I'm trying regular size toms. I'm sure the 5 gallon buckets are probably better, but I used what I had. I'm in San Jose, CA. (03/27/2009)
By marytaz
RE: Growing Tomatoes in Containers
I used small pots last year [not sure of the size] and grew cherry tomatoes but they were spindly and not much fruit. This year I'm buying 50 gallon black plastic garbage cans for each tomato! Growing many varieties too. Lots of dirt, lots of room. Hopefully an abundant crop! (03/28/2009)
By Selahgal
What size container does a tomato plant need to produce tomatoes? I have very little room outside to put 3 containers with a tomato plant in each one. Would a container that was 6 inches wide, 8 inches long and 9 inches high be too small?
By Sandra from Pennsylvania
***
*** We needed a different place to grow our tomatoes where they would get more sun and be accessible to water. By cutting clean, plastic 55-gal drums from a local cheese factory in half, and drilling holes in the bottom for drainage, I made these tomato containers.
Plant one heirloom plant per bucket. A soaker hose runs on both sides of the plants, secured at the top of the buckets, so I can water them as needed.
By Steve from Weyauwega, WI
How do I grow tomatoes in containers?
I just bought a tomato plant in a 3 gallon container, it is about 2 1/2 ft tall. Should I transfer it to a larger container? It's almost ready to spring tomatoes.
Is it okay to plant a Roma tomato plant with a dwarf citrus tree in a wine barrel? Do tomatoes have to planted all by themselves? I live in San Luis Obispo where everything seems to grow great.
I have Big Boy tomato plants that I am growing in smart pots on my deck. I went through some bottom end rot, and added tomato-tone feedings. I lost about 15 tomatoes.