Homemade Birdbath Ideas
A variety of materials and containers can be used to fashion a birdbath for your yard or garden. This guide is about homemade birdbath ideas.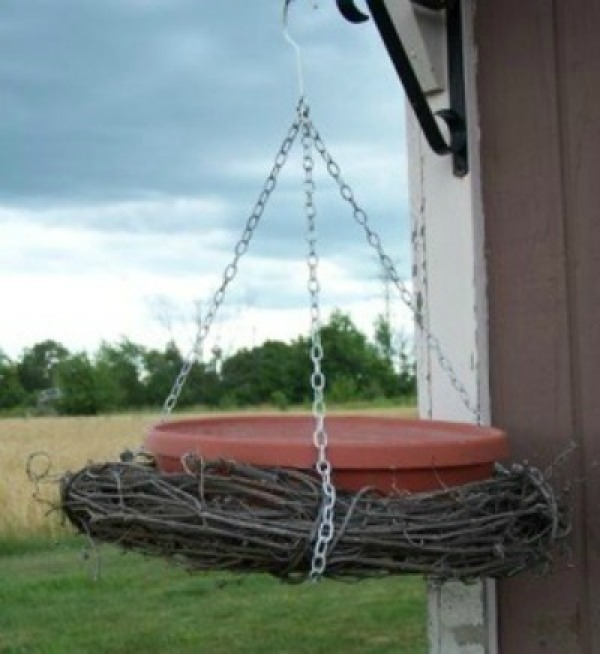 Filter

: All Articles
Sort

: Relevance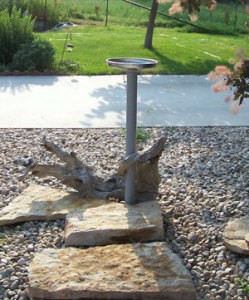 This is my "Hippy Birdbath". I made it out of a PVC pipe and a hub cap. I used a glue, "Glue All", to put them together. It took a day to dry. Then I placed it in my rocks. The birds love it.


Is it possible to take an old tire and make it into a bird bath? If so what would be the steps to take in making one?
March 26, 2016
0

found this helpful
Some people make bird baths, veggie gardens, etc., from old car tires, however, tires contain extremely toxic chemicals that can leach into the water of a bird bath and into garden soil-e.g. arsenic, aluminum, cadmium, chromium, manganese, mercury, lead, sulfur, and zinc. I wonder about the poor birds who have happily used a bird bath, only to become ill and die.
March 27, 2016
0

found this helpful
I agree with DCA. If you really care enough about the birds to want to make a bath for them, use your imagination and come up with something safer. There are articles here on ThriftyFun for making containers from Hypertufa. You might like the craft and I'm sure your bird bath would be much prettier than one made from a tire.
If you do make one from Hypertufa, be sure to post a picture of it. We'd all like to see it!
This project consists of two items found at the thrift store. A pedestal of some sort and a dinner plate plus some other items to dress it up. The end result a very pretty bird bath.
By John from Wichita, KS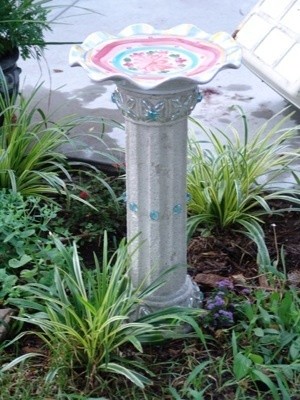 Money being so tight I decided to make my daughter a birdbath for Mother's Day. Birdbaths can be expensive this one only cost me $5.00 to make and I'm pretty sure she will love it! This project is easy to make!
Approximate Time: 30 minutes to make, per directions for glue drying time
Supplies:
Liquid Nails clear
tin serving tray
2 large glass flower vases
1 glass water/wine goblet
2 glass bowls
1 fairy statue
3 silk flowers (3 buds)
Instructions:
Start at the bottom with the tin tray and large green flower vase. Put Liquid Nails all around the brim of the vase, center the vase onto the tray.
Wait 15 minutes, then put Liquid Nails onto the bottom of the goblet center it onto the large green vase. Wait to dry.
Then, take the your other large vase and turn it up side down, put Liquid Nails around the brim of the vase, center it onto the goblet rim. Wait to dry.
Take a bowl put Liquid Nails onto the bottom of the bowl, center it onto the bottom of the vase. Wait to dry.
Then take the top bowl (flowered one) add Liquid Nails to the rim of the other bowl, set the (flowered) bowl on the rim and center it on the bowl. Wait to dry.
Take the fairy statue, put Liquid Nails on the bottom of her and center her into the top bowl. Wait to dry.
Use Liquid Nails to add the silk flower buds, (even the one on the top bowl).
That's it! You made a birdbath. Good job! :)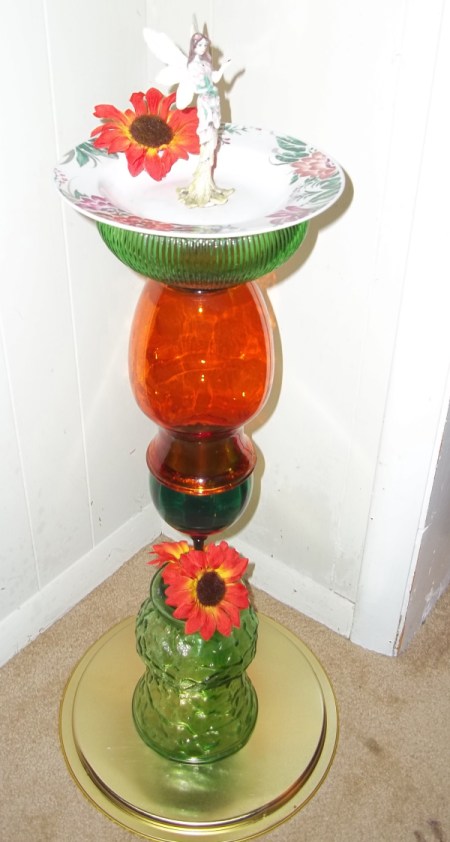 By Jackie from Salisbury, MD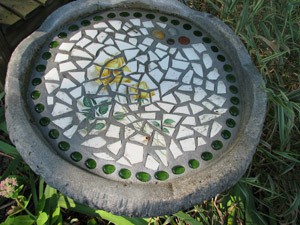 Don't throw out that leaking bird bath! Make it into your own work of art. And that old chipped plate, you didn't know what to do with, can adorn your masterpiece. My piece is in memory of my Irish grandmother, Kay. I had a few of her old yellow rose plates which I fondly remember having meals on as a child, which also brings back memories of staying with her on summer vacation.
I added shells to my work, in memory of all the days we played in the sand on the Jersey shore. The green glass marbles are for her Emerald Isle (as she called her Ireland). I hope this project can fill you with fond memories and get your creative juices flowing.
If you have never worked with cement, you might want to start with a smaller project first, like a stepping stone. This will give you a feel of working with cement and the sharp pieces you'll be pushing into the cement. This is my 1st larger piece and I'm still learning, it's not perfect, but it fills my garden with memories.
Approximate Time: 3-4 hours
Supplies:
cement birdbath top
8 lb.box stepping stone mix
2-3 old plates
water
bucket and stirrer
trowel
old towel
hammer
safety glasses
a few bath towels
shells
green glass accent marbles
paper towels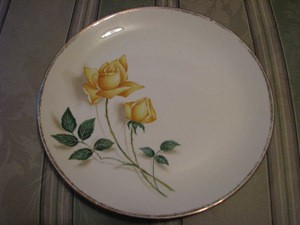 Instructions:
Put on those ugly safety glasses. With the plate wrapped in the towel, on the floor, hammer the plate. Break into 1 to 2 inch pieces. Lift towel to check what's happening and how much more or less you have to hammer. If there's a pattern, try to keep it in order. (I misplaced a couple pieces and it was hard to find were they went in the pattern). Be careful, these pieces are sharp. Place the pattern of broken pieces on a tray, so they will be ready to put onto the cement. Have all your decorating pieces ready before you mix the cement.
Place towels under the birdbath top to keep it from wobbling, and make it level. You'll be leaving it in place for a few days to dry so make sure it's not out in the weather or in the way. (I did mine on my covered porch.)
In your bucket, mix the cement with water following package directions. (You should be outdoors when doing this.) Pour the cement into the birdbath, you should have about 1 inch thickness. Spread with trowel, wiggle (if you will!) the trowel and work the cement so it settles and no air bubbles are present. Smooth the top. At this point you can rinse your bucket and trowel.
Get right back to your cement (you have about an hour, before the cement starts to thicken/harden) and start with the patterned pieces of your plate first. Push each piece into the cement, just level with cement. Continue with each piece, keeping the pattern in proper order, placing them about 1/4 to 1/2 inch apart. Once your done with the patterned portion, it gets easier because you can now randomly place the solid color pieces all around. If you're putting shells in, select the spot and push in. The green glass marbles were placed around the circumference, and pushed in.
You'll want to wipe off the excess cement that is on each piece. A few damp paper towels will do, but don't push too hard. You might need to wipe the haze off in a day, with a damp rag.
You're done! Leave in place for a few days (3-5 days, depending on the weather).
If you have muscles (it's heavy), place your dried masterpiece on the bird bath pedestal. Or just lay it in your garden and let the memories embrace you!
This is a cute way to make a bird bath or bird feeder using a grapevine wreath. Get a grapevine wreath and a shallow planter bottom that you put under the planter to hold water in.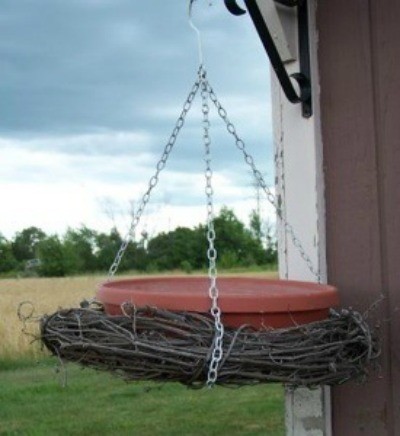 This is a guide about making a flower pot bird bath. Using a few inexpensive terra cotta flower pots you can make a beautiful bird bath for your garden. This is a guide about making a flower pot bird bath.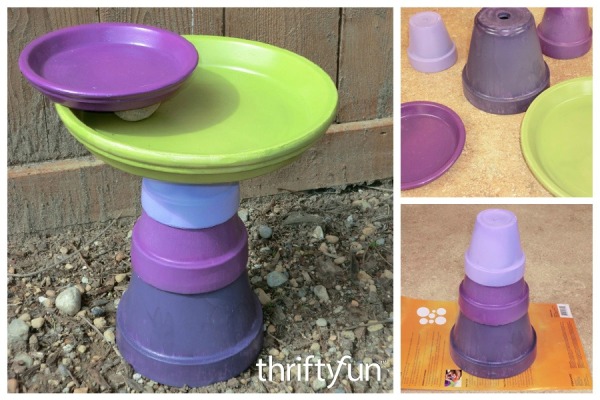 I like to put a trash bag, folded in half or to whatever size I want it and held down by rocks out in the garden and then when it rains, the water puddles and makes a great bird bath. They appear to just love it. You can use recycled plastic or garbage bags for it. They enjoy taking a bath so much in the summer.
By Robyn Fed from Hampton, TN
I have been making birdbaths using vases, glasses, bowls, plates, etc. I'm in the process of making one using purple glassware, which is somewhat difficult to find. I did find a vase that matches perfectly, however, it is plastic. Will this work? Any experience with using plastic with the glass?
July 6, 2015
0

found this helpful
Before using any plastic for food or water, for your own use, or for animals, be well informed of the classification of plastics, that is the official code number ranging from 1 to 7, printed in the middle of the chasing arrows symbol that should appear on all plastic object. This code warns you about the chemical toxins that can migrate to food or drinks. The less toxic to use are plastic labeled 1, 2 and 4. Apart from the toxicity of plastics and the recycling problems involved, the second consequence of using plastic containers is that they are more subject to being scratched when being cleaned than glass or metal or earthware. In these scratches, bacteria will develop and corrupt food or drinks . (for more information about the plastics codes see : http://eartheasy.com/blog/2012/05/plastics-by-the-numbers/ )
I wanted a bird bath, but did not want something that my son would try to tip over. So I went to a discount store and found a large shallow glazed serving dish, the one I found happened to be in the shape of a yellow chick, but there were more traditional round or square ones. I put it in the garden right on the ground with some mulch around it to hold it in place, and filled it with water. The birds love it and, during the recent drought we have had, I have seen my local family of bunnies coming in for a drink as well.

Total cost: about $3.50, much less than a designer birdbath. And the glazed surface makes it easy to keep clean! I actually just run it through the dishwasher about once a week.

By Regina from Rochester, NY
You can make a bird bath with a trash can lid by turning it upside down and attaching it to the top of a pedestal. A short fence post works well for the pedestal and metal trash can lids seem to work the best for the bath. It's easier to attach the lid if you hacksaw off the handle. Decorate the lid with paint.
I am looking for molds to make my own birdbaths with cement. Any suggestions on where to find them? Thanks.
Related
© 1997-2016 by Cumuli, Inc. All Rights Reserved. Published by
ThriftyFun
.
Page
generated on August 21, 2016 at 11:13:29 PM on 10.0.0.143 in 5 seconds. Use of this web site constitutes acceptance of ThriftyFun's
Disclaimer
and
Privacy Policy
. If you have any problems or suggestions feel free to
Contact Us
.