Solutions
Share a solution for this guide today!
Questions
Here are questions related to
Growing Gerbera Daisies
.
Overwintering Gerbera Daisies
I planted several types of Gerbera Daises in containers. They are growing beautifully (once I got the dog to quit sleeping the the container). Do I need to do anything special to them to keep them protected this winter?
Hardiness Zone: 6b
By cindy101 from Southwest,Va
Growing Gerbera Daisies
Can Gerber daisies be planted in the garden? Are they an annual or a perennial?
By John M
---
Most Recent Answer

By MamaDare
08/29/2011
At my house (in the Williamette Valley, OR) the gerbera daisies were here when I bought the house. They grow as a perennial and their flowers range from light yellow to light orange. I'm not sure why there is a difference in the colors. I just water them and let them do their own thing and they are doing great!
Photos
Here are photos related to this page. Rate the photos that you like the best.
Click here
share a photo.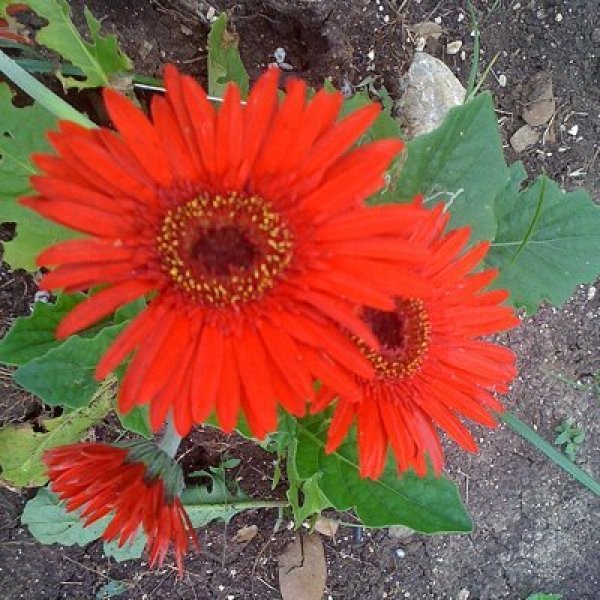 I took this picture at the beginning of summer here in Texas. My favorite flower is the Gerbera daisy, especially the red one. I purchased the seed and grew this one from that, extremely proud of how well it grew and flourished I just have to show it off!
READ MORE
Archives
Here are archived discussions related to this page.
Garden: Gerbera Daisy
This is a Gerbera Daisy that I have in my flower garden that returned from last year. I like to think I have a green thumb and I have to thank thrifty fun for helping me with all the advice and postings. This Gerber Daisy has 2 flowers in 1! So Pretty!
By Carrie from Ludowici, GA
---
RE: Garden: Gerbera Daisy
Beautiful! You must have a green thumb! (04/19/2010)
RE: Garden: Gerbera Daisy
My fantastic daughter does truly have a green thumb. (04/19/2010)
By dragonflysue
---
Garden: Gerbera Daisy
I have these daisies in an old stroller from the 40's. Daisies always make me smile, they are so cheerful.
By Elaine
Related Guides
Related Posts