Solutions: Growing Onions
Read and rate the best solutions below by giving them a "thumbs up".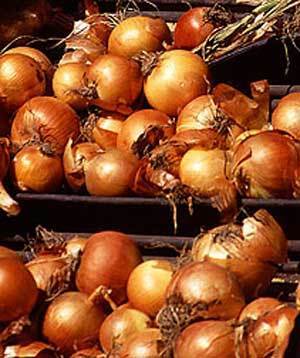 Botanical Name:
Allium cepa (and others)
Description:
Onions are the bulbs of plants in the lily family known for their strong, distinctive taste and flavor. The bulbs generally have a papery outer skin surrounding a smooth, fleshy inner core.
Planting Time:
Plant onion sets and transplants outdoors when soil temperatures reach 35ºF. Seeds can be sown directly into the ground when soil temperatures reach 40ºF. In milder climates, plant green onions in the fall as late as 4 weeks prior to the first frost.
Exposure:
full sun
Soil:
well-drained, well-worked, nutrient-rich soil with a pH of 6.0.
Planting:
Seeds should be sown thinly at a depth of _ to _ inch and spaced 1 inch apart. Bulb onion sets should be planted 4 to 6 inches apart in rows 1 to 2 feet apart. Green onions can be planted closer together. When planting sets, keep the pointed ends up and covered with 1 inch of soil.
Watering:
Keep soil consistently moist to prevent bulbs from drying and splitting. Stop watering when tops turn yellow and onions are nearing harvest.
Maintenance:
Thin seedlings and transplants as necessary for development and mulch around plants to control weeds and conserve soil moisture. Take care when cultivating around plants to avoid disturbing the shallow roots. Remove onions that start to bolt (set seed).
Harvesting & Storage:
Harvest onions as your need them. When tops start to turn yellow and fall over, bulb onions can be lifted from soil and cured for storage. Store them in a warm place (out of direct sunlight) for 2 to 3 days. When dry, trim off tops and store bulbs in a mesh bag or leave tops on and braid them together to hang for storage. Refrigerate green onions for up to 1 week.
Diseases and Pests:
Watch for thrips or onion maggots. Keep plants free of weeds to eliminate hosts and discard infected plants.
Tips to Success:
Cure onions thoroughly at warm temperatures and store in a cool, well-ventilated place to reduce the chance of "neck rot" after harvesting.
By Ellen Brown
If you don't use the white part with the roots attached, just clip off about an inch and stick them in gardening soil and water them, they grow just fine.
By TruckerLady from Cambridge, Ont, Canada
Share Your Feedback:
Once you try any of the above solutions, be sure to come back and give a "thumbs up" to the solution that worked the best for you. Do you have a better solution? Click "Share a Solution" above!
Questions
Here are questions related to
Growing Onions
.
Growing Onions
After I have removed the dirt around the onion bulb, do I step on the tops of the onions so the bulbs get bigger and not the neck of the greens?
By Sharon
Growing Onions
How do I grow large onions and what type of soil do they prefer? I would also like to know what treatment to the soil am I required to make to fulfill the criteria.
By Robert from Blackburn, Lancashire, England
---
Most Recent Answer

By frugalsunnie
09/13/2011
Hi Robert, I live up in Scotland, and have had the same questions. I'm new to the UK and gardening over here. :)

A site that has been a great help to me is the allotment site, the information is easily adaptable to small home plots:
http://www.allotment.org.uk/

Great site, great info, and great people-can't beat that!
Related Guides
Related Posts