Read and rate the best solutions below by giving them a "thumbs up".
Growing Pineapple
Question:
I really like fresh pineapple. I was visiting an Island called St. Lucie and I ate the best pineapple I have ever had. Does anyone have suggestions on how I can start my own plant? I was wondering if I could use the top of a store bought pineapple and do like a potato to start it, but I do not know if it would work. Thanks for any ideas you may have.
Hardiness Zone: 8b
Rodney from Dallas, TX
Answer:
Rodney,
Yes! You can definitely start your own plant from the top of a store-bought pineapple. I would recommend starting with an organically grown pineapple, because it's likely to contain less chemical residues that could interfere with growth.
All you need to do to start is to grab the pineapple by the crown and twist off the top. A small portion of the stalk will remain attached. Let this piece dry out for a few days before you plant it to help prevent decay. After the crown has "cured", you'll want to strip the lower 1 inch of the stalk of its leaves or they'll rot when covered with dirt.
Fill a 6-inch pot with 2 parts potting mix and 1 part perlite (or peat moss). Place the crown piece on top of the soil mix and place it in a location with bright (not direct) sunlight (at least 5-6 hours per day). If you plant the stalk in the pot at an angle, so only part of it touches the soil, there is less chance of the stalk rotting. However, this is not necessary. Dipping the stalk-end in rooting hormone first is also optional. Keep the soil moist by misting it with water. You may want to cover the pot with a plastic bag to conserve moisture. Be patient. The stalk may root in as little as 2 to 3 weeks, but you may have to wait for several months before you see signs of new growth. Once you do, re-pot the rooted crown into a 1-gallon container filled with a well-drained growing medium.
Start fertilizing the crown once a month during the active growing season. Keep the pot outdoors during the summer and bring it inside for the winter. The crown should stay in this gallon-size pot for at least 1 year. After that you can move the plant to a 5-gallon container filled with well-drained soil and a bit of compost or well-rotted manure. Always keep the soil moist, but not wet. After yet another season (a total of 2 to 3 years time since planting), watch for small blue flowers. Three to 4 months after they appear you should have a pineapple.
Ellen
About The Author: Ellen Brown is our Green Living and Gardening Expert. Click here to ask Ellen a question! Ellen Brown is an environmental writer and photographer and the owner of Sustainable Media, an environmental media company that specializes in helping businesses and organizations promote eco-friendly products and services. Contact her on the web at http://www.sustainable-media.com
---
RE: Growing Pineapple
I live in central Florida and do not have a green thumb for sure. But yes, you can use the top. Cut about an inch or so. Don't cut back the green leaves. I put mine in a flower pot with potting soil. I didn't bury it, just pushed it gently down in the soil and placed it outside and watered it regular. It has now rooted and I will be transplanting it soon. I have a family neighbor who has done the same and hers looks more like a bush than a tree but it had small pineapples on it. Worth the try for sure. Good luck! (10/11/2006)
By houseofpets
RE: Growing Pineapple
Hi! I've grown two pineapples, this is how I did it and it is also the recommended method from a nurseryman.
Twist the top off your pineapple. Do this by holding the fruit in one hand, the top in the other (you may want to wear gardening gloves for this) and twist the top in either direction. It will come out of the fruit with a stump on the bottom. Very carefully starting at the bottom, start pulling the leaves off, going around the whole stump. Pull several layers off, so that when you ultimately plant the stump there won't be any leaves touching the soil. Now, put the stump in water, making sure that the area where you pulled the leaves off is in water. This is where the roots will come out. After you have pulled the leaves off, you may see tiny white bumps. This is where the roots sprout from. Place it in a sunny windowsill, and in a few days you should see roots starting to sprout or at the very least, the tiny white bumps should be more pronounced. My last one only took two days to start sprouting roots.
After several weeks, when there are a bunch of roots, you're ready to pot it up. Use no more than a pot that is 6" wide, preferrably a clay pot, as they allow for better drainage and "breathing." Put a small piece of crockery or a small rock over the drainage hole, and use a good potting soil. Water it lightly. Don't place it in direct sun until it is established. Watch it so it doesn't get dried out, and just water again lightly when it gets dry. In a couple of weeks give it a gentle tug - - if there is resistance, then you know your plant has taken. From then on, just keep an eye on it. When you see roots starting to come out the bottom of the pot, you can go up a size with your pot. Now, since you are in Dallas (I lived there for 7 years), you'll be able to keep your plant outside most of the time. Bring it in if the temps are going way down, near freezing.
Now here's where the patience comes in. Both of mine that I grew in pots took two years to fruit. I've heard that this is normal. As your plant gets bigger, you will want to give some fertilizer occasionaly. Do not overfeed! When your plant is getting ready to fruit, if you look down into the center of the leaves it will look like there's a red golf ball in the center. This golfball will gradually get bigger and then it will change. At some point it will be covered with purple flowers and then you will notice that it is starting to come up out of the center on a stalk. After the purple flowers die off, you will notice that this "thing" is starting to take on a pineapple shape. Voila! Thats's your new pineapple. It takes about six months from the red golfball stage to the ripe fruit stage. Cut the fruit off and enjoy! They are sweet.
Each pineapple only makes one fruit, so after you cut the fruit off, you can keep your old plant if you want, but it won't really do too much of anything. However, you now have your new pineapple and you can plant that top and start the procedure all over again. It's fun. The one I'm growing right now came off of a fruit that I grew, which came off my first pineapple that I grew. Sorry this is so long winded.
Since you are in Dallas, I can tell you, the nurseryman who gave me these instructions worked at Sunshine Nursery and Greenhouse on Greenville Ave. (10/11/2006)
RE: Growing Pineapple
Thanks, I printed your info for quick reference. I will give it a shot. You would not happen to have a picture of the purple flower would you? If not, I can find one. I think they make an interesting plant. (10/11/2006)
By Rodney Looney.
RE: Growing Pineapple
I live just south of San Antonio, TX, and just for a joke (I have a black thumb) I cut the top off a pineapple about 1 inch and stuck it in the ground. We have sandy soil but the darn thing grew. I figured the winter would get it but no. It kept growing, put on leaves. I now have 6 tops in various stages of maturity growing in an outdoor flowerbed but don't know if I will ever see any fruit. A man in the Pleasanton paper (just down the road but mostly black-land soil) grew a huge pineapple that was pictured this summer. They make a pretty, sort of palm like plant even if no fruit grows. (10/11/2006)
By Kerry
RE: Growing Pineapple
Thank you for reminding me of what I must have done wrong, living near Dallas, also, but having fell in LOVE with the fresh sliced pineapple sold while touring their plantation in Hawaii back years ago. My husband and I ate so much that day that our lips/mouths were blistered for several weeks from the fresh acid we were warned about, but ignored in our youth. I hesitantly tried to grow my own, and did NOT succeed, finding the plant too large, spiked, heavy, and bulky to bring in and out according to weather. I will not try it again, however, since it takes so long according to the reader here, to grow a pineapple. However, I can appreciate the island plantations more, now. God bless you in your efforts. : ) (10/12/2006)
By Lynda
RE: Growing Pineapple
I live in San Diego, CA. My pineapple has been growing for about 4 years now. I am including a pic of the plant. San Diego is very mild year round, and I am able to leave the plant out. Even so brave as in direct sun light. I read on another web site about the "suckers" and how a pineapple only blooms once. The suckers can be detached and planted to get additional fruits. Anyone have any success on doing this? Your help is greatly appreciated. The picture includes the fruit growing with 3 additional suckers around the pineapple. (08/03/2008)
By Michael Grant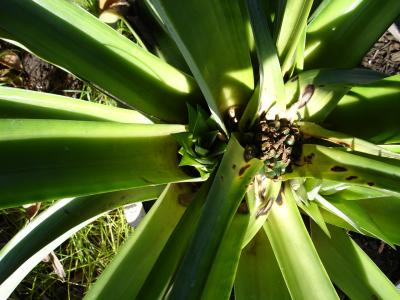 ---
Growing Pineapple
How can I start a pineapple top as a plant?
By Catherione
---
RE: Growing Pineapple
Look on: www.tropicalpermaculture.com/growing-pineapples.html
We are growing pineapples from the information we got from this site. Good luck! (02/18/2010)
By debera
RE: Growing Pineapple
My husband has started several pineapple plants. They really thrive in the warm weather. So he sits pot and all outdoors after the temperatures get warm.
To start the plant, he cuts off the top part of the pineapple, leaving as little flesh as possible. Then places the top in the clay saucer of a flower pot, puts in some gravel, and adds water. If you keep it watered, it will slowly start to make roots. After there are many roots, you put it in some good rich soil, with some sand added to it. Then it will continue to grow. He has had some little pineapples to shoot up from the top.
This is not fool proof! Sometimes by using too much water, the top slowly died. And if he left too much flesh on the top, it would "rot" in the water, and die. But if this happened. We purchased another fresh pineapple, and started over, plus we got to eat that fresh pineapple! It is just trial and error. They really grew fast when outside on our deck in the summer. Have fun! (02/19/2010)
RE: Growing Pineapple
Another thing to remember is that if you grow your own pineapple and plan to consume the fruits, most pineapples you purchase from the grocery stores are cured with salt and/or sugar to reduce the acidity in the fruit. If you are like a lot of people (we learned the hard way with my grandma and daughter) and are sensitive to the acid, you will swell up badly. And it is very painful, so just keep that in mind! (03/09/2010)
By ApacheAngel
RE: Growing Pineapple
I have a pineapple plant, when I got my first fruit I tore the top off and kept some of the knob of fruit. It is growing great, the fruit usually blooms every other year. I am in California and it is fun. I took smaller growths that did not bloom and planted them separately and they are growing great. (10/14/2010)
By Karen