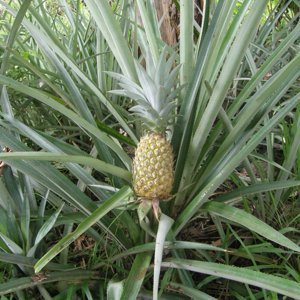 Pineapples are sweet, delicious, and easy to grow. Your climatic region will dictate some of the growing considerations, but you can still successfully grow and harvest this popular tropical fruit. This is a guide about growing pineapples.
Ad
---
Solutions: Growing Pineapples
Read and rate the best solutions below by giving them a "thumbs up".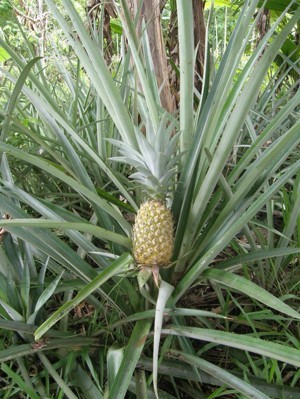 Of course, this is for those living in warm areas or those who have a greenhouse. Pineapples are one of the easiest fruits to grow. Simply cut off the green "hair" (as my 4 year old calls it) and plant it. Our garden has grown just by tossing the stalks back amongst the other plants. They will root on their own.
By Kelli from Sentani, Indonesia
Give a "thumbs up" to the solution that worked the best! Do you have a better solution? Click here to share it!
Questions
Here are questions related to Growing Pineapples.
Question:
I have a pineapple plant that is fully matured and the pineapple is ripe. How do I actually "pick it"?
Hardiness Zone: 10a
SMOODY from SACRAMENTO, CA
Answer:
Smoody,
Just grab it by the leaves and twist it to break it off from the stem. Timing is important when picking pineapples, because once they are removed from the stem they will not ripen any further or get any sweeter. The outer shell color isn't always a good indicator of ripeness, in fact a pineapple can be completely green on the outside and still be ripe. Size isn't necessarily an indicator either. It just means that you have more pineapple that isn't ripe if you pick it too soon. Start by selecting a pineapple that is fresh and plump. The leaves should be green and fall off easily when you tug on them. Most ripe pineapples will have a pale orange complexion and the bottom of the fruit will have a pleasant, sweet smell. They are best when eaten immediately after being harvested, but will keep longer if stored in the refrigerator.
Ellen
By Ellen Brown
AnswerWas this interesting? Yes No
Ad
---
---
Most Recent Answer
By lois (Guest Post) 07/21/20080 people found this helpful
Do you get rid of the plant that you picked the pineapple from, or will and another one come?
---
Will another pineapple grow after you pick one off a plant?
By Dottie
AnswerWas this interesting? Yes No
Ad
---
---
Most Recent Answer
By Betty Jean H. 1 09/12/20130 people found this helpful
They use the same plant for growing pineapples in Hawaii for 3 years. Each year the pineapple is larger, I think.
I am growing a pineapple from a fresh pineapple. I am wondering the kind of soil it needs and how often to water. So far it has grown about 4 inches.
Hardiness Zone: 6b
By Joyce from Laconia, IN
AnswerWas this interesting? Yes No
---
Most Recent Answer
By Pat Rogers 4 01/15/20110 people found this helpful
Pineapples grow in most soils, I live in Orlando and they grow in my slightly sandy soil, takes about two years to produce a pineapple.
Pat
I have a home grown pineapple plant and a strong wind broke its stalk. I have stuck the pineapple and old broken part of the stalk into the ground, it's green in color and about 4 inches around and 6 inches high. What should I do? Thanks.
By Sandy from FL
Photos
Below are photos related to this guide.
I received this kind of pineapple fruit one year ago. On it's every eye, it is growing new plants and on the top of this plant growth, another small pineapple. I don't know what to call for this kind of plant? "King of the Top" pineapple or "King of the King" pineapple?
By Eddy from Indonesia
Update: I submit another photo of the Unique Pineapple , now I have 3 more pieces that are larger than the first. I hope you can enjoy them.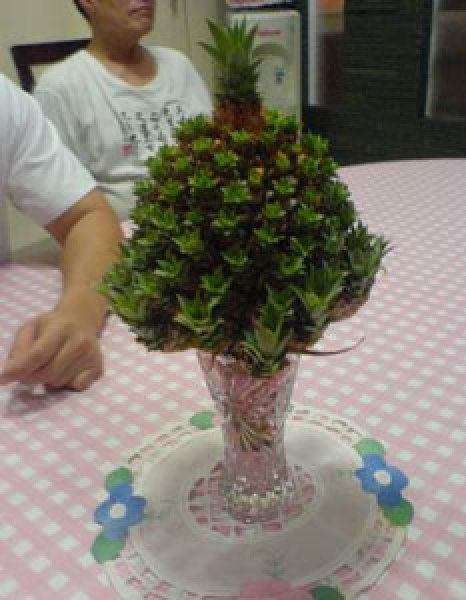 Archives
Thrifty Fun has been around so long that many of our pages have been reset several times. Archives are older versions of the page and the comments that were provided then.
I really like fresh pineapple. I was visiting an Island called St. Lucie and I ate the best pineapple I have ever had. Does anyone have suggestions on how I can start my own plant?
How can I start a pineapple top as a plant?
By Catherione
Feedback:
RE: Growing Pineapple
Look on: www.tropicalpermaculture.com/growing-pineapples.html
We are growing pineapples from the information we got from this site. Good luck! (02/18/2010)

By debera
RE: Growing Pineapple
My husband has started several pineapple plants. They really thrive in the warm weather. So he sits pot and all outdoors after the temperatures get warm.

To start the plant, he cuts off the top part of the pineapple, leaving as little flesh as possible. Then places the top in the clay saucer of a flower pot, puts in some gravel, and adds water. If you keep it watered, it will slowly start to make roots. After there are many roots, you put it in some good rich soil, with some sand added to it. Then it will continue to grow. He has had some little pineapples to shoot up from the top.

This is not fool proof! Sometimes by using too much water, the top slowly died. And if he left too much flesh on the top, it would "rot" in the water, and die. But if this happened. We purchased another fresh pineapple, and started over, plus we got to eat that fresh pineapple! It is just trial and error. They really grew fast when outside on our deck in the summer. Have fun! (02/19/2010)

RE: Growing Pineapple
Another thing to remember is that if you grow your own pineapple and plan to consume the fruits, most pineapples you purchase from the grocery stores are cured with salt and/or sugar to reduce the acidity in the fruit. If you are like a lot of people (we learned the hard way with my grandma and daughter) and are sensitive to the acid, you will swell up badly. And it is very painful, so just keep that in mind! (03/09/2010)

By ApacheAngel
RE: Growing Pineapple
I have a pineapple plant, when I got my first fruit I tore the top off and kept some of the knob of fruit. It is growing great, the fruit usually blooms every other year. I am in California and it is fun. I took smaller growths that did not bloom and planted them separately and they are growing great. (10/14/2010)

By Karen