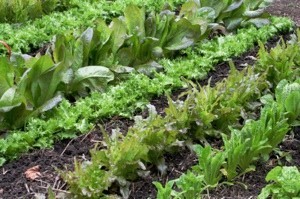 Achieving a Continuous Crop
Spring and Fall:
Choose quick-maturing varieties that will produce a crop within weeks of sowing. In the fall, use row covers to extend the season and protect crops from frost.
Summer: Obviously the widest range of salad greens can be grown in summer, providing you protect them from summer heat and make sure they stay evenly watered. Some greens are mild, others are strong and bitter, so grow a mixture for a blend of flavors.
Winter: Greens sown in late summer should be ready to harvest in early winter. With a little protection, gardeners in milder climates can continue to sow and grow salads all winter long. Gardeners living in harsh climates can continue to grow salad greens indoors in shallow flats near a south-facing window.
Successional Sowing: A new batch of seed sown every 2-3 weeks will ensure a continuous crop of greens for harvesting. Plant greens in full sun early and late in the season when the weather is cool. Plant them in light to partial shade during the heat of the summer.
Interplanting and Catch Cropping: Greens grow quickly. Plant them in between rows or around slow-growing crops like such as cabbages, potatoes, and cucumbers. Your salad greens will mature and be ready for harvesting well before the larger crops fill in the space.
Prevent Bolting
Harvesting Crops
Seedling greens (including mesclun): Harvest them as soon as they reach 4-6 inches high, or when they are large enough to be picked--usually within a few weeks. Cut the leaves using a sharp knife or scissors. If you leave at least a 1/2 inch stem, and you should be able to harvest 1-2 more crops during the season.
Lettuce Heads (crisphead, romaine): Harvest as soon as the heads are fully formed. Use a sharp knife and cut the heads off just above the soil surface. Heads may feel as firm as store-bought lettuce.
Harvest early in the day. The best time to harvest greens is right before you eat them or early in the morning when the leaves contain the highest amount of moisture.