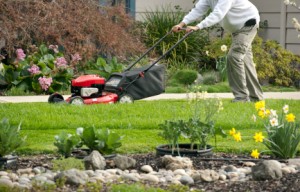 Mowing your lawn can be a source of pleasure or pain depending on your lawn mower. Like any home and garden tasks, the right tools can make the job a whole lot easier. If you have a relatively small lawn (under 1/2 acre), a walk-behind rotary lawn mower is probably all that you will ever need. But finding the right walk-behind lawn mower isn't as straightforward as you might think. If you're in the market to buy one, here are some things to consider before you head out to the showroom.
Assessing Your Terrain
Lawn Size: The first step in finding the right mower is determining the size of your lawn. This will help you determine the right features and amount of power you'll need to easily get the job done.
For small lawns (under 1/4 acre) a push mower will probably be all you need. For large lawns (over 1/2 acre) a self-propelled walk behind mower or even a riding lawn mower might be a better choice.
Terrain Type: If your lawn is hilly, uneven, or contains lots of obstacles (trees, flowerbeds, etc.), a mower with larger wheels will provide greater maneuverability and make mowing less bumpy.
Grass type: If you have thick, coarse grass like Bermuda, you may want to consider an engine with slightly more torque (higher CCs) to help you tackle the job with ease.
Basic Gasoline-Powered Mowers
A standard gasoline-powered push mower uses one rotating blade to cut a swath of grass ranging from 18-24 inches wide. It can also usually be adjusted to cut grass at several different heights. This type of mower is a good choice if you have a relatively flat lawn under 1/2 acre in size.
Many models feature optional upgrades such as a rear or side bagger and/or mulching mechanisms. Thankfully, the newer models are also virtually guaranteed to start with one or two easy pulls of the rope.
Bagging Mowers
If your yard is heavy with leaf-bearing trees, a bagging mower can be a handy way to vacuum them up in the fall (along with grass, small twigs and other debris) so you can turn them into compost.
Bagging mowers leave your lawn with a classic manicured look, but expect using them to take more time than simply allowing the clippings to fall back onto the lawn. You'll be changing the bag fairly often, so look for models with large bags that are easy to remove and empty. If you plan to mulch your grass clippings and don't plan to go for long stretches between mowing, bagging mowers are not necessary.
Mulching Mowers
Mulching mowers uses a special blade to chop grass clippings and leaves into fine pieces and redistribute them evenly back across the lawn. This helps feed your lawn nitrogen by building up a supply of organic matter. You're left with free fertilizer for your lawn, and grass clippings that are too tiny to be noticeable. Mulching mowers work best in dry weather conditions. If the grass is too tall or wet, the blades tend to gunk up under the mower deck.
Self-propelled Mowers
Self-propelled mowers are a good choice for lawns that are large (over 1/2 acre) or hilly. For people with physical limitations, many also offer an electric start. No more pulling - just turn the key and go! Make sure if you decide to go this route that you select a mower with adjustable speeds so you can find one that is comfortable to walk behind.
Two other self-propelled features to look for are an electric key starter and a blade break clutch. An electric key start eliminates the need for rope pulling, which can be a real blessing for people with physical limitations. A mower with a blade-brake clutch won't shut off if you let it go, so you can bend over to pick up sticks or maneuver across gravel paths or uneven pavement without fear of damaging the blade.
Self-propelled models with front drive propulsion give you great traction on flat terrain with shorter grass and are ideal for lawns with lots of obstacles. Rear drive propulsion will provide you with consistent traction on hilly terrain with thick grass.
Wide Area Walk Behinds
These mowers are designed for large properties with extra wide (up to 33 inches) rugged, steel mower decks. They come with many of the features available on standard and self-propelled push mowers, but are considered more heavy duty.
Electric Mowers
The advantage of electric mowers is that they run quieter, cost less, and have less maintenance than gasoline-powered lawn mowers. Because they run so clean, they are also much better for the environment. On the downside, they face the same limitations of any appliance with a cord - they can only move as far away from an outlet as their cord allows (usually around 100 feet).
Many models now come with a cordless option so you only need to plug it in for charging. Just make sure to push these lawn mowers around the showroom before you buy one. The batteries in some of these machines make them very heavy to push, which may become problematic if you don't have a small, relatively flat lawn.
Other Points to Ponder
2-cylinders vs. 4-cylinders. Gasoline-powered engines are either two or four cycle (cylinders). Two cylinder engines are less common, but more efficient and likely to last longer than 4 cylinder engines. This is because you must mix the gas and oil each time you refuel the engine so you're always keeping tabs on the oil levels (insufficient oil is the #1 cause of lawn mower engine failure).
A four-cylinder engine has a separate crankcase. It's more convenient (oil and gas are added separately), but it also means that oil levels must be checked regularly and the engine given an oil change at least once a season.
Horsepower. Walk behind mowers usually run from 6 to 10 horsepower. Mowing speed depends on horsepower, as well as the rate of blade rotation and the width of the deck. If you have a large lawn to cut, a mower with a wider deck will help reduce mowing time (and likely come with a larger engine anyway). Don't pay more for horsepower you don't really need.
Deck Width. The mower deck is essentially the casing below the engine that houses the blade. The wider the deck, the longer the blade and the faster you mow. Keep in mind that aluminum and plastic decks are lighter and don't rust, but steel is more durable and usually more pricey. Also, if you need your lawn mower to pass through the door of your garden shed, be sure to get a deck that fits!
Where to Get the Best Deals
It pays to shop around. Buying your lawn mower from a dealer offers the convenience of parts and on-site repair services. Dealers are also more likely to offer a variety of new and used machines in a wide range of prices. Retail stores may or may not offer equipment options for your mower, but they may offer attractive sale prices. Just make sure if you buy a machine from a large retail store that replacement parts are available from the manufacturer. Once you find a lawn mower you like, check online for user reviews and make sure the model hasn't been recently recalled by the manufacturer.
Gone are the days when buying an environmentally-friendly lawn mower meant a trip to the local hardware store to pick out an old-fashioned reel-type mower. From cords to cordless, and from reel to robotic, today's carbon conscious lawnscapers have lots of eco-friendly choices.
Two Basic Types: Reel and Electric
There are two basic types of lawn mowers considered environmentally friendly. These lawn mowers are either man-powered or electric self-propelled and come in either reel or rotary style. They are considered environmentally friendly because they are quiet, more energy efficient, and contribute less small-particle pollution and green house gases than lawn mowers with gas-powered engines.
The Reel-Type Mowers
Manual-powered:
With no electricity costs, no on-site emissions, and lowest on the price scale, these lawn mowers are considered the most eco-friendly option available. Powered by you, reel push mowers use blades on a revolving cylinder to cut grass. As the mower is pushed forward, the cylinder spins and the rotating blades shear the grass. Most of these mowers can be adjusted to various cutting heights. These lightweight mowers produce finer clippings than most regular gas-powered mowers, but the mowing width is only about 75% as wide and they don't work as well on tall grasses, dandelions, or yards that contain a lot of sticks and debris. You can also expect it to take slightly longer to mow with a manual-powered reel mower than a regular gas-powered mower.
Self-propelled: This is a relatively new option in the world of reel-type mowers. These reel mowers use the same type of revolving cylinder and cutting action to shear grass, but they are powered by a rechargeable battery that usually stays charged for 60 to 75 minutes at a time, which is suitable for a small to medium-sized lawn (7,000 to 8,000 sq. ft).
Self-Propelled Rotary Mowers
Corded:
Electric, self-propelled lawn mowers come in two basic styles, corded, or cordless. The corded models work well for small-sized yards where handling the cord (or running out of cord) is not a concern. Having an outdoor outlet with a constant power supply is ideal for these types of lawn mowers. These mowers are slightly lighter than their rechargeable counterparts which house batteries. Keep in mind that more voltage also means more weight.
Cordless: This type of electric self-propelled lawn mower comes with a rechargeable battery. Depending on the voltage, battery life tends to last from 1 to 1 hours (less when mowing steep slopes) and is well suited to lawns under 10,000 sq. ft. These mowers are lightweight and virtually maintenance-free. Depending on the model and options, they run in price similar to regular, push-style gas-powered lawn mowers.
Then There are the Lawn Robots
These funny little rechargeable electric (or solar hybrid) lawnmowers mow the lawn on their own. Perimeter wires (much like an electric dog fence) serve as a guide for the mower, which crisscrosses back and forth across your lawn while you (and your neighbors) sit back and enjoy the show, or guide the mower with a remote control. Quiet and lightweight, these mowers are designed to back away from any obstacles they encounter and the blades don't send debris flying like other lawn mowers. They also boast the highest safety record world-wide, with not a single accident reported. Considered a luxury gadget by some (they are priced near, or even well above the average riding lawn mower), robotic mowers perform best on small lawns that have few obstructions and a flat grade.