Read and rate the best solutions below by giving them a "thumbs up".
Growing Tomatoes In Hanging Baskets
Tips for growing tomatoes in hanging baskets from the ThriftyFun community.
Try Grape Tomatoes
As far as hanging baskets of tomatoes, all I can think of is grape tomatoes would be the easiest and most adaptable. You need good soil, something to keep the dirt in the baskets, some sort of support for the plants. And plenty of sunlight.
By lahlbrand
Upside Down
My sister grew them upside down in hanging planters somehow and gave me one, it was great!
By Lily 59
Five Gallon Buckets
We planted tomatoes in buckets last year and have started some this year (07). Simply cut a hole in the bottom of a bucket about the size of a quarter turn it over and fill with a good soil. Turn it back over and put a tomato in the hole and let it set that way for a few weeks. After the tomato has taken and made roots, hang it up on a hook somewhere and water frequently. Soon you will have tomatoes!
By JM
Post your own advice below.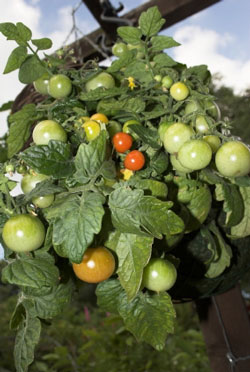 ---
RE: Growing Tomatoes In Hanging Baskets
Grow them upside down in a coffee can. Take both ends off a coffee can, and cut an X in the plastic lid. Poke holes in one end of the can to put in a wire for hanging, and then gently insert the plant through the X in the lid, snap the lid on the opposite end from the hanger, and fill the can with soil. The plant will want to grow up towards the sun, and will curl up around the can. Works great with cherry/grape tomatoes or smaller regular tomatoes. (09/13/2007)
RE: Growing Tomatoes In Hanging Baskets
I decided to use milk jugs to plant my tomatoes in, the jug already has a handle to hang them with, and is easier to cut a hole in the bottom, I also made a strawberry pots with milk jugs as well, and have planted bell pepper, squash, and eggplant plants in the tops of the containers! (05/31/2008)
By skayc1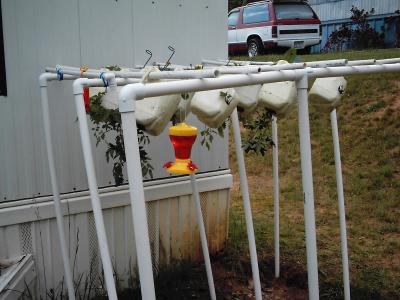 ---
Building Frame For Growing Tomatoes Upside Down
I am looking for instructions on how to build a frame to grown tomatoes upside down, including how to secure it. Maybe in a hole with cement, to the ground so that it can hold the weight of the buckets. I will have to do this myself, with the help of home depot cutting the wood and I have never used cement before. Thank you so much for any help.
Hardiness Zone: 7a
Bluegina from Shelton, CT
---
RE: Building Frame For Growing Tomatoes Upside Down
We just had a post on craftsfer dot com about this. They used a regular two liter bottle, with the top becoming the bottom, and cutting off the bottom and punching holes to hang it from a hook.
See also http://ohcripes.com/?page_id=47 for another way. Cheap and cheerful! (04/07/2008)
By bcgrote
RE: Building Frame For Growing Tomatoes Upside Down
I know an easier way than that if you want to do this method, it is on TV and it hangs. I am not sure what the name of it is. It is for tomatoes and there is no concrete or building involved. I would look at the TV first and see if you can find it. (04/09/2008)
By crystal
RE: Building Frame For Growing Tomatoes Upside Down
I'm assuming you don't have a place to hang it otherwise you wouldn't be building something to hang it from. The idea is to use a five gallon bucket and use the handle to hang it, so you just buy 2 fence posts, 8 foot long. Dig 2 holes and pour some sack crete into hole and mix in some water to form cement (get the sack crete without rocks in it). Next you let it set for say 10 minutes to harden a little and put the fence post in it and fill the rest of the hole with the dirt you dug out. Pat lightly, do this about four feet apart for 2 buckets and 8 feet apart for four buckets. Let set for a day or two, depending on weather. Now they sell braided steel cable and turn buckles in the hardware store also so you secure it on one end and using the turn buckle you tighten it to the other post. Hope this helps you. I know it sounds like a lot but my hubby and I did it in just a couple of hours, less the waiting time for the cement to dry. (04/09/2008)
By Denise W
RE: Building Frame For Growing Tomatoes Upside Down
Go to instructables.com. They they have instructions on how to make a simple upside down tomato growing planter. It looks inexpensive too. You may have to join and become a member to view all of the instructions though. (04/09/2008)
By teachpad
RE: Building Frame For Growing Tomatoes Upside Down
We bought metal pipe and made a frame for ours. We used one long piece for the center suport. At the top, we crossed two pipes so the support can hold 4 buckets. We used endcaps and brackets to hold the buckets in place. We put the main support in an old milk carton that we filled with concrete. After it hardened, we were able to place it in a hole we dug. The concrete helped support the weight of the the planter once the buckets were on it. This wasn't cheap, but will last for years. (04/10/2008)
By susanmajp
RE: Building Frame For Growing Tomatoes Upside Down
Denise W, I do have plenty of places to hang the planter. I just needed instructions on how to make the inverted tomato planter. bcgrote gave a link in this list of answers called OhCripe.com and it has good instructions and pictures. I can't wait to make a few! Thanks again! (04/10/2008)
By frugalelf
RE: Building Frame For Growing Tomatoes Upside Down
I used regular plant pots:put small plant upside down (roots up through bottom hole).Then put in soil. I hung with regular plant pot hangers on lower limbs of trees. (If you don't have trees a deck railing or anything like that will do. (04/11/2008)
By pam2cats
RE: Building Frame For Growing Tomatoes Upside Down
I have instructions for UpsideDown Tomatoes on my website. http://www.thehappyhorticulturist.com (04/11/2008)
By luvnaz
RE: Building Frame For Growing Tomatoes Upside Down
Thank you everyone for your information and ideas. Sorry it took me so long to respond. I was out of town and then could not get onto this site. I'm going to review the posts and check out the references. I'll let you know how I do. Thanks so much. Gina (04/15/2008)
By gina
RE: Building Frame For Growing Tomatoes Upside Down
Here's a link to upside down planter's. minifarmhomestead.com. Click on gardening. (05/21/2008)
By Sharynlove
RE: Building Frame For Growing Tomatoes Upside Down
I bought some pvc piping and made my own 'trellis' I guess it is a building frame! I used the 1 1/4 inch thick pvc for the frame, and the thick 1/2 inch to hang my plants from. this is my first year trying this. (06/02/2008)
By skayc1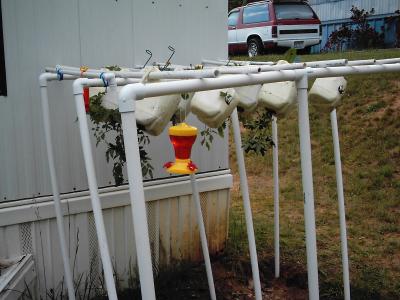 RE: Building Frame For Growing Tomatoes Upside Down
Great creativity! Good luck, thanks for posting. I'm gonna check out the pvc idea. (06/04/2008)
By gina